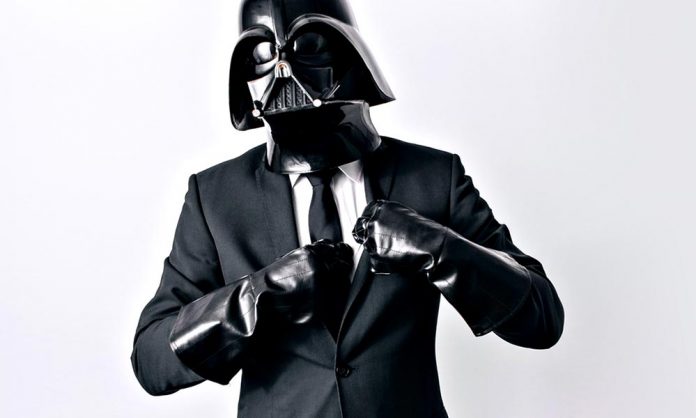 Our friends at EW spilled a veritable deluge of Rogue One: A Star Wars Story info in advance of their newest, Rogue One-centric issue hitting stands this Friday! One particularly stellar bit of good news was the previously rumored, but now emphatically confirmed appearance of the greatest, mechanically enhanced sci-fi villain of all time, DARTH VADER! Confirming his appearance was great news, but the information stream regarding his re-introduction was summarily capped; no further details beyond his involvement were revealed….until now. Our friends at EW once again uncorked the deluge, and provided more details on Darth Vader's return in Rogue One! Prepare yourself for a 24-hour smile.
Look Who's Back!
Firstly, James Earl Jones is back to voice the imposing, highly trained Sith Lord in concert with "a variety of large-framed performers" handling those commanding, on-set performances.
How Much Vader?
According to Lucasfilm president Kathleen Kennedy, he's used "sparingly," but at "a key, strategic moment, he's going to loom large."
Competition for Affection!
He's not only contending with schematics-stealing Rebels, he's dealing with Ben Mendelsohn's Director Orson Krennic, an ambitious Imperial Officer attempting to amass power and gain Palpatine's favor.
Director Gareth Edwards' Reaction Is….Understandable.
Edwards revealed his excitement when Darth Vader first stepped onto the set of Rogue One. Yes, the actor dressed as Vader, not the actual, cybernetic warlord bent on subjugating your tomato garden.
"We had the breathing sound just to inspire everyone. I just got massive goosebumps. I was so nervous to turn the corner and see him. You have to pinch yourself. Everyone became children again, so easy. You just go straight back to being a 4-year-old, like, in a heartbeat.
There's all these rules about security on set, but I couldn't help it. I got my phone out and started taking pictures of him, and pictures of me with him, because I felt like no one would ever believe that I'd met Darth Vader."
So, what do you think?
Star Wars: Rogue One hits the Death Star on December 16th, 2016 and stars Felicity Jones, Diego Luna, Riz Ahmed, Ben Mendelsohn, Donnie Yen, Jiang Wen, Forest Whitaker, Mads Mikkelsen, Alan Tudyk and Jonathan Aris.