Check out this brand new clip from the forthcoming DC animated film, Batman: Bad Blood! Clocking in at 1:08, this clip from Batman: Bad Blood – a film dealing with the unexpected absence of Batman – grants us a a few moments of Nightwing (Dick Grayson) presently engaged with the ferocious, vehicle-hurling assaults of the physically formidable Blockbuster! Of course, Nightwing is calm, confident and pleasantly distracted by his continuing conversation with Starfire as he dodges tires, fenders, and fists the size of cinder blocks!
Ok, I'm going to step out of the way and allow Warner Brothers' official synopsis to take it from here:
"Bruce Wayne is missing. Alfred covers for him while Nightwing and Robin patrol Gotham City in his stead. And a new player, Batwoman, investigates Batman's disappearance."
What this fails to mention is the appearance of Damien, the introduction of Batwing and Dick's hesitant acceptance of the Batman mantle during Bruce's unexpected absence.
Batman: Bad Blood debuts during its red carpet premieres in both New York and Los Angeles, firstly at the Paley Center for Media on Jan. 19, and then on  Feb. 1.
Now, check out the AWESOME limited edition Blu-Ray box-set featuring an exclusive Nightwing figure!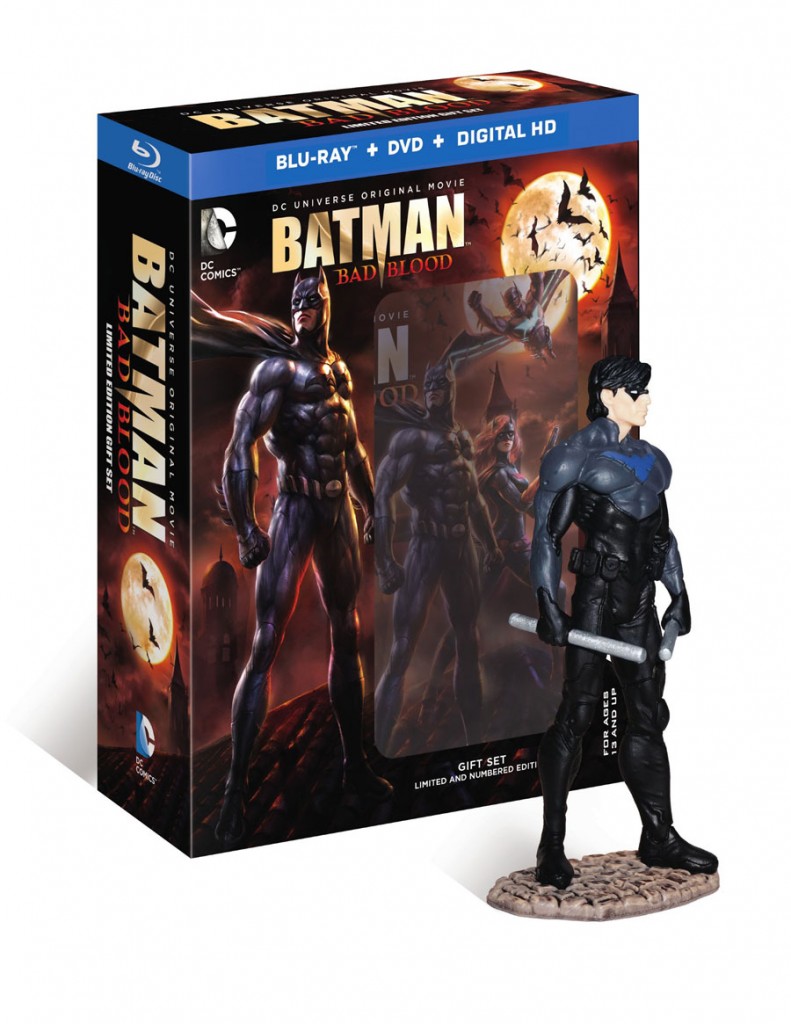 Batman: Bad Blood stars Jason O'Mara as Batman, Sean Maher as Nightwing, Yvonne Strahovski as Batwoman, Stuart Allan as Damian Wayne/Robin, Morena Baccarin as Talia al Ghul, Gaius Charles as Luke Fox/Batwing and Ernie Hudson as Lucius Fox!