This new international Rogue One trailer features a heck of a lot of new footage. Yes, I already mentioned that in the title, but I feel this significant increase in previously unseen material deserves greater attention. Look, there's enough new footage going on here that it could very well be a full-blown, brand-new trailer in the states. Have I mentioned the exceptional amount of new footage? Good, because it's exceptional. LOOK UP! PRESS PLAY! OBSERVE!
What's new? Several battle shots, including that especially awesome scene where an AT-AT takes a rocket launcher to the face! Oh, and we actually see a much younger Jyn Erso interacting with her mother, and running about their homeworld before her parents'….uh….."relocation" at the hands of the Empire.
And is that the Death Star floating high above Scarif, or perhaps some other blue-hued planet? Why yes…yes, it is.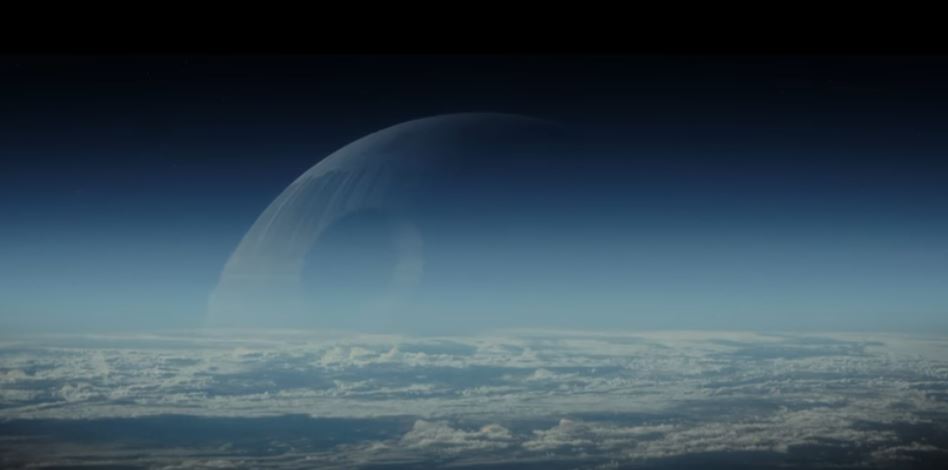 Dear Rebellion,
You are seriously, seriously screwed. It's probably time to consider yielding to the Empire.
Your friend,
Reality
Star Wars: Rogue One arrives December 16th, 2016 and stars Felicity Jones, Diego Luna, Riz Ahmed, Ben Mendelsohn, Jiang Wen, Donnie Yen, Forest Whitaker, Mads Mikkelsen, Alan Tudyk, Jonathan Aris and 10,000,000 Stormtroopers hellbent on killing everyone everywhere.