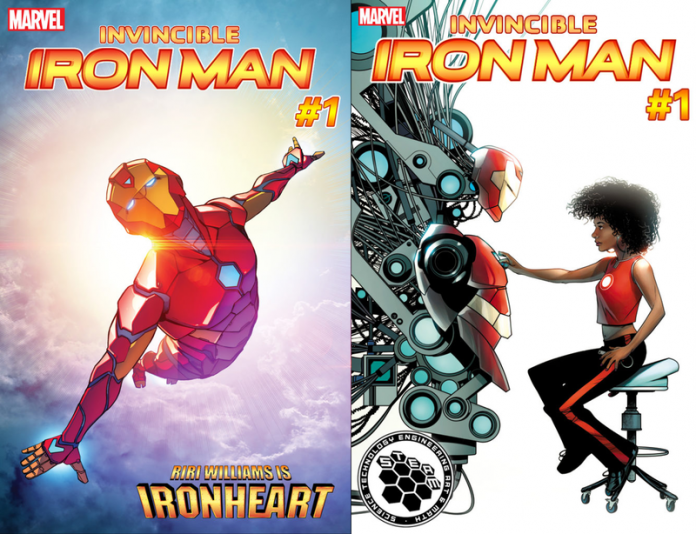 Gang, our Invincible Iron Man #1 review is a little SPOILER-Y, so….check back with us after you've read the issue. Oh? Still here? Thank you!
You guys, it's Riri's time. In a political climate of uncertainty, Marvel and Brian Michael Bendis introduce the new hero inside the Iron Man armor — Riri Williams — a genius-level black teenager. It is very clear that this comic and this character are important to Bendis. The writer is the father of several adopted daughters of color and it is very obvious that Bendis wants to create a hero and a protagonist that reflects the black female teenage experience in modern America.
Hell yeah, there's a social agenda here, but there's also a classically crafted Iron Man comic and a classically tragic superhero origin. The issue jumps back and forth between the past and the present as Riri Williams dons her new suit of Iron Man armor to take on the mutant super-villain Animax. Meanwhile, Bendis tells the tale of Riri's tragic origin as readers learn the inciting event that causes her to become a hero. The origin felt a bit rushed as I would love to learn more about both of Riri's parents before tragedy strikes, but the tale packs an emotional punch.
Meanwhile, in the present, Bendis and his artist Stefano Caselli present a classic Marvel throwdown between the armored Riri and Animax.
It kind of all seems like a late 70s superhero debut as the book is one of the more traditionally done comics that Bendis has pulled off in years — even if the protagonist is anything but traditional.
This comic has a social agenda but it isn't all social agenda as readers will enjoy a new Marvel hero going through her paces in the very comfortable and familiar confines of the Marvel Universe. And by the time the issue ends, things are tightly tied into the story of Tony Stark.
And that's the big problem with this issue. The fact that Marvel is not revealing what has happened to Stark at the end of Civil War II just leaves the inclusion of Stark in Invincible Iron Man a confusing mess.
Riri's debut would read so much better if the reader knew Stark's fate. Instead, we are left with muddled questions as Marvel screws Riri's book due to scheduling snafus on Civil War II. A shame really, because Riri Williams is an important character that has her own motivations and voice. The Marvel Universe is a better place because Riri is not firmly embedded in it. Due to Marvel's coy little scheduling nonsense, we can't see Riri's full story yet, and this character is too important to be playing those kinds of games with.