Well it looks like one thing is for certain: critics cannot stop a DC movie's opening weekend! After that…well…things can get a little bit murkier. I'll leave such judgments to you. Where were we? Oh yes! Suicide Squad's weekend total. Everybody loves to analyze numbers and how much money a movie makes is definitely indicative of quality…right? Okay, no more sarcasm. It might have been a side effect from exposure to Jared Leto's Joker. I can't imagine why anybody would cut scenes with him out!
So what does Suicide Squad's weekend total look like? Well, impressively enough, it is now the 3rd biggest opener of the year! Yowzah! Industry analysts were predicting somewhere in the range of 125 million to 140 million and the total was 135.1 million dollars. Deadpool pulled in a staggering 132.4 million while Finding Dory pulled in 135 million so Suicide Squad's weekend total just barely eked out the fish!
Suicide Squad's weekend total was looking fairly impressive on Thursday night. The movie managed to pull in a walloping 65.1 million dollars between Thursday and Friday. However, Suicide Squad then suffered the 'becoming par for the course' 40% decline over the weekend. With 135.1 million domestically, how did Suicide Squad do across the world? Across 57 countries and territories, Suicide Squad made 132 million dollars. Pretty impressive considering that Suicide Squad wasn't released in China!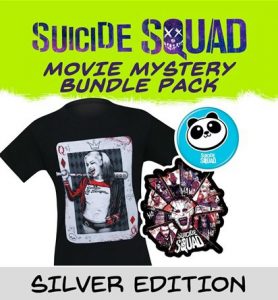 That brings Suicide Squad's weekend total to 276.1 million dollars if you are counting the entire world. Suicide Squad now has the biggest August opener in history with its 135.1 million dollars. The previous record holder was Marvel's Guardians of the Galaxy which had made 94.3 million bucks back in 2014. Suicide Squad also marks Will Smith's biggest opener ever. Yeah I know…I would have thought Wild Wild West would have been really hard to beat too.
Suicide Squad is out in theaters now and stars Will Smith as the deadly marksman Deadshot , Jared Leto as the tatted up version of the Clown Prince of Crime Joker, Margot Robbie as the insane and gymnastic Harley Quinn, Joel Kinnaman as the leader of the party Rick Flag, Viola Davis as the super-secret shady government agent who forms Task Form X, Jai Courtney as the foul-mouthed Australian Captain Boomerang, Jay Hernandez as the fire-wielding pacifist Diablo, Adewale Akinnuoye-Agbaje as the man-eating 'you gunna finish that' Killer Croc, Ike Barinholtz as security guard Griggs, Scott Eastwood as a Navy SEAL tasked with helping the Squad, Adam Beach as the highly specialized assassin Slipknot, and Cara Delevingne as 'I wanted a Ballerina Barbie and not Malibu Barbie' Enchantress.