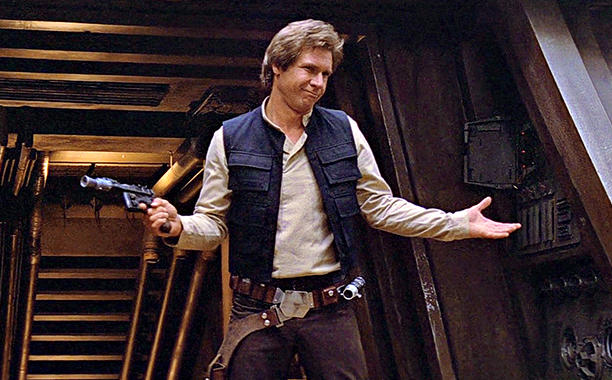 According to some dependable sources bending the always available ear of The Hollywood Reporter, the search for young Han Solo is almost over. Yes, Disney and Lucasfilm have been looking at young actors to fill the boots and explain the formative years of Star Wars' legendary, interstellar smuggler of all things questionable. How close are they? Very, very close.
According to these aforementioned sources, there was some 'final-stage' testing that occurred in London last weekend. The few actors included in this testing were Alden Ehrenreich (Hail, Caesar!) Jack Reynor (the exceptionally skilled driver in Transformers: Age of Extinction) and Taron Egerton (The Kingsman and Eddie the Eagle).
What's worth noting here – and further proving the imminent conclusion of the Disney/Lucasfilm quest to cast young Solo – is that these few actors were plucked from a pool of 10 or more candidates who met with directors, including Miles Teller (Whiplash, Divergent) and Ansel Elgort, (Fault in Our Stars, Divergent). Yes, the whittling down of potential performers is nearly at an end.
Oh, and I probably should have mentioned the reasoning behind Disney/Lucasfilm's quest for a young Han Solo from the get go: the character will debut in a Star Wars spinoff film scheduled for a 2018 release, helmed by filmmakers Phil Lord and Christopher Miller (21 Jump Street, The Lego Movie) .
Who would YOU like to see piloting the Millennium Falcon – or whatever ship Han had before the Millennium Falcon – in a brand new Star Wars spinoff film starring Han Solo??