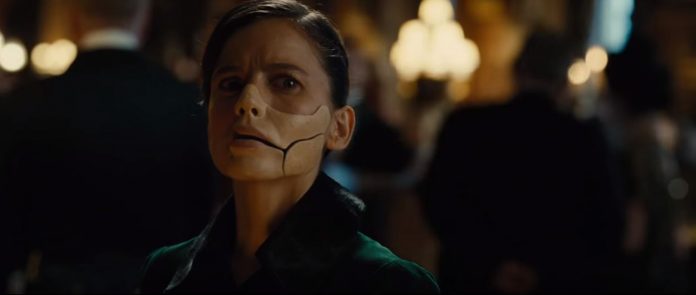 Until Wonder Woman hits theaters on June 2nd, 2017, we have a very vague idea regarding the identity (or identities) of her villainous opposition. Sure, we could just say "men" in general, and perhaps even "the Germans," but as far as a clear and present antagonist? Well, we're stuck holding our Lassos of Speculation until that June 2nd date. However…there is someone; a woman wearing multiple facial prosthetics who shows up in the Wonder Woman trailer for about 3.5 seconds. Is she a villainess? An adversary beyond the recorded tumult of WWI?
Well, according to our good friends at ComicBook, Wonder Woman actress Elana Anaya, who plays the mysteriously masked madam, spoke with Spanish website SensaCine (via Batman-News) and confirmed her role as….villainous.
"Well, it was a small role in this big ensemble, but it is an important character in the story," Anaya told the Spanish website. It's directed by Patty Jenkins, then there's Gal Gadot as our main lead, Chris Pine as her co-lead and I'm going to be… a big nightmare for the two of them."
A "big nightmare," eh? Interesting. I'm racking my brain and trying to figure out just who the hell she might me. A little help?
https://www.youtube.com/watch?v=SA9W0flbZeQ
Wonder Woman brings peace to man's world on June 2nd, 2017 and stars Gal Gadot, Chris Pine, Connie Nielsen, Robin Wright, Lucy Davis, Lisa Loven Kongsli, Danny Huston, Ewen Bremner, Saïd Taghmaoui, Elena Anaya and David Thewlis.