Hearing Steppenwolf would be the 'big bad' in Zack Snyder's Justice League was, in this writer's opinion, a bit of a letdown. With the giant Omega symbol prevalent in Batman's vision/ice cream-induced nightmare, I was hoping like hell for the arrival of Darkseid, the ominous threat Batman seems to be uniquely aware of; a threat worthy of a team response.
Well, I guess Steppenwolf isn't all bad. In comic continuity, he's Darkseid's uncle and the leader of his armies; the indestructible vanguard of Apokolips. And, we've seen him before — or at least his hologram — in BvS, so we know he's coming, we know what he looks like, and we know he's probably heralding the eventual appearance of Darkseid himself. So, who's the man behind the planet-killing Apokoliptian? Our friends at The Wrap recently learned that actor Ciaran Hinds (Game of Thrones, Munich, Ghost Rider: Spirits of Vengeance) will play the character.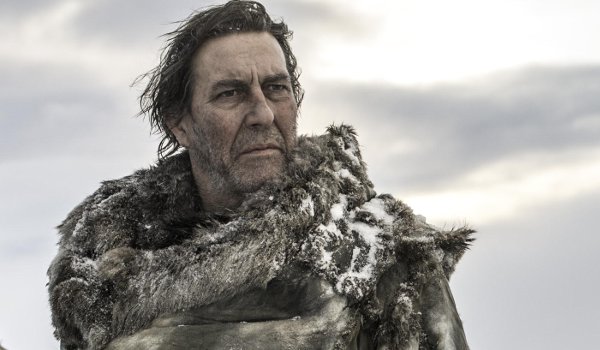 According to the trade, Hinds recently wrapped production on his motion-capture role; ostensibly a lanky, somewhat featureless alien, sources say that his initial appearance will be "upgraded" from his brief debut in Batman v Superman: Dawn of Justice.
What we know about the villain's motives in Justice League is scant; with strong (perhaps familial) ties to Darkseid, Steppenwolf is searching for three Mother Boxes. One of them is definitely in the possession of Doctor Silas Stone, father to Victor Stone, AKA Cyborg. Another — according to speculation — is located either inside of, or very close to, Atlantis. The third? Well, I have it, but I'm not sharing it with anyone.
So, what do you think of Warner Bros. choice for Steppenwolf?
Directed by Zack Snyder, Justice League debuts November 17th, 2017, starring Henry Cavill as Clark Kent/Superman, Ben Affleck as Bruce Wayne/Batman, Gal Gadot as Diana Prince/Wonder Woman, Ezra Miller as Barry Allen/The Flash, Jason Momoa as Arthur Curry/Aquaman, Ray Fisher as Victor Stone/Cyborg, Amy Adams as Lois Lane,
Jesse Eisenberg as Lex Luthor, Jeremy Irons as Alfred Pennyworth, J.K. Simmons as Commissioner James Gordon, Amber Heard as Mera, Ciaran Hinds as Steppenwolf, and Willem Dafoe as Vulko.