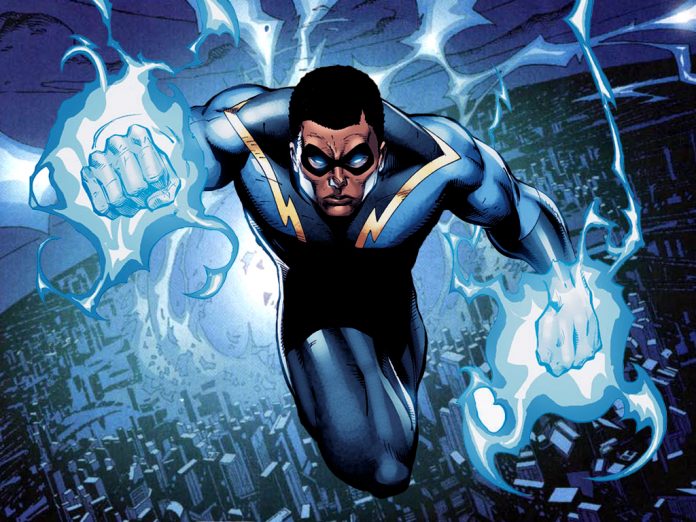 Super-Producer Greg Berlanti is a very busy man; he's keeping tabs on the likes of Arrow, The Flash, Legends of Tomorrow, and now, Supergirl. Honestly, herding these interconnected series is already a considerable task, but apparently, the man prefers living just underneath a constantly churning deluge of never-ending DC-TV concepts. Case in point: according to our partners at Deadline, Berlanti is now developing a live-action Black Lightning TV series based on the electricity-wielding, African American superhero.
Berlanti is developing the series with the husband/wife writing team of Mara Brock and Salim Akil (Being Mary Jane and comedy The Game), a TV drama described thusly by the trade:
"Black Lightning centers on Jefferson Pierce. He made his choice: he hung up the suit and his secret identity years ago, but with a daughter hell-bent on justice and a star student being recruited by a local gang, he'll be pulled back into the fight as the wanted vigilante and DC legend — Black Lightning."
Black Lightning? Yes, Black Lightning. Debuting in 1977, he was one of DC Comics' first major African American superheroes. A Gold Medal-winning, Olympic decathlete, Jefferson Pierce was a high school principal in Metropolis' Suicide Slum. And no, you wouldn't want to live there. He was born a metahuman, but kept his powers in check until he decided to proactively protect the denizens of his impoverished neighborhood.
Later, he would join up with Batman's Outsiders, and later-later, the Justice League of America.
When speaking with Mr. Terrific, another renowned African American superhero, Black Lightning explained why he decided on his particular super-moniker: he "was the only one of us around" at the time, and he "wanted to make sure everyone knew who they were dealing with."
NOTE:
Berlanti and Akil are shopping this series to other networks, so it might not actually show up on The CW. Hmmmm.
So…thoughts?