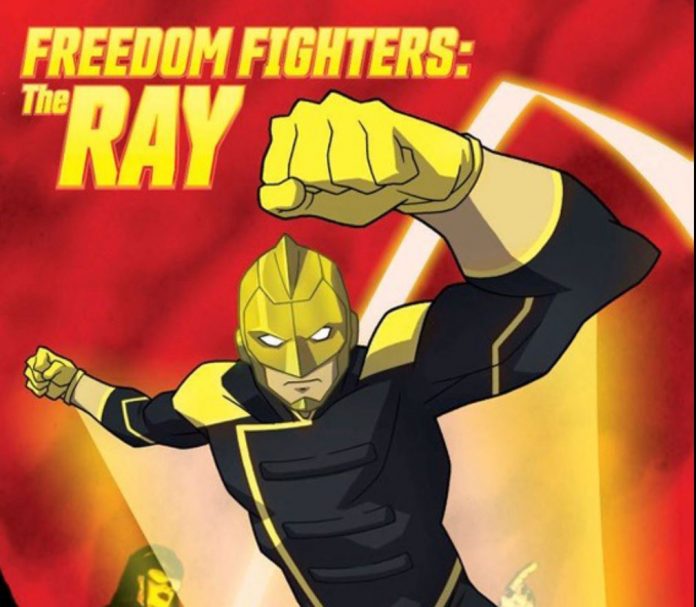 DC's The Ray is coming to the CW Seed network in a new, animated series titled Freedom Fighters: The Ray, compliments of Greg Berlanti and Marc Guggenheim. This particular iteration of The Ray – based on writer Grant Morrison's version milling about his reality-bending maxi-series, Multiversity – "will introduce the first gay Super Hero to lead a show." Anyway, let's check out the very first promotional image for Freedom Fighters: The Ray!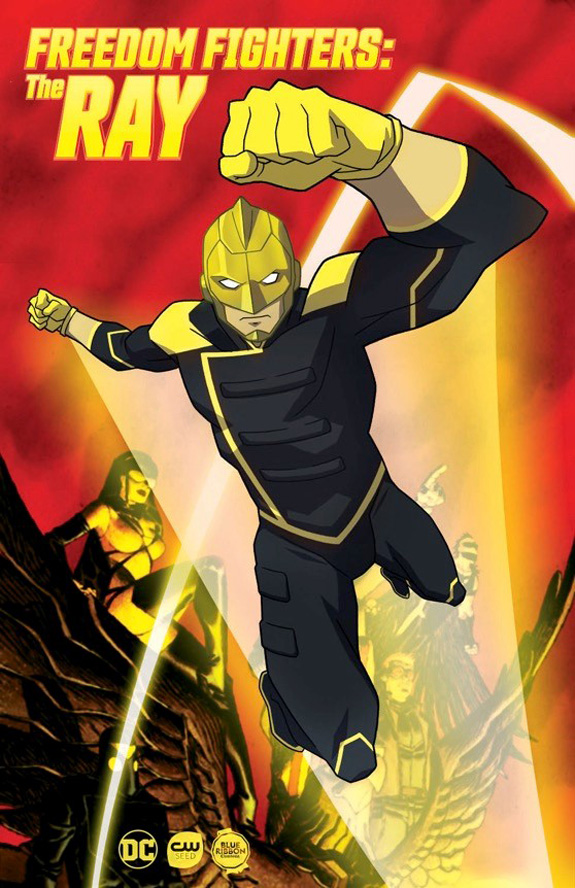 In more recent incarnations of the Freedom Fighters, the membership included Phantom Lady, the Ray (Stan Silver), the Human Bomb, Doll Man, Bigfoot, Destroyer, Black Condor and Face. The team is usually led and selected by a walking, talking embodiment of the American Spirit, Uncle Sam. Well, it looks like Uncle Sam is absent, but we're getting Phantom Lady, Black Condor and…not sure about the other guy. I think that's Doll Man.
Who's The Ray? CW Seed has the answer-
"Raymond 'Ray' Terrill was a reporter who discovered a group of government scientists working on a secret project to turn light into a weapon of mass destruction. But before he could report on his findings, the project head exposed Ray to a "genetic light bomb." The bomb failed to kill him and instead gifted Ray with light-based powers. With these abilities, Ray realized he could go beyond reporting on injustice – he could take action to help stop it. Calling himself the Ray, he was recruited by Uncle Sam and the Freedom Fighters to fight violence and oppression wherever it exists."
Freedom Fighters: The Ray hits the CW Seed in 2017. Will we see a live-action iteration crossover with the ever-expanding DC/CW-verse? Probably, but don't hold me to it.