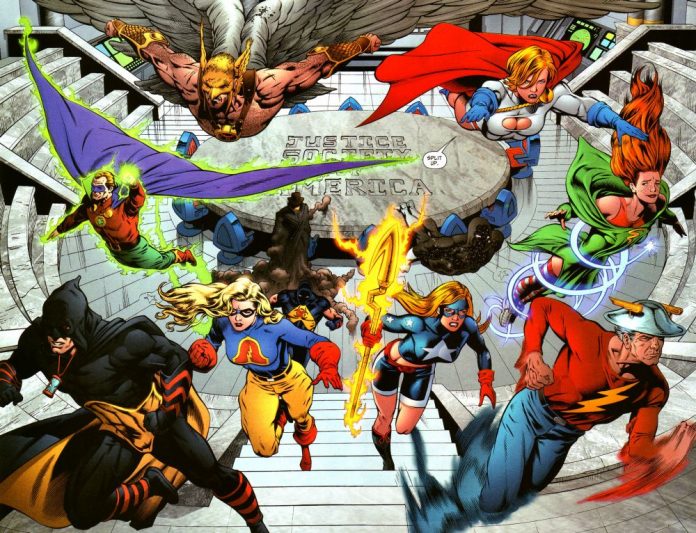 Remember when we told you all about the Justice Society's involvement in Legends of Tomorrow Season 2? Yep, the Legends gang will be meeting up with the classic comic book team, The Justice Society of America, in the first few episodes of Season 2. And honestly, this is a fortuitous thing, considering the Legends will be dealing with an iteration of The Legion of Doom, including Malcolm Merlyn (John Barrowman), Damien Darhk (Neal McDonough), the Reverse-Flash (Matt Letscher) and Captain Cold (Wentworth Miller). OUCH! So, to celebrate the inclusion of DC's classic superhero team, who could definitely use the back-up, producer Mark Guggenheim tweeted the official Justice Society logo. OBSERVE!
So THIS is happening. #LegendsOfTomorrowpic.twitter.com/348djucTfJ

— Marc Guggenheim (@mguggenheim) August 3, 2016
A few things we already know about The CW's Justice Society of America:
1. They'll inhabit the 1940s, as per Brandon Routh.
2. The team consists of Hourman, Stargirl (the youthful hero who gains super-powers after inheriting the Cosmic Staff from Starman), Obsidian (the son of Golden Age Green Lantern Alan Scott who controls shadows), and Dr. Mid-Nite (a surgeon utilizing "blackout" bombs, and armed with visors that can see in darkness, specifically, blackout bomb-created darkness).
Legends of Tomorrow Season 2 returns to The CW on October 13th…or maybe it already returned. I guess it just depends how many times you infiltrate October 13th, 2016 from outside the time-stream.