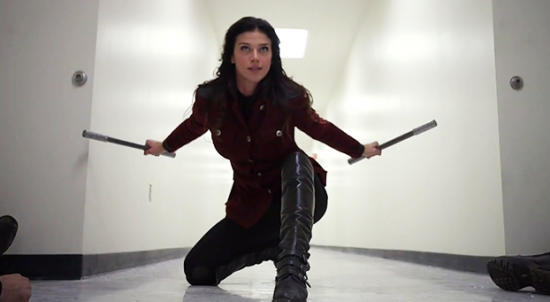 The Marvel television Universe continues to expand, and with this expansion comes the announcement that Marvel's Agents of SHIELD is producing a spinoff… Marvel's Most Wanted.
Most Wanted will bring back SHIELD alumni Adrianne Palicki (Bobbi Morse) and Nick Blood (Lance Hunter) to reprise their roles, but with a twist; Veteran actor Delroy Lindo will  be joining the show -and aiding our hunted heroine – as Dominic Fortune. Here is the official description from ABC:
"Centers on Bobbi Morse (a.k.a. Mockingbird) and Lance Hunter of Marvel's Agents of S.H.I.E.L.D., two ex-spies and ex-spouses who are on the run with no friends, no S.H.I.E.L.D. and a long list of enemies looking to claim a bounty on their heads. Able to trust no one but each other, Bobbi and Hunter form an uneasy alliance with Dominic Fortune, a rogue adventurer with a wealth of resources and even more adversaries, who agrees to protect them so long as they help him with his own agenda. These two heroes will help anyone in need, all while trying to uncover the conspiracy that put their own lives in jeopardy."
Most Wanted has been floating around ABC for some time, and it's great to see ABC finally giving it the greenlight. Since they both joined the Agents of SHIELD cast in Season 2, Palicki and Blood have had some of the best moments in the series (including Hunter's rescuing of Morse last season). The only problem is, with an ensemble cast, they have to share their time in the limelight. Now getting their own spinoff, we can see Mockingbird and Hunter continue their strained relationship.
Today's news also builds the excitement for the upcoming return of Agents of SHIELD (returning March 8th). Now that we are aware Bobbi Morse and Lance Hunter will soon be on the run, what leads to their troubles? Could it have something to do with the events in Civil War? Season one's storyline fits in with The Winter Soldier… ditto for Season 2 and Age of Ultron. So you'd have to think that SHIELD's season three will have its run in with the Sokovia Accords. You could make the connection that what happens in The Avengers 2.5, will have an impact on The Strategic, Homeland Intervention, Enforcement and Logistics Division.
Now if you're worried that Marvel is going to reach its television saturation point, you may be right. Most Wanted is the latest MCU-adjacent show to hit the airwaves, following SHIELD, Agent Carter, Daredevil, Jessica Jones, Luke Cage and Iron Fist. That also doesn't include The X-Men Legion show heading to FOX. Throw in Arrow, The Flash, Legends of Tomorrow and Supergirl and now you have many days' worth of comic related content on television. So is it really worth having a Most Wanted show? I would say…yes.
The chemistry between Palicki and Blood is tremendous. Having them in a show in the vein of the original Incredible Hulk sounds like a solid win for me. Also, with a third season of Agent Carter in jeopardy (due to lackluster ratings and Haley Atwell getting another TV gig), Marvel is going to want something to take is place. By launching Most Wanted, we can continue the MCU adventures all while creating something that is as close to a Black Widow/Hawkeye spinoff as possible. Let's just hope that Most Wanted goes better than Adrianne Palicki's last failed TV attempt.