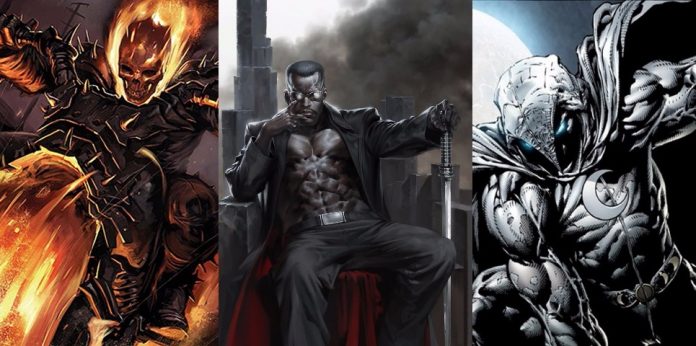 The internet is all abuzz about rumors that another trio of Marvel characters may be making their way to Netflix. Wait, are there more Marvel characters coming to Netflix? Potentially/possibly/maybe.
Which characters?
If the rumors are to be believed, we could see series featuring Ghost Rider, Blade and Moon Knight in the not too distant future.
AS OF THIS WRITING THIS IS ONLY RUMOR, SO TAKE IT WITH A GRAIN OF INTERNET SALT! PLEASE!!
It wouldn't be the first outings for Blade and Ghost Rider. Wesley Snipes starred in a very successful trilogy of movies starring the Day Walker in the 1990s. Nicolas Cage starred as Ghost Rider in a pair of less well-received movies earlier this century.
None of those films were for Marvel proper so these rumored series would bring the characters into the MCU.
What would we see?
How about an anthology series for Ghost Rider ala HBO's The Hitchhiker? Johnny Blaze sets up the story, exacts his required vengeance and Ghost Rider tags it out.
Blade could poke around into the dirtier corners of the Magical MCU that Doctor Strange is too busy to police.
And Moon Knight?
Oh, where to go with Moon Knight?
My inclination is to just throw everything at the wall. The multiple personalities. The Egyptian gods. The checkered past. The man servant. The moll. The silent chopper. Just let him be Marvel's answer to Batman and see what happens. Truth be told, with a character like Moon Knight, just getting him on screen is going to be a win.
What do you think of these rumors?
Who would you like to see cast in the roles?
Tell us below!