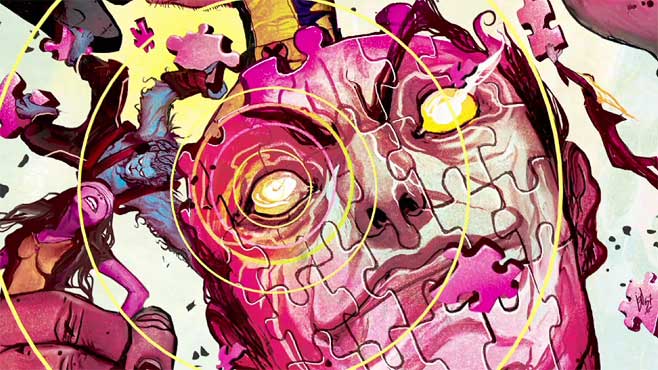 As FX continues to scoop up properties appealing to the coveted 18-34 bracket, FOX Producer Simon Kinberg spoke with Collider and shared his enthusiasm for both Legion and Hellfire. Legion will be based on David Haller, the mutant known as Legion while Hellfire is more than likely based off the Hellfire Club so hopefully we'll get a chance to see some more Kevin Bacon. He did show Jon Lithgow how to dance.
Specifically focusing on Legion, Simon Kinberg said, "Legion and Hellfire are both super active. Hellfire we're hoping to be shooting at the beginning of next year, the pilot. It's been extraordinary working with Noah Hawley [on Legion], who I think is a straight up genius. Actually the idea for Legion, it began in conversations with Lauren Schuler, Donner and Bryan Singer and Noah me, but I remember I was actually in Moscow last year about to go into a dinner, I was there for the Days of Future Past premiere, and I was sitting in a car outside a restaurant about to go into dinner. It was really early on in the process, like one of the first conversations, and Noah and I were on a call just the two of us just riffing ideas, and I was sitting outside what I thought was gonna be like a 10 minute call and I ended up sitting out there for three and a half hours, missing the dinner. Everybody had not only had the dinner but went home, and I just got off that call being like, 'It's midnight in Moscow but we have to make this show with this guy because he's so brilliant.' So that's really ramping up now, the production's ramping up to start shooting at the beginning of the year with FX."
He continued, "I mean the thing that's cool and that's the hope in branching out to TV is that we can tell these X-Men stories in a slightly different way and even with a slightly different tone. It's one of the thing we're kind of doing in the different movie franchises. I mean Deadpool obviously has a very different, almost antithetical tone to the mainline X-Men movies. The X-Men movies are dramatic and almost operatic, whereas Deadpool is irreverent and hysterical and sort of a dirty R-rated comedy in many ways. And Gambit will have its own different flavor and tone to it, will be more of like a heist movie and a sexy thriller in a way. So the TV shows give us an opportunity to go even further and certainly what I'm seeing on Legion with Noah and FX is an intent to do something completely original in the genre, in some ways to sort of blow up the paradigm of comic book or superhero stories and almost do our Breaking Bad of superhero stories." The Breaking Bad of superheroes? That's a mighty tall order! Just remember to get the correct plastic containers.