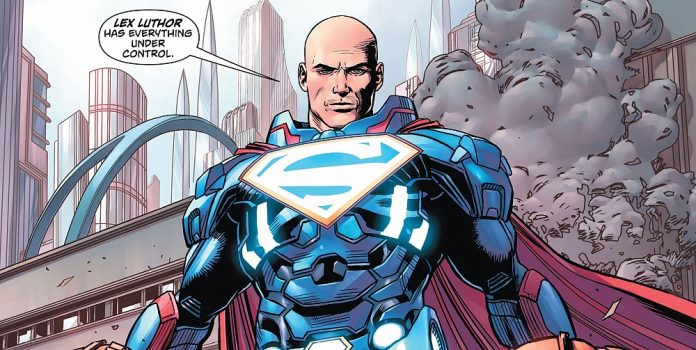 Our review of Action Comics #957 does include spoilers, so if you haven't read this comic yet, proceed with caution!

Written by: Dan Jurgens
Art by: Patrick Zircher
Cover by: Ivan Reis, Joe Prado & Sonia Oback
"PATH TO DOOM CHAPTER 1"
Along with fellow long-running title Detective Comics, Action Comics returned to its original numbering with the launch of DC's REBIRTH storyline. Issue #957 shakes up things quite a bit in Metropolis, while presenting a story that embodies the spirit of the Superman issues of the recent past.
Most of the pre-release buzz surrounding this book centered on Lex Luthor who was depicted in his latest super-suit…but one emblazoned with the iconic "S" shield. The idea of Lex Luthor standing up for truth, justice and the American way seems mighty incongruous to longtime readers, and Superman doesn't think much of it either.
While the "New 52" version of Superman has gone to that great Fortress of Solitude in the sky, we learned during REBIRTH #1 that the pre-"Flashpoint" Superman, his wife Lois Lane and their son have been living in hiding for the past several years while trying to teach their son how to harness and control his own set of Kryptonian powers. Seeing TV coverage of a super-suited Lex Luthor in Metropolis swiftly brings Superman out of hiding, and after shaving his beard as only a Kryptonian can (one of my favorite panels in the entire issue), he flies back into action for a super-powered scrum in the skies above Metropolis.
This is the Superman that many comic fans grew up knowing and loving. The "New 52" presented Lex Luthor with more shades of gray than just being an outright villain; heck, he even joined the Justice League. To this Superman, however, Lex remains Public Enemy No. 1. Luthor also notices differences between this Kal-El and the Superman that he knew, and that adds some extra flavor to their physical and verbal clashes.
Modern comics just cannot resist bringing back characters from the dead (credit Marvel for keeping Wolverine and Professor X deceased… so far), and the trend continues here. One definite return also sets the stage for another, bigger battle in the next issue. Meanwhile, the media coverage of the brawl in the skies casts doubt on the ultimate fate of the "New 52" version of Superman.
This is not a great comic, but it is definitely a good one. Writer Dan Jurgens, who helped oversee the death of Superman the first time around, returns to the character with an action-packed yarn. The story is intriguing, but the art by Patrick Zircher is tremendous in capturing the scope of the combat as well as the spirit of the characters.
I've never been a huge Superman fan, but I'm glad I picked up this issue, and I'll be reading for at least the next few weeks to see what happens next.