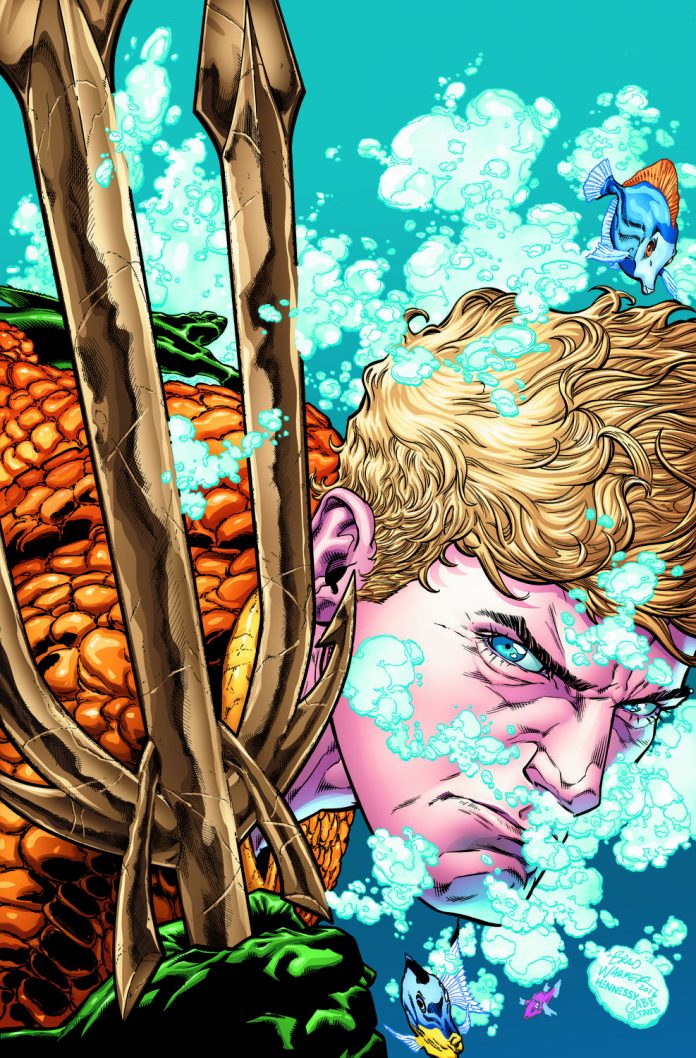 Check out Our Review [WITH SPOILERS] of Aquaman REBIRTH #1!
Writer: Dan Abnett
Pencillers: Scot Eaton and Oscar Jimenez
Inkers: Mark Morales and Oscar Jimenez
Colorist: Gabe Eltaebn
As I've covered in a number of Rebirth reviews these past few weeks, going into this refresh of the DCU, many DC titles were broken. Aquaman was not one of those titles. Recently, Aquaman just got a fresh coat of paint thanks to the new writer and co-creator of Marvel's modern day Guardians of the Galaxy, Dan Abnett. Abnett was rocking on the Sea King and now that the DC Universe has been reborn, Abnett is still rocking on the Sea King as evident in Aquaman Rebirth #1.
With Rebirth, Abnett might be rocking even harder because this book rules! Abnett gives any new reader a course in Aquaman and introduces Arthur Curry, his supporting cast and the world of Atlantis. It is world building (or at least, world explaining) at its finest as Aquaman surveys his realm and introduces bits and bobs of Aqua-history to readers.
It's also a good time for fans familiar with this version of Aquaman as the Rebirth special also introduces Deluge, an underwater group of xenophobic terrorists bent on destroying the surface. In addition, Abnett covers such diverse topics as Aquaman's wonderful relationship with his queen, Mera (yes kids, in Rebirth, heroes are allowed to be married), the idea of why people on the surface think Aquaman is a joke, and just how much responsibility it is to be the monarch of two-thirds of the world.
Aquaman Rebirth #1 is an extension of Geoff Johns' good works on the title and is a rollicking adventure that should please old Aquaman fans and welcome new ones with open arms. The book ends with the introduction of an old enemy in a breathtaking splash page by Scott Eaton and Oscar Jimenez.
In fact, the whole book is visually breathtaking. Books like Aquaman or Sub-Mariner have got to be a pain in the dorsal fin to draw, from the constant use of sea life to the wonky physics, but the art team on Aquaman Rebirth #1 absolutely nails it and the coloring, oh man, the coloring by Gabe Eltaeb! The water in this book actually looks foamy and refreshing!
This book pops in every way and it seems like Aquaman is in very good hands as we head into a new era of "Aqua-love." There's a film coming, a Justice League movie appearance, and a Rebirth all in the near future for the Sea King, and if this is the era of Arthur Curry, than Dan Abnett and company kicked it off in a major way.