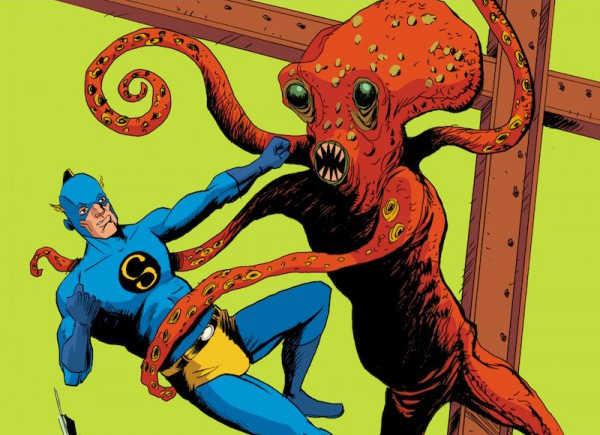 So far, Black Hammer has introduced us to the title's displaced team and, one-by-one, given us a look at the origins of the characters. This month, in Black Hammer #4, we get the origin story of the team's defacto leader/patriarch, Abraham Slam.
Writer:  Jeff Lemire
Artist:  Dean Ormston
IT'S A FAMILY AFFAIR
We first meet Abraham Slam as Abraham Slamkowski. Abraham is judged unfit for service in the Army during World War II. I was expecting a kindly scientist to offer him a spot in an unorthodox experiment to make him a super-soldier. Instead, Abe is taken in by championship boxer, Punch Socklingham. Yes, those are actually their names.
Socklingham puts Slamkowski through an intense training regimen that bulks him up. That's right, Abraham Slam isn't just Captain America in the Black Hammer-verse, he's also Wildcat.
Don't believe me? Socklingham meets his fate at the end of a gangster's gun and Slamkowski gets revenge and becomes the masked Abraham Slam to fight the good fight the way his mentor would have wanted. Throw a little Daredevil in the origin mix now.
Meanwhile, back at the farmhouse where our displaced heroes live, Abe's current flame, Tammy Trueheart, is coming to dinner. This is a problem since nobody knows that Abe shares his home with a witch, an alien, a space explorer, a robot, and a woman-child.
The dinner sequence is as awkward and uncomfortable as you would imagine. Golden Gail does her best to ruin the entire outing until Colonel Weird shows and saves the day all while holding on to the frayed edges of his own sanity.
Did I mention we get our first, obscured look at the hero who lends his name to the title? Or Abraham Slam's fight with my new favorite villain – CHTU-LOU?
Black Hammer continues to be a really great read. Lemire is playing loose with familiar archetypes and the result is an imminently enjoyable comic book. For the fourth time in four months, if you're not reading this book you really should be!