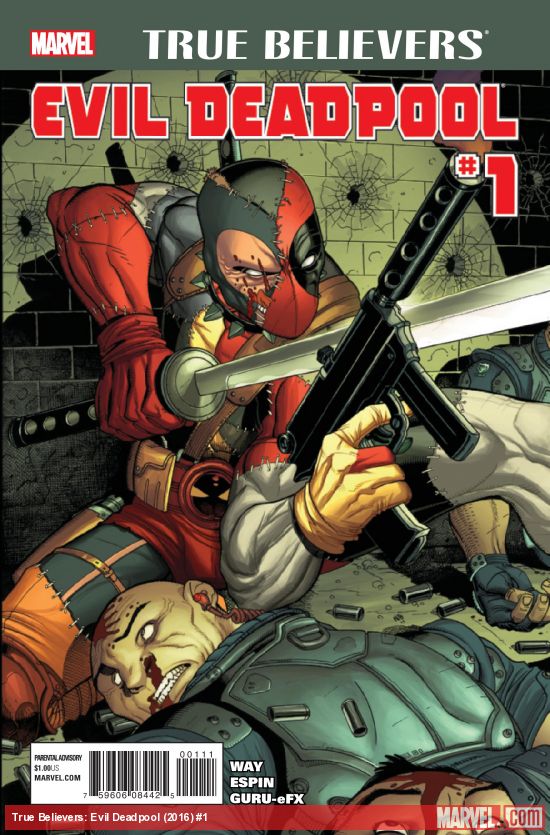 Curious about the new Marvel Comics landing in comic book stores this Wednesday? Curious and a little uninformed? Don't worry, we can help. How? By providing you with the full list of Marvel Comics hitting comic book stores Wednesday, 1/27!
OLD MAN LOGAN #1
Writer: Jeff Lemire                                   
Artist: Andrea Sorrentino
Cover Artist: Andrea Sorrentino
Release Date: 1/27
SPIDER-WOMAN #3
Writer: Dennis Hopeless                         Artist: Javier Rodriguez
Cover Artist: Javier Rodriguez
Release Date: 1/27
SPIDER-WOMAN STUCK! Jessica Drew is no stranger to unusual circumstances, but getting held captive by Skrulls in an alien hospital in the center of a black hole with a bunch of extraterrestrial moms-to-be might take the cake!
ALL-NEW INHUMANS #3
Writer: Charles Soule, James Asmus
Artist: Stefano Caselli
Cover Artist: Stefano Caselli
Release Date: 1/27
The All-New Inhumans are trapped by a dictator hell-bent on weaponizing Inhumans as weapons of mass destruction. Let's hope Gorgon's training pays off or they may not make it out alive!
DAREDEVIL #3
Writer: Charles Soule
Artist: Ron Garney
Cover Artist: Ron Garney
Release Date: 1/27
MOON GIRL AND DEVIL DINOSAUR #3
Writer: brandon Montclare, Amy Reeder
Artist: Natacha Bustos
Cover Artist: Amy Reeder
Release Date: 1/27
SAVED BY THE BELL! DEVIL DINOSAUR goes to school. What could possibly go wrong? MOON GIRL gets her game face on and is ready to take back what's been stolen from her! And the KILLER FOLK up their street cred!
VENOM: SPACE KNIGHT #3
Writer: Robbie Thompson
Artist: Ariel Olivetti
Cover Artist: Ariel Olivetti
Release Date: 1/27
Venom gets an emergency message from a planet made up of volcanoes. The symbiote does not react well to heat. There are problems. 803 has a plan! And it doesn't involve self-destruction! Well, he also has a plan that DOES involve that, but that's an ENTIRELY DIFFERENT PLAN! HEROISM! SNAKE-HAIRED ALIEN LADIES! PRESENTS!
ALL-NEW, ALL-DIFFERENT AVENGERS #4
Writer: Mark Waid
Artist: Mahmud Asrar
Cover Artist: Alex Ross
Release Date: 1/27
You thought the origin of the All-New, All-Different Avengers was surprising? You haven't seen anything yet! When passions flare between Captain America and Thor, they lead to Earth's Mightiest Kiss!
THE UNBEATABLE SQUIRREL GIRL #4
Writer: Ryan North
Artist: Erica Henderson
Cover Artist: Erica Henderson
Release Date: 1/27
CARNAGE #4
Writer: Gerry Conway
Artist: Mike Perkins
Cover Artist: Mike Perkins
Release Date: 1/27
The most spine-chilling comic of the All-New, All-Different Marvel line marches on! Carnage is still loose in an abandoned mine, and if that's not bad enough, all isn't as it seems! And TOXIN arrives for a symbiotic smackdown!
HOWLING COMMANDS OF S.H.I.E.L.D. #4
Writer: Frank Barbiere
Artist: Brent Schoonover
Cover Artist: Brent Schoonover
Release Date: 1/27
Dum Dum struggles to hold his team together after last issue's events! A mysterious new foe makes his move against the Howling Commandos! New member Glyph's secrets are revealed…but is she friend or foe?
EXTRAORDINARY X-MEN
Writer: Jeff Lemire
Artist: Victor Ibanez
Cover Artist: Humberto Ramos
Release Date: 1/27
KANAN #10
Writer: Greg Weisman
Artist: Pepe Larraz
Cover Artist: Mark Brooks
Release Date: 1/27
Caleb Dume's first days in The Clone Wars continue…Master Billaba brings her Padawan and their clones to the Battle of Mygeeto. Separatist Generals Sear and Grievous lay in wait… Star Wars © Lucasfilm Ltd. & TM. All rights reserved. Used under authorization. Text and illustrations for Star Wars are © 2015 Lucasfilm Ltd.