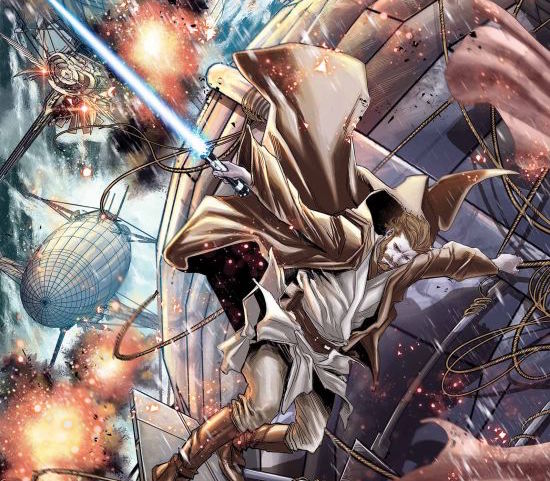 Curious about the new Marvel Comics landing in comic book stores this Wednesday? Curious and a little uninformed? Don't worry, we can help. How? By providing you with the full list of Marvel Comics hitting comic book stores Wednesday, 2/3!
ROCKET RACCOON & GROOT #2
Writer: Skottie Young                                   
Artist: Filipe Andrade
Cover Artist: Skottie Young
Release Date: 2/3
UNCANNY X-MEN #3
Writer: Cullen Bunn                               Artist: Greg Land
Cover Artist: Greg Land
Release Date: 2/3
With mutantkind in extinction's crosshairs once more, Magneto leads a team of the deadliest X-Men to fight for the fate of their species! But can the Master of Magnetism curb his killer instincts long enough to find out who's trying to speed up mutantkind's descent into the grave? Plus: Fantomex! Triage! And an X-Man you probably thought you'd never see again…
CAPTAIN MARVEL #2
Writer: Tara Butters, Michelle Fazekas                     Artist: Kris Anka
Cover Artist: Kris Anka
Release Date: 2/3
Between hosting a contingent of alien ambassadors, passive aggressive power struggles with her Flight Commander, Abigail Brand, and an insatiable itch to be on the front lines, Carol Danvers A.K.A. Captain Marvel struggles to find her footing on the new Alpha Flight Space Station. To top it off a mysterious ghost ship has entered protected Earth space…And it's bearing the Star of Hala. Talk about a rough first week on the job…
Spider-Man #1
Writer: Brian Michael Bendis
Artist: Sara Pichelli
Cover Artist: Sara Pichelli, Adi Granov, Michael Cho, Skottie Young, Mark Bagley
Release Date: 2/3
Miles Morales has been doing the super hero thing for a while, now, but after SECRET WARS, he'll be a full-fledged member of the Marvel Universe. Swinging next to The Invincible Iron Man, The Mighty Thor and the All-New Captain America as a card-carrying member of the Avengers is an adventure, but it's not all fun and games for New York City's main Spider-MAN! What happened in the eight month gap? It all starts in SPIDER-MAN #1!
A-FORCE #2
Writer: G. Willow Wilson
Artist: Jorge Molina
Cover Artist: Jorge Molina
Release Date: 2/3
OBI-WAN AND ANAKIN #2
Writer: Charles Soule
Artist: Marco Checchetto
Cover Artist: Marco Checchetto
Release Date: 2/3
Master and Padawan find themselves stranded on an unfamiliar world…a world of strange, primitive technology and dangerous natives. But even if they can save themselves…why were they called to this world? Star Wars © Lucasfilm Ltd. & TM. All rights reserved. Used under authorization. Text and illustrations for Star Wars are © 2015 Lucasfilm Ltd.

SCARLET WITCH #3
Writer: James Robinson
Artist: Vanesa R. Del Rey, David Aja
Cover Artist: Vanesa R. Del Rey, David Aja
Release Date: 2/3
A magical curse has befallen the Irish countryside and only the SCARLET WITCH has the cure! A powerful new magician by the name of the EMERALD WARLOCK has his eye on Wanda…but is he friend or foe? Wanda discovers that there is much more to her family history than meets the eye…
SPIDEY #3
Writer: Robbie Thompson
Artist: Nick Bradshaw
Cover Artist: Nick Bradshaw
Release Date: 2/3
As Peter Parker finds his footing at school and with GWEN STACY…SPIDER-MAN finds himself face-to-face with the LIZARD!
GUARDIANS OF INFINITY #3
Writer: Jason Latour, Dan Abnett
Artist: Jim Cheung
Cover Artist: Jim Cheung
Release Date: 2/3
HOWARD THE DUCK #4
Writer: Chip Zdarsky
Artist: Joe Quinones
Cover Artist: Joe Quinones
Release Date: 2/3
She's obsessed, she's powerful, she's ALMOST the new herald of Galactus! And like the rest of the universe, SCOUT is after Howard. But with an eye to ending the hunger of the Devourer of Worlds! Plus: The Silver Surfer! The Stranger! The Guardians of the Galaxy! All in a story of Howard on the run we're calling … FOWL MOVEMENT! Oh god, are we really calling it that?
NOVA #4
Writer: Sean Ryan
Artist: Humberto Ramos
Cover Artist: Humberto Ramos
Release Date: 2/3
HOLY MOLE-Y! Nova's lost underground in New York! But his fellow Avengers are hot on his tail!
VISION #4
Writer: Tom King
Artist: Mike Del Mundo
Cover Artist: Mike Del Mundo
Release Date: 2/3
DOCTOR STRANGE #5
Writer: Jason Aaron
Artist: Chris Bachalo
Cover Artist: Chris Bachalo
Release Date: 2/3
The Witchfinder Wolves are here and Doctor Strange is in trouble. The Empirikul is coming, Magic's days are numbered and Strange is not ready!
CONTEST OF CHAMPIONS #5
Writer: Al Ewing
Artist: Paco Medina
Cover Artist: Paco Medina
Release Date: 2/3
TO THE DEATH! NO MORE GAMES! White Fox enters the fray – in time for a six-a-side deathmatch! And one contestant WILL die – AND MAYBE MORE! Plus! A new guest star THRASHES the enemy! You won't believe who's back!
INVINCIBLE IRON MAN #6
Writer: Brian Michael Bendis
Artist: David Marquez, Justin Ponsor
Cover Artist: David Marquez. Justin Ponsor
Release Date: 2/3
Something is not right in the house of Stark, and Tony must delve into the nooks and crannies of his international organization to find out what. Plus: The first big clues of major things to come in the Marvel Universe!
CAPTAIN AMERICA: SAM WILSON #6
Writer: Nick Spencer
Artist: Daniel Acuna
Cover Artist: Daniel Acuna
Release Date: 2/3
Showdown on Wall Street! Team Cap's final showdown with Serpent Solutions. The road to Standoff starts here!
AMAZING SPIDER-MAN #7
Writer: Dan Slott
Artist: Alex Ross
Cover Artist: Alex Ross
Release Date: 2/3
THE WORLD'S GREATEST SUPER HERO! Spider-Man has gone global! Parker Industries is more successful than ever, with offices in New York, Shanghai, London and San Francisco and Peter Parker is racking up the frequent flyer miles with his "bodyguard" Spider-Man in tow, of course. But success breeds enemies and a reinvigorated Zodiac have also widened their scope to threaten the whole world. Join Dan Slott and Giuseppe Camuncoli as they take Spider-Man to the next level! This huge first issue also includes stories featuring Silk, Spidey 2099, Spider-Woman and much more!