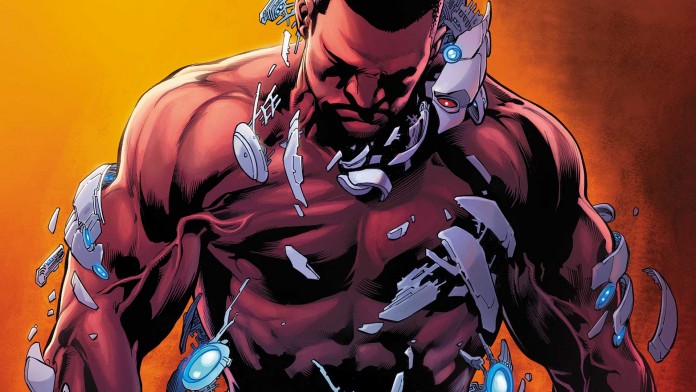 Curious about the new DC Comics landing in comic book stores this Wednesday? Curious and a little uninformed? Don't worry, we can help. How? By providing you with the full list of DC Comics hitting comic book stores this Wednesday, 12/23! Helpful, right? You're welcome.
TITANS HUNT #3
Writer: Dan Abnett                                         
Artist: Paulo Sigueira
Cover Artist: Yanick Paquette
Release Date: 12/23
Haunted by a past they no longer recognize, Dick Grayson and Roy Harper hunt for the truth. Somehow, somewhere, there must be someone who can explain the memories that obsess them but don't belong to them.  Their search has unleashed the rage of Atlantis, but that's nothing compared to the fury of the Amazonian outcast waiting for them in the shadows.
THE DEMON VOL. 1: HELL'S HITMAN
Writer: Garth Ennis                                     Artist: Various, John McCrea
Cover Artist: John McCrea
Release Date: 12/23
Garth Ennis's tales of The Demon are collected for the first time! In these dark, fast-paced tales, Etrigan the Demon battles the Gothodaemon, the demon of Gotham City, with the help of Hitman. Then, a company of German soldiers from World War II are resurrected to capture an army base—and it's up to the Demon and the crew of the Haunted Tank to send them back to their graves. Collected from THE DEMON #40 and 42-49, plus ANNUAL #2.
TEEN TITANS #15 
Writer: Will Pfeifer
Artist: Ian Churchill, Norm Rapmund, Daniel Brown
Cover Artist: Ian Churchill, Norm Rapmund, Daniel Brown
Release Date: 12/23
A "Robin War" tie-in! With Tim Drake missing, the Teen Titans track him back to Gotham City, where the Robin War rages—but Professor Pyg stands between the team and their leader.
SUPERMAN: ACTION COMICS VOL. 6: SUPERDOOM
Writer: Greg Pak
Artist: Various, Scott Kolins, Karl Kerschl, Ken Lashley, Aaron Kuder
Cover Artist: Aaron Kuder
Release Date: 12/23
Doomsday returns from the Phantom Zone with his sights set on the Man of Steel! But when the creature explodes into a plume of vapor which Superman inhales, the real battle begins! Collects ACTION COMICS #30-35 and ANNUAL #3.
SUPERMAN – ACTION COMICS VOL. 7: UNDER THE SKIN
Writer: Sholly Fisch, Greg Pak
Artist: Pascal Alixe, Scott Kollins, Jae Lee, Aaron Kuder
Cover Artist: Aaron Kuder
Release Date: 12/23
In these stories from ACTION COMICS #36-40 and FUTURES END #1, the deck is stacked against Superman when Smallville is poisoned by dark magic and ancient horrors! Can Superman figure out what's going on and save his hometown before this evil epidemic spreads across the entire world? Superman must stop the evil undead threat of the Ultrahumanite from crushing humanity!
 Superman #47
Writer: Gene Luen Yang
Artist: Howard Porter
Cover Artist: Howard Porter
Release Date: 12/23
What would happen if the powers of all of Superman's foes were contained in one villain? You'll find out when you meet the Amalgam of Composite Superman Foes—and this is one nightmare a semi-powered Man of Steel may not survive! Join series writer Gene Luen Yang and guest artist Howard Porter for an unforgettable new epic!
SINESTRO #18
Writer: Cullen Bunn
Artist: Andrew Hennessy, Bradley Walker
Cover Artist: Andrew Hennessy, Bradley Walker
Release Date: 12/23
The Pale Bishop has awakened on Earth…and he might be more than the combined might of Sinestro and Black Adam can handle! As the influence of the Paling sweeps across the planet, the Sinestro Corps welcomes two unexpected (and powerful) visitors: Superman and Wonder Woman!
ROBIN: SON OF BATMAN #7
Writer: Patrick Gleason
Artist: Scott McDaniel
Cover Artist: Mick Gray, Patrick Gleason
Release Date: 12/23
JUSTICE LEAGUE OF AMERICA #6
Writer: Bryan Hitch
Artist: Daniel Henriques, Bryan Hitch
Cover Artist: Daniel Henriques, Bryan Hitch
Release Date: 12/23
Bryan Hitch continues to test the World's Greatest Heroes! It's all-out war against the forces of Rao!
JUSTICE LEAGUE 3001#7
Writer: J.M. DeMatteis, Keith Giffen
Artist: Howard Porter
Cover Artist: Howard Porter
Release Date: 12/23
The world is overrun…and we lost?! For the past few months, they've slowly taken over the U.P. space. Now they're simply exterminating any and all threats in their occupied territory. No one is safe. And we mean NO ONE!
HE-MAN: THE ETERNITY WAR #13
Writer: Dan Abnett
Artist: Tom Derenick
Cover Artist: Szymon Kudranski
Release Date: 12/23
He is greater than any man, any king. But can even He-Man wrest the universe from Skeletor, the Master of Death? How much pain and torment can the most Powerful Man in the Universe endure…on the road to saving us all?
GOTHAM BY MIDNIGHT #12
Writer: Ray Fawkes
Artist: Julio Ferreira
Cover Artist: Bill Sienkiewicz
Release Date: 12/23
The final battle for the soul of Gotham City begins, and The Spectre might be facing more than just the ancient spirit called Ikkondrid. What will Corrigan and the Midnight Shift do if they discover that The Spectre is on the wrong side of this fight after all? This is the FINAL ISSUE.
DEATHSTROKE THE TERMINATOR VOL. 2: SYMPATHY FOR THE DEVIL
Writer: Dan Jurgens, Marv Wolfman
Artist: Various, Steve Erwin, George Perez, Art Nichols, Dan Jurgens
Cover Artist: Mike Zeck
Release Date: 12/23
In this new collection of stories from issues #10-13, ANNUAL #1 and SUPERMAN #68, Deathstroke must train the new Vigilante while he recovers from his own recent injuries. Plus, after being captured by Superman, Deathstroke must escape the Justice League of America.
DEATHSTROKE #13
Writer: James Bonny, Tony S. Daniel
Artist: Tyler Kirkham
Cover Artist: Tyler Kirkham
Release Date: 12/23
The showdown between Slade Wilson, the Suicide Squad and Amanda Waller looms in what's left of Belle Reve Penitentiary…but first he'll have to face off against a deadly new super-villain who could bring an end to Deathstroke's "Suicide Mission"!
DC COMICS BOMBSHELLS #7
Writer: Marquerite Bennett
Artist: Mirka Anolfo
Cover Artist: Ant Lucia
Release Date: 12/23
DARK KNIGHT III: THE MASTER RACE #2
Writer: Brian Azzarello, Frank Miller
Artist: Klaus Janson, Andy Kubert
Cover Artist: Andy Kubert
Release Date: 12/23
The unexpected finale to the Dark Knight saga continues as Carrie Kelly gets caught…that is, she finds herself…she gets into—well, you're just going to have to read it yourself.
CYBORG #6
Writer: David F. Walker
Artist: Joe Prado, Ivan Reis
Cover Artist: Joe Prado, Ivan Reis
Release Date: 12/23
With the fate of the human race hanging in the balance, Cyborg squares off against the Technosapiens. But even if he wins, things will never be the same for Victor Stone.
BATMAN: ARKHAM KNIGHT #12
Writer: Peter J. Tomasi
Artist: Julio Ferreira, Ig Guara, Richard Friend, Viktor Bogdanovic
Cover Artist: Howard Porter
Release Date: 12/23
Double-shipping in December! After years of planning, the Arkham Knight is finally ready to make his move on Batman. But when he seeks out a surprising ally, Jonathan Crane—a.k.a. The Scarecrow—a deadly alliance is formed that may mean the end of the Dark Knight…forever!
BATMAN '66 MEETS THE MAN FROM U.C.L.E. #1
Writer: Jeff Parker
Artist: David Hahn
Cover Artist: Mike Allred
Release Date: 12/23
Two 1960s television icons cross paths for a groovy, globe-spanning adventure in this one-of-a-kind miniseries. The deadly organization known as T.H.R.U.S.H. has a new twist in their plans for world conquest—they're recruiting some of Gotham City's most infamous villains! Agents Napoleon Solo and Illya Kuryakin bring this information to the one man who knows everything about these new enemies: Batman. Before you can say "Open channel D," the Dynamic Duo and the Men from U.N.C.L.E. are jetting off to Europe to thwart the schemes of this deadly criminal cartel.
BATMAN AND ROBIN ETERNAL #12
Writer: Ed Brisson, Scott Snyder, James T. Tynion IV
Artist: Fernando Blanco
Cover Artist: Carlo Pagulayan
Release Date: 12/23
Red Robin and Red Hood have followed a trail of technology to the island nation of Santa Prisca and the mysterious monastery built on the site of what was once the worst prison in the world…but that prison was once the kingdom of Bane, and he wants his kingdom back! Meanwhile, Dick Grayson and Harper Row meet the mysterious Sculptor, a woman who reshapes minds! And with every clue they assemble, a terrible picture of Bruce Wayne's darkest hour is emerging.
AQUAMAN #47
Writer: Cullen Bunn
Artist: Trever McCarthy
Cover Artist: Trever McCarthy
Release Date: 12/23
As the shadow world of Thule continues to invade our dimension, Aquaman is confronted by the God of War herself: Wonder Woman!
ABSOLUTE GREEN LANTER/GREEN ARROW
Writer: Dennis O'Neal
Artist: Various, Dick Giordano, Neal Adams
Cover Artist: Neil Adams
Release Date: 12/23
This stunning Absolute Edition features the classic team-ups in which Green Lantern and Green Arrow confronted menaces including racism, poverty, and drug abuse! Collects stories from GREEN LANTERN/GREEN ARROW #76-87 and 89, plus THE FLASH #217-219 and 226.