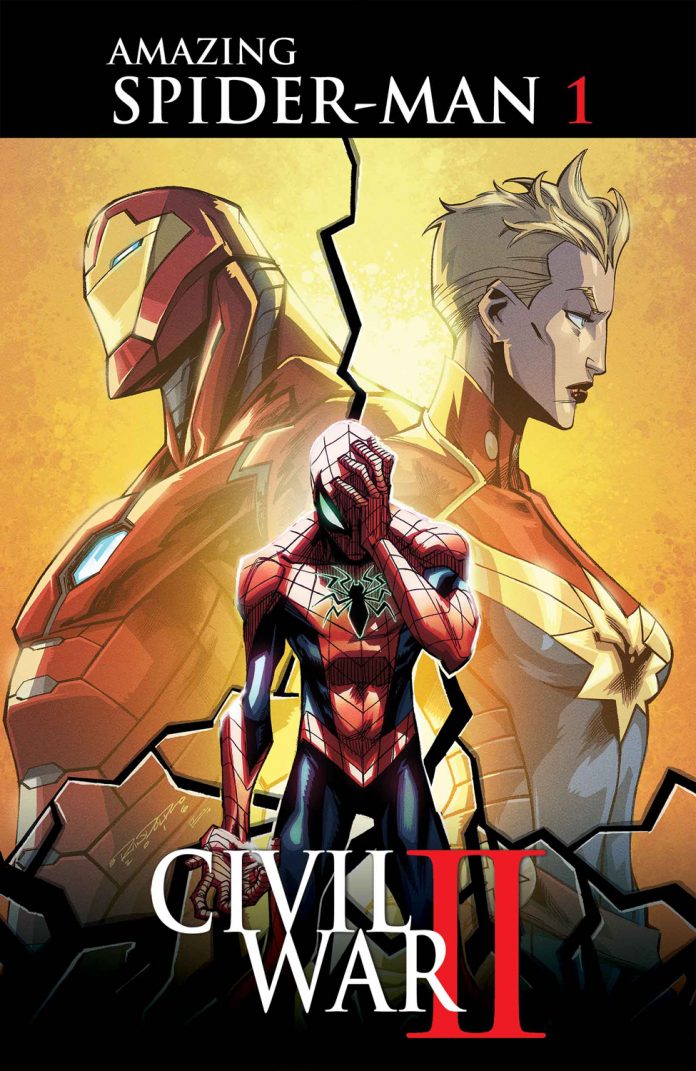 The drums of war beat in the Marvel Universe, and its heroes must choose a side. Caught between two friends, who will Peter Parker stand with? The battle lines are drawn for the wallcrawler this June in CIVIL WAR II: AMAZING SPIDER-MAN #1 – a new series from writer Christos Gage and artist Travel Foreman!
Check out this awesome variant cover and 2 finished, unlettered, interior pages!
"Spidey's role in this Civil War is different than the last," says Christos Gage in an interview with Marvel.com. "This time, before he chooses a side, he's determined to really check things out and make an informed decision. Which should be a good thing – right?"
There's a new Inhuman with the ability to predict the future. Though the heroes of the Marvel Universe continue to grapple with their feelings about his very existence, one thing is certain – he bears a tremendous amount of responsibility to use his powers safely. Thankfully, there's one hero in the Marvel Universe who knows a thing or two about power and responsibility – the Amazing Spider-Man!
As Peter uncovers more about Ulysses and his powers – will he ultimately stand with Captain Marvel? Or will he side with Iron Man? Find out as he swings his way into the comic event of the year when CIVIL WAR II: AMAZING SPIDER-MAN #1 comes to comic shops and digital devices everywhere this June!
CIVIL WAR II: AMAZING SPIDER-MAN #1
Written by CHRISTOS GAGE
Art by TRAVEL FOREMAN
Cover by KHARY RANDOLPH
Variant Cover by GREG LAND
Character Variant by PHIL NOTO
Action Figure Variant by JOHN TYLER CHRISTOPHER
Tiras Buck Is Awesome Variant by Tiras Buck
FOC – 05/16/16, On-Sale – 06/08/16