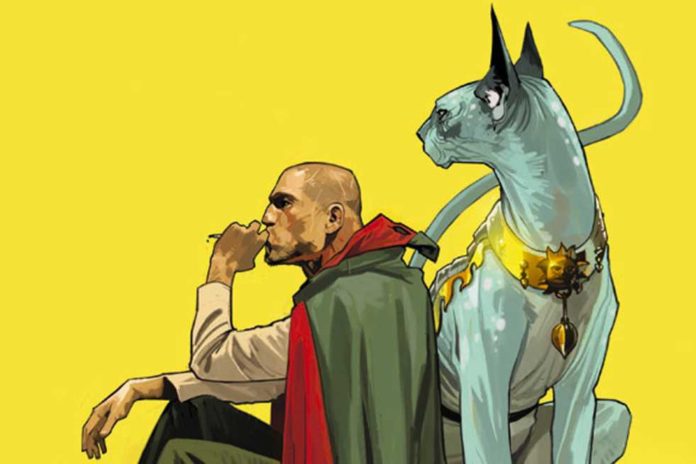 There's never been a greater time to be a comic book fan, and with the myriad of films and TV series dominating our screens today, there's still much left to be desired. After all, comics don't just mean DC and Marvel—there are also the cape-less ones that are every bit as awesome as the Avengers and the Justice League. Neil Gaiman's Sandman, for instance, has been stuck in development hell for decades, but it absolutely demands a live-action movie or TV series adaptation. While we're waiting for Sandman to become a reality, here are just a few more graphic novels that demand a live-action adaptation.
TV Series
Fables
I'm extremely surprised that Bill Willingham's masterpiece hasn't received its live-action adaptation yet. With its epic 150-issue run, Fables chronicles the lives of your favorite fairytale characters, but presents them in ways you've never considered.
Forced out of their homeland, the fables set up camp in New York, where the quest for their return home begins. Of course, through it all are love stories, murder mysteries, tragic backstories, fantastic adventures, and not-for-kids dramas that will honestly blow anyone's mind away—whether a fan of fairytales or not.
There have been talks about creating a series for Fables over the years, including talks with ABC and NBC, but none have actually materialized, probably because of Once Upon a Time and Grimm. But in my opinion, there's always room for modern fairy tales on TV—especially when those fairy tales include the Big Bad Wolf and Snow White birthing wolf-wind hybrids.
Saga
There's no question that Saga needs to be on television ASAP. This fast-paced, high-stakes, action-drama space opera has everything that makes an instant hit—blood, sex, gore, love, drama, wit, humor, family, action, adventure, and talking TV heads.
Brian K. Vaughan and Fiona Staples have knit together a masterpiece that can rival a Game of Thrones-esque cult following, and even though the creators have expressly stated that they have absolutely no interest in creating a live-action adaptation whatsoever, we're still hoping that maybe even Netflix will force the stars to align for us die-hard fans. Can you just imagine Lying Cat alerting people of their B.S. on the small screen? Never say never!
American Vampire
Vertigo's Eisner Award-winning comic book series is perfect for riding on the fame of vampire lore. Scott Snyder's American Vampire definitely rebuilds the vampire myth with its own unique brand of storytelling, exploring vampire evolution and studying bloodlines and new breeds of vampires.
The characteristics and powers of the species change throughout American history, and if we get to see Skinner Sweet and vampirism in the old west, how cool would that be? As a serialized television drama, American Vampire could be the next The Walking Dead. Hello, HBO!
Movies
Calvin and Hobbes
Calvin and Hobbes: because why the heck not? Bill Watterson's heartwarming classic tickles the funny bone and tugs at heartstrings all at the same time, and with his magic, he can make readers care for an adventurous little six-year-old and his stuffed tiger toy.
There's just so much potential for the film version of this comic strip, with storylines ranging from their outrageous, imaginary adventures to Calvin's real life with at school and with his family. Could it be a stop-motion animated film ala-Tim Burton style, or could it be an actual live-action adaptation? With Peanuts already a movie and Archie already in Riverdale, the possibilities are endless.
Daytripper
With all the big-budget hack-and-slash superhero films in theaters today, wouldn't it be refreshing to have an intimate and silent encounter with Daytripper, one of the most profound and philosophically moving pieces in graphic novel history?
The Vertigo comic only runs for ten issues, but brothers Fábio Moon and Gabriel Bá have weaved together a beautifully surreal piece that will make any reader question the nature of their lives and, by the time they turn the last page, will make them appreciate the quiet moments in that make everything worthwhile.
As an obituary writer, Brás de Olivia Domingos dreams of becoming a famous writer just like his father was. In every chapter, readers will encounter his death in varying ways—and the poetic dialogue, the emotionally charged panels, and magic realism only add to its overall beauty. So, think Big Fish and make sure those tissues are within reach. Daytripper as a live-action adaptation? Yes, please.
We3
Picture this: crime-fighting superheroes with kick-ass robotic suits that shoot lasers and razors, only the pilots inside aren't human—they're pets. Yup, fluffy, adorable pets—more specifically, a dog, a cat, and a bunny.
In Grant Morrison's We3, the main characters are three government-enhanced animals with cyber-parts and skull implants that give them limited speech. Together, they try to go through life after their escape attempt into the real world, where they find that life isn't as forgiving for modified government weapons.
Exciting, moving, and immensely heartbreaking, the graphic novel is the perfect live-action adaptation that will humanize heroes in more ways than one. Even James Gunn has expressed his interest in helming the project, so that should tell you how awesome this comic book is (and yes, get ready for the sniffles here, too).
What do you think should receive a live-action adaptation for television and film? Let us know what you think!