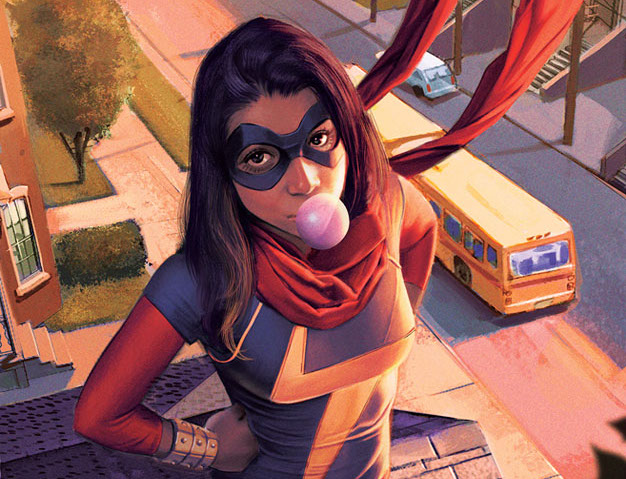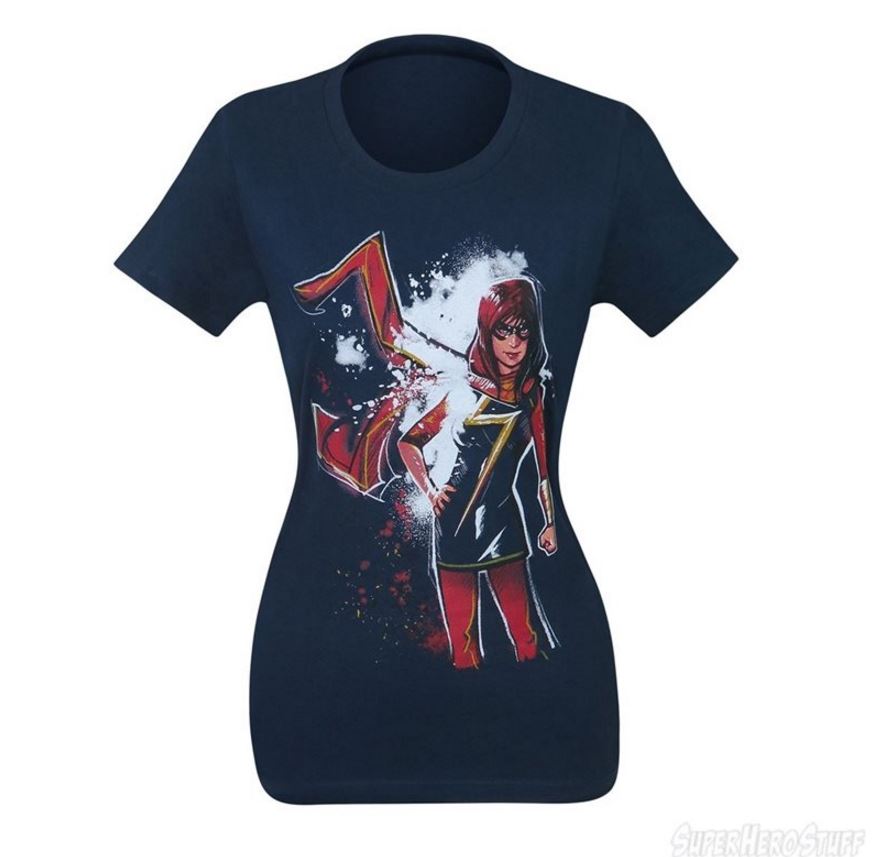 In recent years, Marvel Comics has introduced a series of legacy characters very much inspired by some of their staples. This summer, these heroes will come together, both old and new, in an epic story titled, "Generations." Among them will be the latest and potentially greatest Ms. Marvel: the millennial Muslim, Kamala Khan. Kamala has been one of, if not the most popular hero to suit up recently. Her debut issue, 2014's Ms. Marvel #1, required six printings, making it one of the best-selling comics of all time, and the first volume of her series won the Hugo Award for "Best Graphic Story" in 2015.
So, who is this distinct 'rock star' of a hero? The Source is ready to fill you in on the character's creation with our unofficial biography of the one and only Kamala Khan.    
Creation: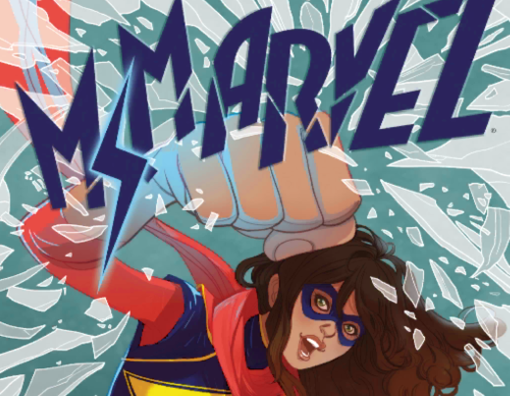 Back in November of 2013, months before the release of Ms. Marvel #1, Marvel Comics announced that Kamala Khan would take over the series. In an article for The New York Times, Marvel editor Sana Amanat recounted the inception of this character, which took place in a conversation between her and fellow editor, Stephen Wacker.
Amanat stated for the Times, "I was telling him some crazy anecdote about my childhood, growing up as a Muslim-American. He found it hilarious."
From there, the duo mentioned the anecdote and the need for female superheroes to writer G. Willow Wilson, who went on to write – and continues to write – the Ms. Marvel series.
In another article from The Associated Press, Amanat stated that the series came from a "desire to explore the Muslim-American diaspora from an authentic perspective."
Interestingly enough, Kamala appeared once before the debut of her solo series, which would fulfill Amanat's vision. In 2013's Captain Marvel #14, Kamala can be seen in a single panel, witnessing an epic battle between Captain Marvel and the Avengers against Yon-Rogg, a Kree invader: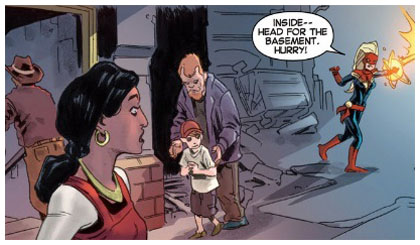 Arguably, this moment was the one that inspired Kamala to become a hero — or at least the new Ms. Marvel.
Biography:
In the first arc of her solo series, beginning in February 2014, Kamala deals with accepting herself for who she is and who she wants to be, dealing with both the labels imposed on her by others and by herself. 
As the series begins, Kamala is struggling with her identity. Unlike many other Marvel heroes, Kamala is uniquely a Pakistani, Muslim, and millennial, so fitting in isn't always easy. This inevitably creates a conflict within her; simultaneously, Kamala wishes to embrace her culture and her heritage while still fitting into the standard, American mold, since she is an American after all. Of course, this is all complicated further when she gains her shapeshifting powers from the Terrigen Mist, gifting her with yet another identity: an Inhuman.
After sneaking out to attend a high school party — to try to fit in amongst her classmates — the Terrigen Mist engulfs the festivities, knocking Kamala out and surrounding her in a cocoon for a process known as Terrigenesis, which taps into her genetic roots as an Inhuman.
When she awakens, Kamala finds another girl from her class in trouble and utilizes her new abilities as a polymorph to save her. Yet, in trying to fit in with the popular kids from her high school, Kamala is not happy, nor is she happy about morphing into a white, blonde Ms. Marvel instead of being herself.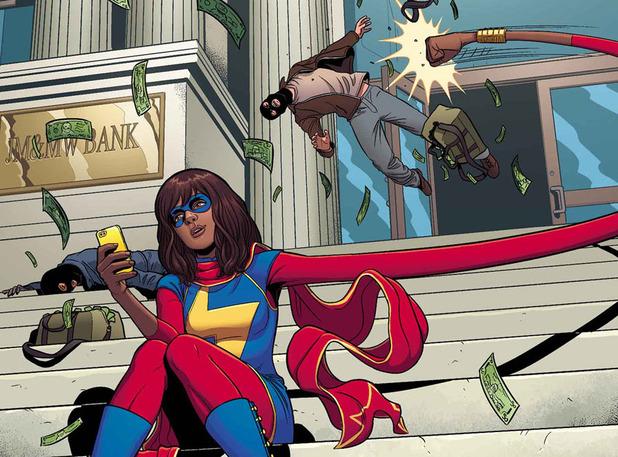 From then on, Kamala's life becomes a balance between being a teen, a fanfic writer, a Muslim, a daughter, a friend, and most of all, a hero. But with heroism comes responsibility — just ask Peter Parker. After getting a grip on her abilities, Kamala finds herself in a position to stop a villain in her hometown, Jersey City, New Jersey, so she creates her costume with help from a friend and embarks on a journey to defeat the Inventor.
However, she quickly realizes that jumping headfirst into things isn't always strategically sound, regardless of her heroic intentions. Despite her defeat, Kamala learns to think before acting, which helps her later in a team-up with Wolverine against the Inventor.
Together, they lead a charge to save some teens from the Inventor's clutches. During this time, Wolverine is without his healing factor, which forces Kamala into an unexpected position of power, courage, and leadership. Wolverine admires this and talks her up to other heroes.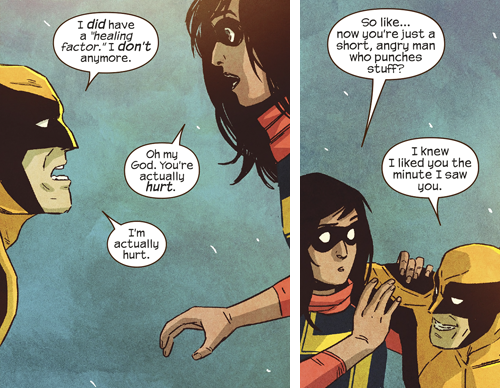 However, in Kamala's struggle to takedown the Inventor, she puts a target on her back and on those around her. The Inventor attacks her school during the day, putting her classmates in danger. Without her costume, Kamala fights like hell to defeat the Inventor's robot, almost killing her. She wakes up later surrounded by Inhumans, including Queen Medusa, who informs her of her Inhuman heritage.
From then on, life is nowhere near the same for Kamala Khan, and it never will be. By becoming a hero, Kamala has gone on to team up with other heroes like Spider-Man, and she even joined the Avengers for a time — giving it up during the Civil War II event. Lately, Kamala has aided the Inhumans in their struggle with the X-Men while also becoming a founding member of the teen team, Champions, who are seeking to redefine what it means to be a hero.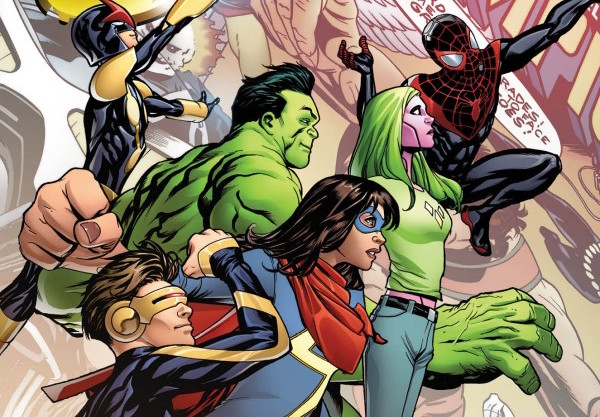 With Kamala Khan's booming popularity and the excellent writing of her series, courtesy of G. Willow Wilson, the new and improved Ms. Marvel will definitely be sticking around the Marvel Universe, saving lives and challenging conventions.
To find out more about Kamala Khan, check out another article from The Source celebrating Kamala and her significance to the realm of comics: Read it HERE!