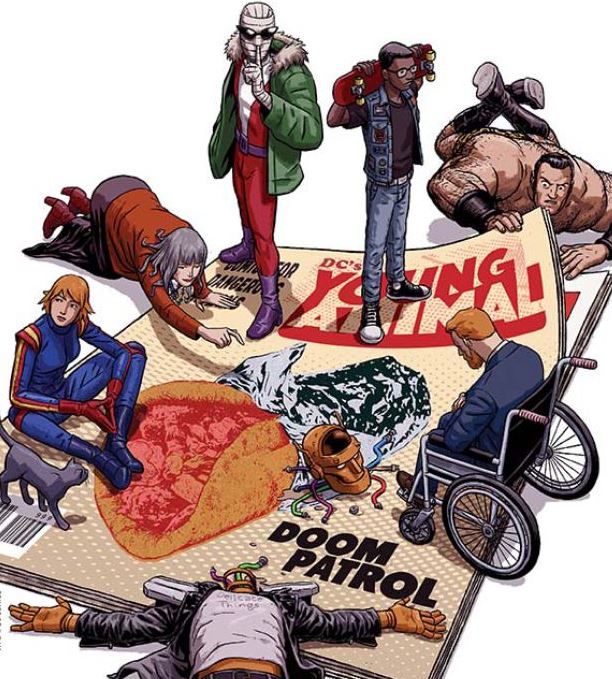 Look, I told you all about DC's new Vertigo–flavored, mature readers imprint Young Animal, a line enabling the return of Vertigo classics like Doom Patrol and Shade the Changing Man Girl, as well as interesting new titles like Cave Carson Has a Cybernetic Eye and Mother Panic. Well….it begins, and it's starting with a figurative punch to your literal thought-pocket when Doom Patrol #1 splatters shelves in swatches of psychedelic "super-heroing" on September 14th. Gerard Way – the "Head Animal" – writes and Nick Derington pencils the latest Doom Patrol exploits influenced by Grant Morrison's astounding, boundary-crushing DP history. Don't believe me? Fine, check out the Doom Patrol #1 preview below. Don't you DARE diss the Doom (Patrol)!
Firstly, the official synopsis provided by DC-
Written by GERARD WAY
Art and cover by NICK DERINGTON
Variant cover by BRIAN BOLLAND
Variant cover by SANFORD GREENE
Variant cover by JAIME HERNANDEZ
Variant cover by BRIAN CHIPPENDALE
Variant cover by BABS TARR
On sale SEPTEMBER 14 • 32 pg, FC, $3.99 US • MATURE READERS
The atoms are buzzing. The daydreams crowd sentient streets, and the creative team has been warned, "Turn back now or suffer the mighty consequence of sheer, psycho-maniacal mayhem." Generation-arsonists unite—this is DOOM PATROL, and the God of the Super Heroes is bleeding on the floor.
And now, let's check out a sampling of covers and interior pages!
Ready for the return of
Doom Patrol
? I am. I've been ready for a long, long time. I've been staying with Danny the Street, mulling about the shops and ornately festooned soda fountains, waiting for news of DP's resurgence. I think it's safe to go home now.