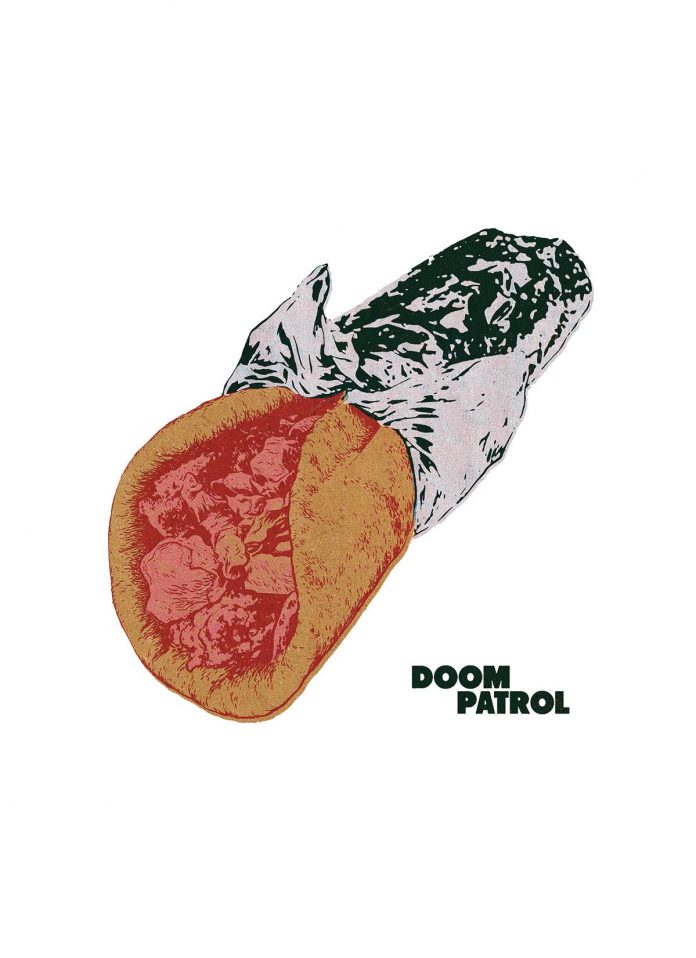 Check out Our Review [WITH SPOLIERS] of Doom Patrol #1!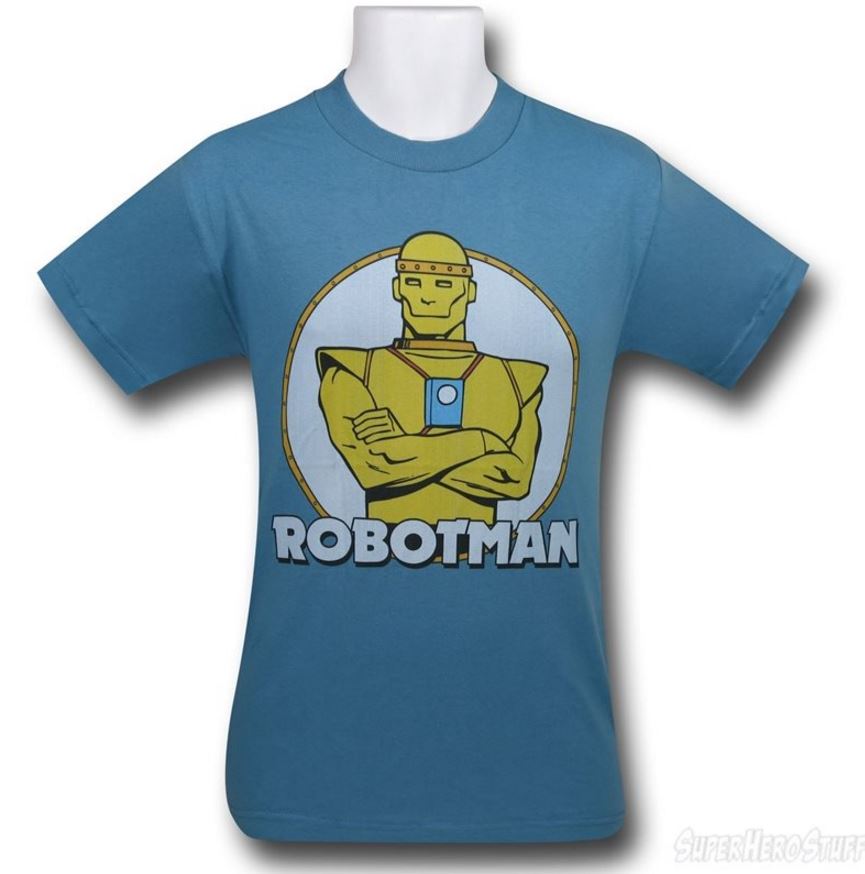 Writer: Gerard Way
Artist: Nick Derington
Colorist: Tamra Bonvillain
Doom Patrol #1 is comic book with a Colorform gyro on the cover. What else do you need to know?
Well, you probably need to know how Doom Patrol #1, the inaugural launch comic for DC's Young Animal holds up. The answer is a bit complicated and so is the comic in question.
Doom Patrol #1 challenges the reader. It presents multiple story layers that seem to exist in a headspace that makes the whole thing a surreal like fever dream of a comic. It succeeds on many levels but not as much as Grant Morrison's legendary run on the title. Morrison's run bent reality to the absolute breaking point while Way's new title kind of just mercilessly mocks it.
The two protagonists of the story are EMTs Casey Brinke and her partner Sam. The two are introduced recklessly racing to a hospital to save an old man's life. This transitions into an existential conversation about the nature of reality as Sam munches on a gyro that contains a futuristic world. Somehow this is followed by the brave pair stumbling onto an accident scene where Robotman gets slammed by a truck. Casey puts Robotman in a box, takes his leather jacket, and our oddball adventure begins.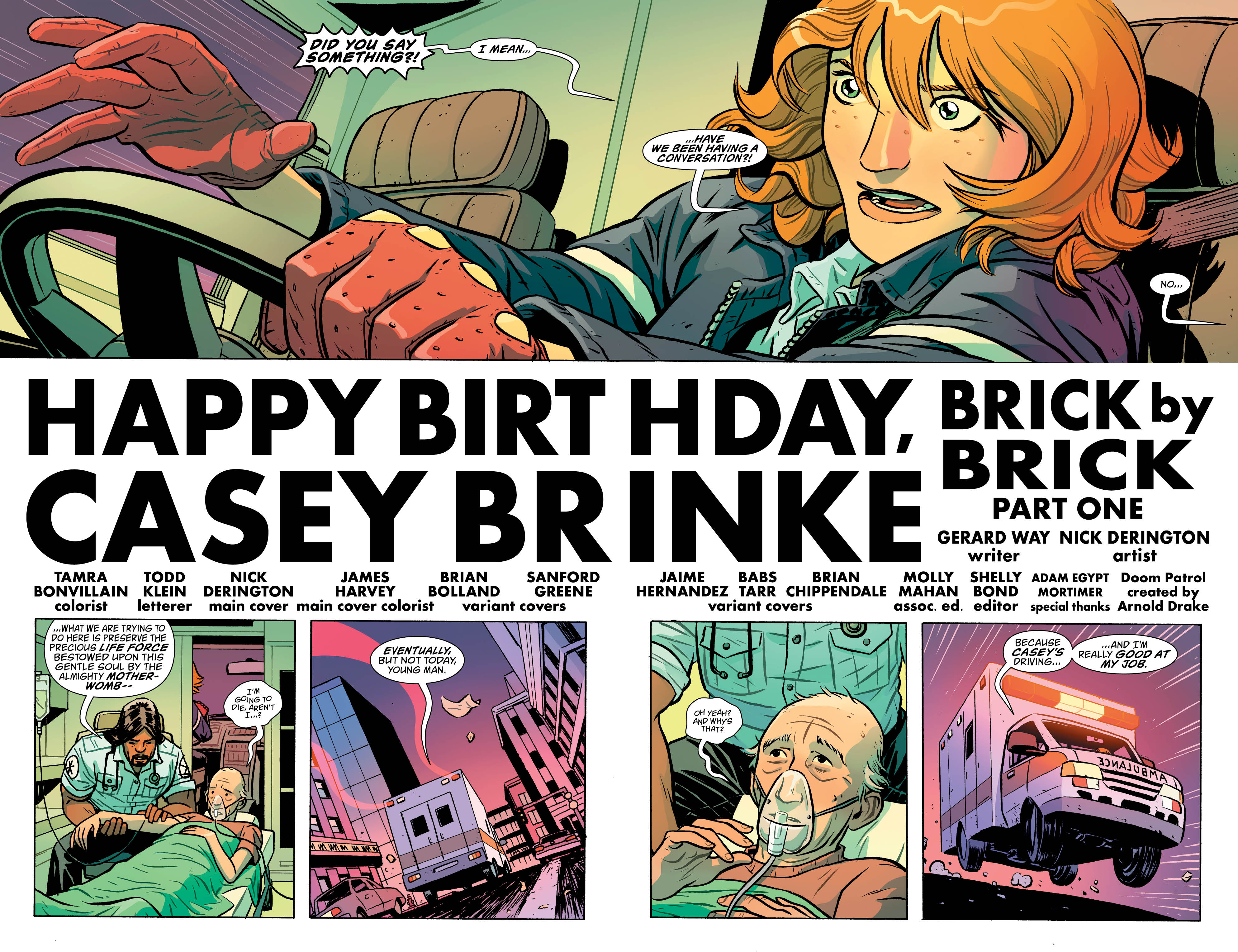 Along the way, we check in with Niles Caulder, meet a contingent of freaky aliens that plan to manufacture a new type of fast food, and are introduced to DC's latest singing and dancing super-powered sensation Terry None. It all kind of fits together in that wonderfully wacky Doom Patrol way as Way balances traditional superhero visuals with a very modern sense of the absurd.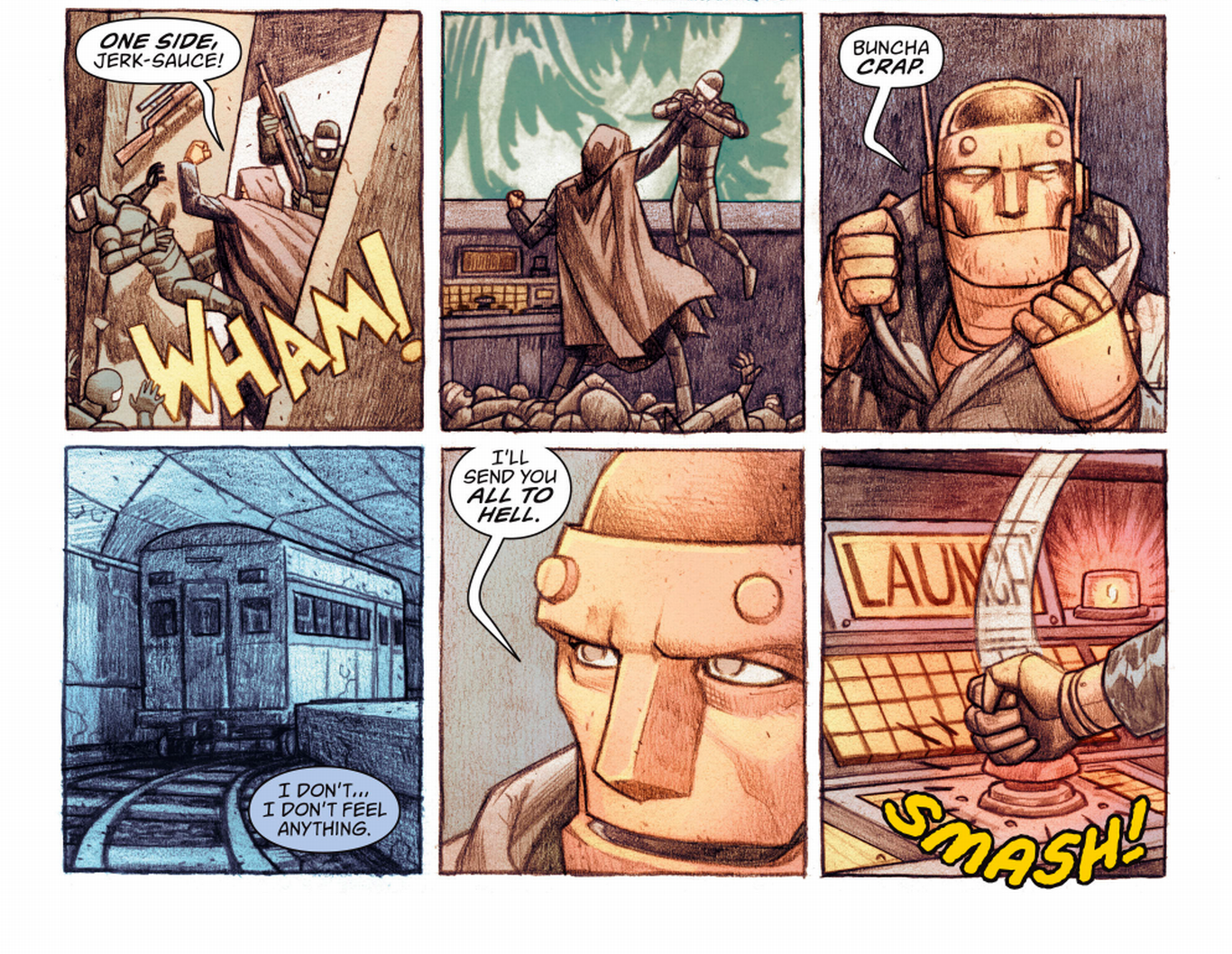 I just kind of wish there was more Doom Patrol there. We check in with Niles Caulder and Danny the Street but those are more nibbles than bites as the issue focuses mostly on Casey. The debut issue kind of tries to do a little too much but I can't slam it too hard for that because experimentation is a Doom Patrol tradition. After all, this is a title that once ended a volume of the series by suddenly killing the entire team.
There is plenty of satire here as Way takes pot shots at consumerism and religion and the whole thing combines with Nick Derington's clean artwork to combine the traditional with the absurd, the expected with the surreal. I think fans of Grant Morrison's legendary run on Doom Patrol will be disappointed as that title perfectly combined superhero action with the unreal. But fans expecting a fun and dreamy romp through an experimental unreality will be quite pleased with Doom Patrol #1. While I really, really dig Casey, I'm hoping next time there will be more Doom Patrol in my Doom Patrol.
And now I'm really craving a gyro.