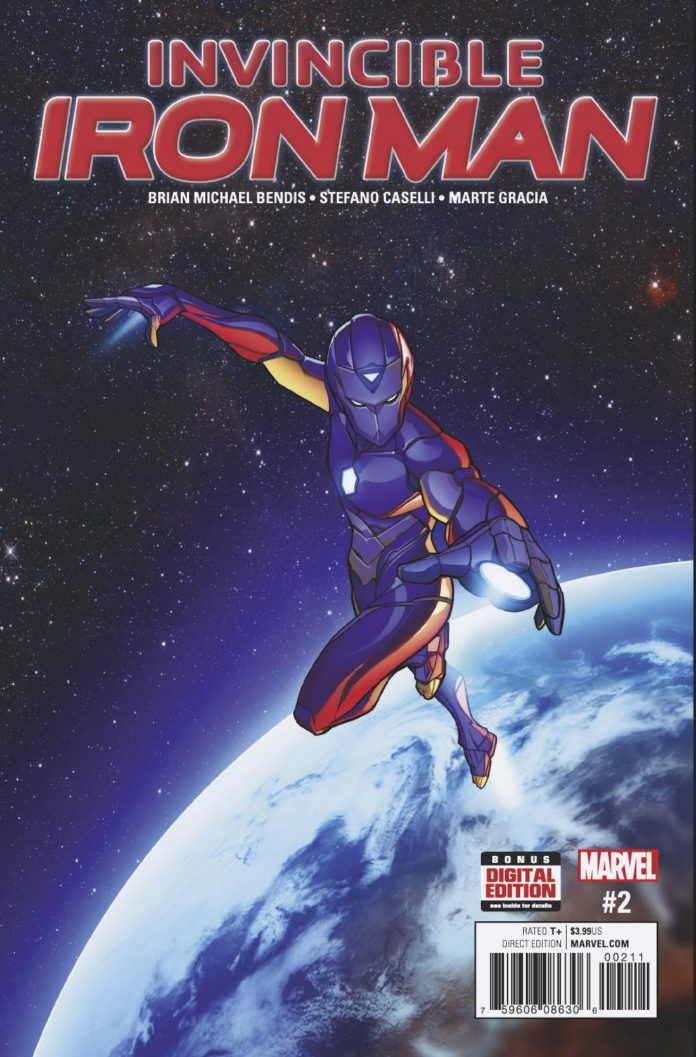 Gang, our Invincible Iron Man #2 review is a little SPOILER-Y, so…check back with us after you've read the issue. Oh? Still here? Thank you!
(Oh, and check out our review of Invincible Iron Man #1 RIGHT HERE if you missed it. Ready? All caught up? Good. Let's move on to issue #2).
Writer: Brian Michael Bendis
Artist: Stefano Caselli
Marvel's solicitations called Invincible Iron Man #2 the "biggest story in comics." It isn't, but that's what makes this issue so engaging. Invincible Iron Man #2 is the second issue of Riri Willaims' time as Iron Man. It features Tony Stark in the role of JARVIS putting Riri through her first paces as the Invincible Iron Man. This is a status quo establishing issue with writer Brian Michael Bendis creating the dynamic between AI Tony Stark and Riri Williams. The issue allows Bendis to connect with Riri and put her through her paces as Marvel's latest and greatest hero. It isn't big, not really, but it is personal and affecting and that's why it works.
The strength of this issue comes in the form of a flashback to the day Riri lost her step-father and her best friend. It is a classic Marvel origin with loss and tragedy, but also hope. Bendis is creating a timeless mythology for Riri so she will fit that Lee and Kirby mold. Riri is a keeper thanks to Bendis making her so, and it is fun to watch her develop as a hero.
However, the issue suffers because we don't actually know what happens to Tony Stark at the end of Civil War II. Mainly because the gosh darn thing hasn't come out yet. It's like watching Return of the Jedi without seeing the last twenty minutes of The Empire Strikes Back. There's fun and powerful stuff going on, but we're a little adrift at sea because of Marvel's piss poor shipping schedule. That's why the Riri origin works so well, because it isn't beholden to anything but its own continuity, and the origin alone is worth the cover price.
The rest of the issue sees Riri take on AI Tony's old armors. These sequences allow Stefano Caselli to go to town with some fun and innovative action sequences, but it's multiple Iron Man armors going against a single Iron Man. You've seen it before. But, you haven't seen it through a character like Riri's eyes, and Bendis' obvious devotion and love for his creation makes Invincible Iron Man #2 a worthwhile read.