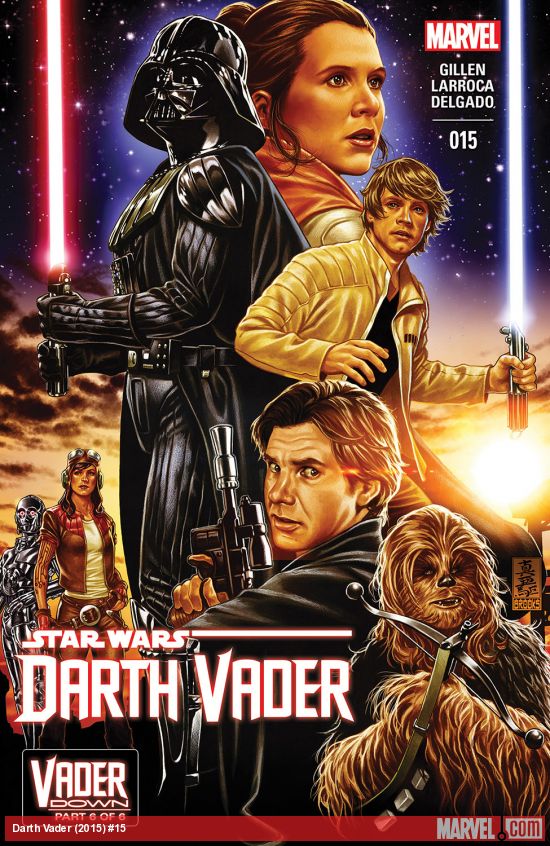 Curious about the new Marvel Comics landing in comic book stores this Wednesday? Curious and a little uninformed? Don't worry, we can help. How? By providing you with the full list of Marvel Comics hitting comic book stores this Wednesday, 1/13! Yes, yes, yes, you are welcome.
AMAZING SPIDER-MAN #1.2
Writer: Jose Molina                                   
Artist: Simone Bianchi
Cover Artist: Simone Bianchi, Ryan Ottley, Marte Gracia
Release Date: 1/13
RED WOLF #2
Writer: Nathan Edmondson                                   Artist: Dalibor Talajic
Cover Artist: Jefferey Veregge
Release Date: 1/13
NEW TIME! NEW PLACE! After his battle with the SURVEYOR, RED WOLF awakens in a world very different from his own…But some problems remain the same. Like dangerous men who ride into town looking to cause trouble. Like snakes in the grass. It will take all of Red Wolf's poise and cunning to keep his wits about him in this strange new world. Thank goodness no one's shooting at him. Oh. Wait.
ALL-NEW HAWKEYE #3
Writer: Jeff Lemire
Artist: Ramon Perez
Cover Artist: Ramon Perez
Release Date: 1/13
Caught in the Crosshairs of time! Old-man Clint and an aged Kate have finally tracked down PROJECT COMMUNION. But even with help from two of Kate's Young Avengers teammates, liberating the FROG KIDS will prove more difficult than the sharpshooters ever imagined. Meanwhile, in the present, Clint finds himself estranged from Kate, and pays a visit to another Hawkeye–his big brother Barney!
ILLUMINATI #3
Writer: Josh Williamson
Artist: Shawn Crystal
Cover Artist: Riley Rossmo
Release Date: 1/13
BLACK KNIGHT #3
Writer: Frank Tieri
Artist: Luca Pizzari, Kev Walker
Cover Artist: Julian Totino Tedesco
Release Date: 1/13
This is it — the moment you've been waiting for! The Black Knight vs. the Avengers! Will Dane and his forces vanquish his old team mates? Or will this mark the end of Dane's adventures in Weirdworld?
We have a bunch of questions and honestly are pretty excited to see the outcome.
What you do think?
ULTIMATES #3
Writer: Al Ewing
Artist: Kenneth Rocafort
Cover Artist: Kenneth Rocafort
Release Date: 1/6
Sometimes you can't fix something without taking a look at the whole thing at once. Spacetime is broken. If The Ultimates want to fix it, they need to go… OUTSIDE. But who — or WHAT — is out …?
GUARDIANS OF THE GALAXY #4
Writer: Brian Michael Bendis
Artist: Valerio Schiti
Cover Artist: Arthur Adams
Release Date: 1/13
A new threat to the galaxy has emerged. His name is Yotat the Destroyer and he will have blood.
SPIDER-GWEN #4
Writer: Jason Latour
Artist: Robbi Rodriguez
Cover Artist: Robbi Rodriguez
Release Date: 1/13
ALL-NEW WOLVERINE #4
Writer: Tom Taylor
Artist: David Lopez
Cover Artist: Bengal
Release Date: 1/13
THE DOCTOR IS IN! Things get truly STRANGE when Wolverine turns to the Sorcerer Supreme in the next mystical chapter of the mystery of the three sisters. But will the supernatural efforts of Stephen Strange combined with the raw power of THE WOLVERINE be enough to combat the evils of Alchemax?
FIGMENT 2 #5
Writer: Jim Zub
Artist: Ramon Bachs
Cover Artist: John Tyler Christopher
Release Date: 1/13
DREAMS DON'T DIE! Dreamfinder, Capri, Spark, & Figment are back in our world…but danger still lurks at the Academy Lucidus! Will the imaginative team be able to save the school and free their friends, or will the world fall into the darkness of doubt for all eternity?! The epic conclusion to FIGMENT 2!
CAPTAIN AMERICA: SAM WILSON #5
Writer: Nick Spencer
Artist: Paul Renaud
Cover Artist: Daniel Acuna
Release Date: 1/13
SECRET WARS #9
Writer: Jonathan Hickman
Artist: Esd Ribic
Cover Artist: Alex Ross
Release Date: 1/13
GENESIS!
DARTH VADER #15
Writer: Kieron Gillen
Artist: Salvador Larroca
Cover Artist: Mark Brooks
Release Date: 1/13
VADER DOWN: THE CONCLUSION! Luke Skywalker- captured by the Empire! Darth Vader- beset by enemies on all sides! The finale of the biggest Marvel Star Wars story yet!