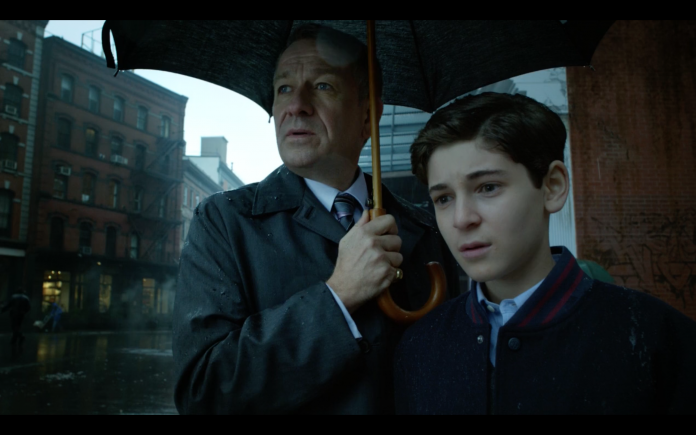 According to our friends at BleedingCool, DC recently registered a new trademark that could potentially portend a new DC TV series involving a legendary, Batman-entrenched character. Apparently, DC has recently registered a trademark for the name Pennyworth, meaning Batman's trusted ally, adviser, strategist and fill-in father could very well have his own TV show. Maybe.
So, what could this Pennyworth show be about? Well, maybe it's about the formative years of Sean Pertwee's Alfred, the smartly dressed gentleman currently urging Bruce away from the darkness in FOX's Gotham. I mean, he's a veteran of the British Special Air Service, and I'm sure he's seen his share of action. Heck, it could even focus on the bulk of his butlering before Bruce's birth. Maybe he was more of a bodyguard than a butler when the Waynes lived and held influence in Gotham City; I'm sure this altruistic duo was the target of many nefarious ne'er to wells, perhaps even…The Court of Owls! Okay, I just threw that out there because it sounds like a GREAT idea. You're welcome, WB.
How about a spin-off TV series featuring Batman V Superman's Alfred, Jeremy Irons? This would be DC's chance to mimic Marvel's TV-inclusive Cinematic Universe, where events on the small screen inhabit the same world initiated in the multiplex. I mean, DC has TONS of shows on TV, but NONE of them represent, or stem from, the authentic DC Expanded Universe. Well, at least…not yet.
And this show could totally do the Court of Owls thing as well. Actually, I would prefer it be handled by the series linked to the DCEU, and created in cooperation with Netflix to lessen its ever-present suck-potential.
So, what DO YOU think this proposed Pennyworth project might be? Let me know your thoughts below!