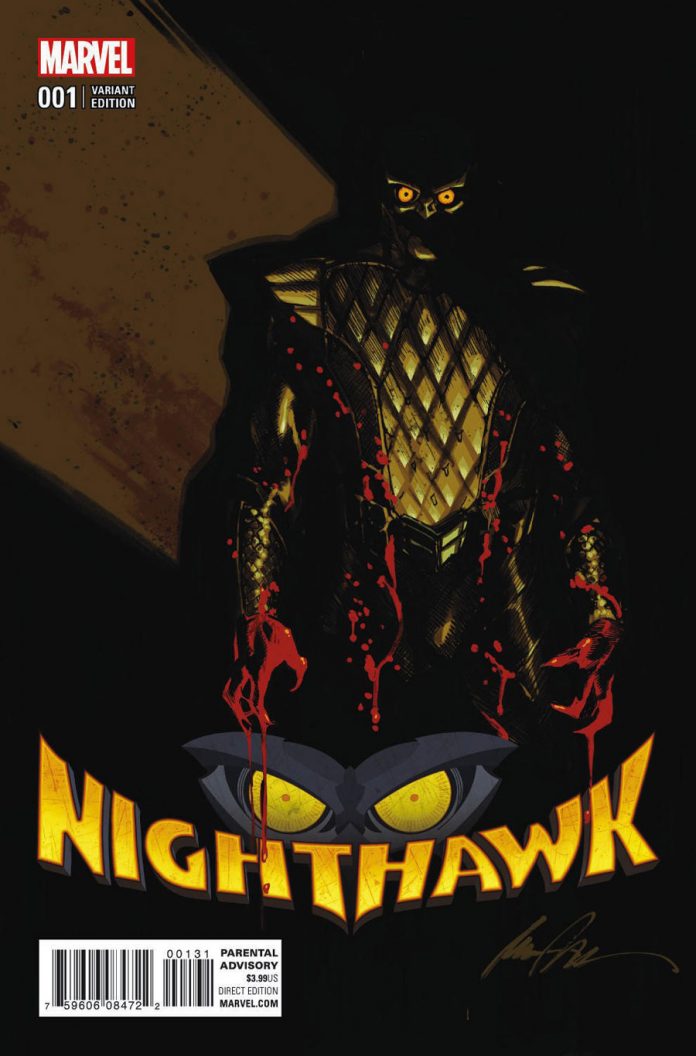 Check out Our Review [WITH SPOILERS] of Nighthawk #1
Writer: David F. Walke
Artist: Ramon Villalobos
Color Artist: Tamara Bonvillain
So, other stuff happened than a rebirth and a betrayal this week, so let's take a look at a comic that won't cause a huge fan brouhaha.
Recently, Marvel has begun to focus on its Squadron Supreme characters. The solo Squadron Supreme title by James Robinson has become a one-stop shop for daring, ultra-violent superhero action, while the Hyperion solo title arrived a bit stilted and generic.
Now it's Nighthawk's turn in a new solo book written by the brilliant creator behind the latest Power Man and Iron Fist, David F. Walker. Nighthawk #1 suffers the same problem as Hyperion since the book doesn't really delve into the background of the main character; Nighthawk is a cypher, a violent vigilante that exists in a space between Frank Castle and Bruce Wayne. The book drops a few hints that Raymond Kane is from another Earth, but this grandiose idea isn't explored at all, which just serves to make the story seem muddled and incomplete. Who is this guy, why is he horrifically beating up criminals, and why is he here? If a reader isn't checking out Squadron Supreme, that reader will be lost to the motivations and origins of the title character.
That doesn't mean there isn't some good stuff here to like. Walker presents an intriguing mystery about a killer vigilante that is going after corporate criminals. This serves as a nice counterpoint to the main character and has me interested enough to come back for more. Nighthawk's assistant Tilda is explored way more than Kane and is a nice grounding character. Walker also deftly explores some contemporary issues of race, making the first issue seem like a bit of a throwback to Marvel's old school Black Panther tales in Jungle Action.
The art is gritty and rather ugly to the untrained eye, but Nighthawk lives in a brutal world, so maybe the artwork by Ramon Villalobos is meant to evoke something unpleasant.
There's some good raw material here, but there is going to have to be more of a focus on character and purpose moving forward if Nighthawk is to break through the Marvel pack and become as big a hit as Walker's other Marvel work.