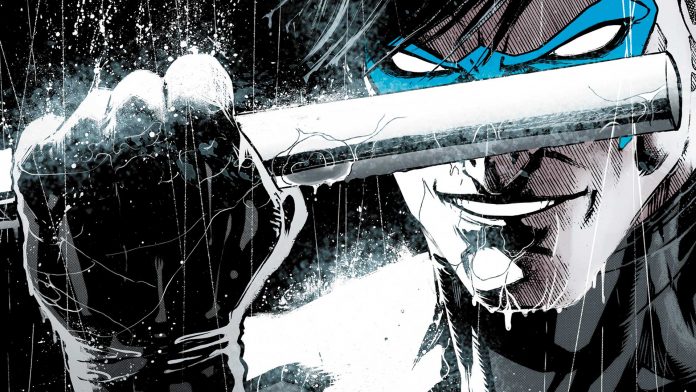 The New 52 found Dick Grayson outed as Nightwing, pretending to be dead and working for a covert spy agency. He had a busy time in the New 52, but now, with Nightwing REBIRTH #1, it's time to get back to basics.
Writer:  Tim Seeley
Artist:  Yanick Paquette
REBIRTH
Dick Grayson, aka Nightwing, has been around almost as long as comics themselves. As Robin, he was the first kid sidekick. As Nightwing, he came into his own as leader of the Teen Titans. He assumed the mantle of Batman and mentored a younger, more dour Robin for a while. Then, during Forever Evil, he left it all behind to become a spy.
That, in a nutshell, is why Nightwing is a perfect candidate for the REBIRTH treatment.
From the opening sequence with Dick and Damian at an arcade through the final shot of Dick back in costume, the book ties up all of the character's loose ends and sends him off in a new yet familiar direction. Along the way we get glimpses of the Huntress, the new, scarier Court of Owls, and, of course, Batman. There is even a brief exploration of the history of Nightwing's name that helps round out the narrative nicely.
This book does exactly what we want a REBIRTH book to do. It takes a classic character that has drifted away from what made the reader connect with him, and returns him to the reader in familiar surroundings with a new lease on life.
I really enjoyed the mid-90s Chuck Dixon take on Nightwing. Dixon took Grayson out of his familiar surroundings and gave him a chance to take what he learned from Batman and stand on his own. REBIRTH's setup gives off a similar vibe. Dick is going to be Nightwing on his terms, but this time with Batman's blessing.
The writing is crisp. The story moves from setting to setting without a hitch. Characters act and talk the way they are supposed to. In short, Tim Seeley gets it all right.
Welcome back Nightwing. We sure missed you.