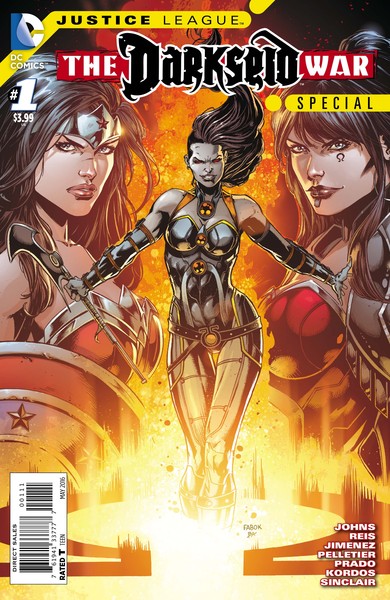 Grail is a super-b*tch. She orchestrated the death of her father, Darkseid, and manipulated the Anti-Monitor into granting her the Anti-Life equation. Yep, she's bad news, and this Justice League special tells the tale! Take it away, DC Press Release!
First, check out the beautiful variant covers and finished, interior pages!
Now, take it away, official DC Press Release!
In this special, the epic battle against Darkseid continues and there is a new major player—Darkseid's daughter Grail! The child of Darkseid and the greatest of the Amazon assassins, Myrina, Grail's fate has long been intertwined with that of Diana, Princess of Themyscira. Though forced to leave their land, Myrina has helped her daughter to learn the ways and values of the Amazons and to become a great and noble warrior, but that doesn't mean she is able to stop the mounting evil that lurks within her daughter.
As fate plays its hand, the Justice League will have to beware Grail's role in this war, and discover where her allegiances lie. Find out more from writer Geoff Johns and artists Ivan Reis, Joe Prado, Oscar Jimenez, Paul Pelletier and Tony Kordos, colorist Alex Sinclair, and letterer Rob Leigh in the JUSTICE LEAGUE DARKSEID WAR SPECIAL #1!
On sale TOMORROW!