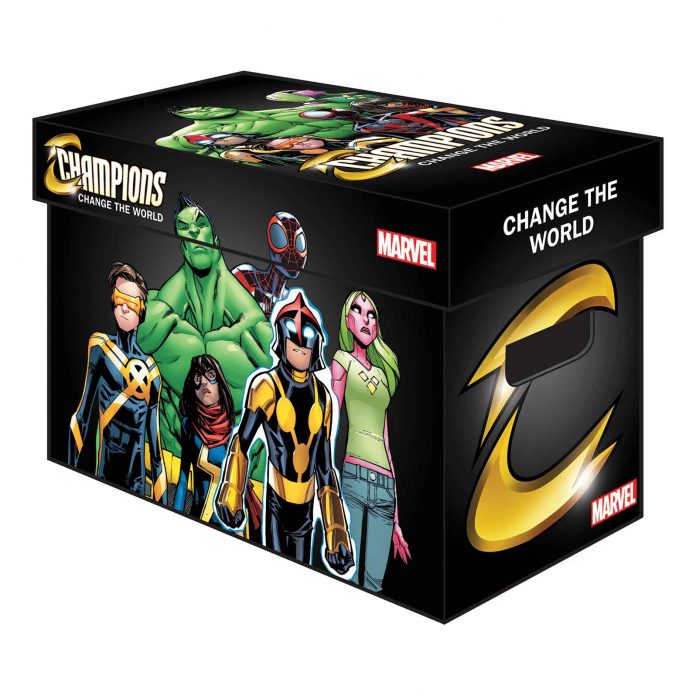 Face front True Believers! Welcome to the Marvel Age of Comic Boxes! Yes, you heard that right. Marvel is already bringing you some of the best comic characters in the world and now, you can even get a box to store them all! Starting this December, store your treasured collection in the first ever MARVEL GRAPHIC COMIC BOXES!!
Featuring characters you know and love, these sturdy boxes feature artwork by some of the industry's finest artists. Kicking off this bold new initiative? Marvel's newest teen team supreme – the CHAMPIONS! Measuring in at 15-1/2" x 7-5/8" x 10-7/8" – these beautifully rendered boxed hold anywhere from 150 to 200 of your favorite Marvel comics! The Champions are out to "Change the World", and they're starting with the way you store your comics! Look for the first ever MARVEL GRAPHIC COMIC BOXES in stores December 2016! Plus, be on the lookout for other designs coming soon!
MARVEL GRAPHIC COMIC BOXES (AUG168477)
MSRP: $5.00 each
And….that's the end of the official press release from Marvel. While we wait for further details regarding the next character or characters slathered on a Marvel Graphic Comic Box, we can use this time to discuss who we REALLY WANT TO SEE on a Marvel Graphic Comic Box. The Champions? Really??? How about the g-darn Avengers, or freaking Doctor Strange, or the damn Black Panther, or the f###### Ultimates!?? The Champions? Bull-sh*t! Cool box, though.