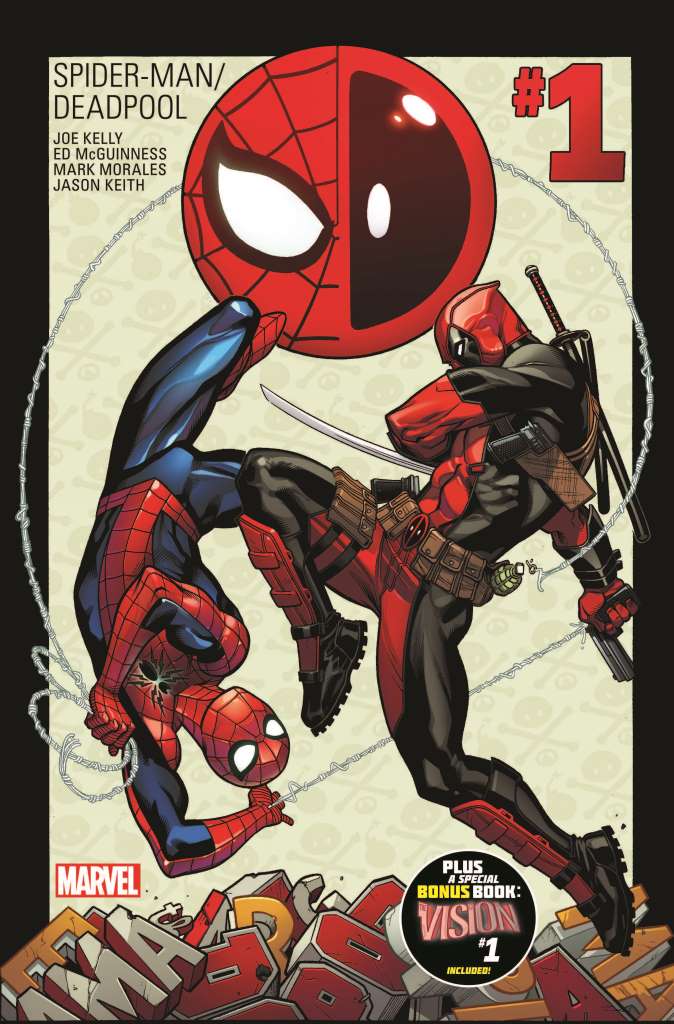 That's right, in the pages of Spider-Man/Deadpool #1 – debuting this January – one will find more than the expected allotment of utter hilarity as two Marvel icons quip incessantly for 21 pages (with ads). Wait…MORE??? Yes, more. Spider-Man/Deadpool #1 will also contain, in its entirety, The Vision #1! Cool and stuff! Wait, you don't believe us? Fine, then check out the OFFICIAL Marvel press release regarding the inclusion of The Vision #1 in Spider-Man/Deadpool #1!!! Gnaw on some truth-jerky, poop-face!
Read THE VISION #1 Full Issue in January's SPIDER-MAN/DEADPOOL #1!
New York, NY—December 10th, 2015 — This January, the Marvel Universe's most unlikely duo is about to become a trio! That's right, today Marvel is pleased to announce that next month's highly anticipated SPIDER-MAN/DEADPOOL #1 will now also contain the full issue of the critically acclaimed THE VISION #1 – at no extra cost! Missed out on the title that has the entire comic industry buzzing? Now is your chance to jump on board one of the hottest new series!
"The Vision #1 is a title that perfectly encapsulates the All-New, All-Different Marvel initiative," says Marvel SVP Sales & Marketing David Gabriel. "It's a riveting reinterpretation of a character that has existed for decades and Tom [King], Gabriel [Hernandez Walta] and Jordie [Bellaire] truly hit a home run. We're hoping that by including it in a huge release like SPIDER-MAN/DEADPOOL we can get this fantastic first issue in front of a larger audience."
Here's what some of the critics have to say about THE VISION #1:
"…a strangely chilling, page-turner of a comic. And it is fantastic." – io9.com
"The Vision #1 is as pitch-perfect a first issue as I've ever read." – Newsarama
"…this is as compelling as comics can get." – Adventures in Poor Taste
SPIDER-MAN/DEADPOOL #1 will now ship with 40 story pages, reprinting the full contents of THE VISION #1 at the end of the issue. Retailers are strongly encouraged to check their orders to meet demand. SPIDER-MAN/DEADPOOL #1 hits stores on January 6th, 2016.
SPIDER-MAN/DEADPOOL #1
Written by JOE KELLY
Art & Cover by ED MCGUINNESS
FOC – 12/07/15, On-Sale 01/06/16