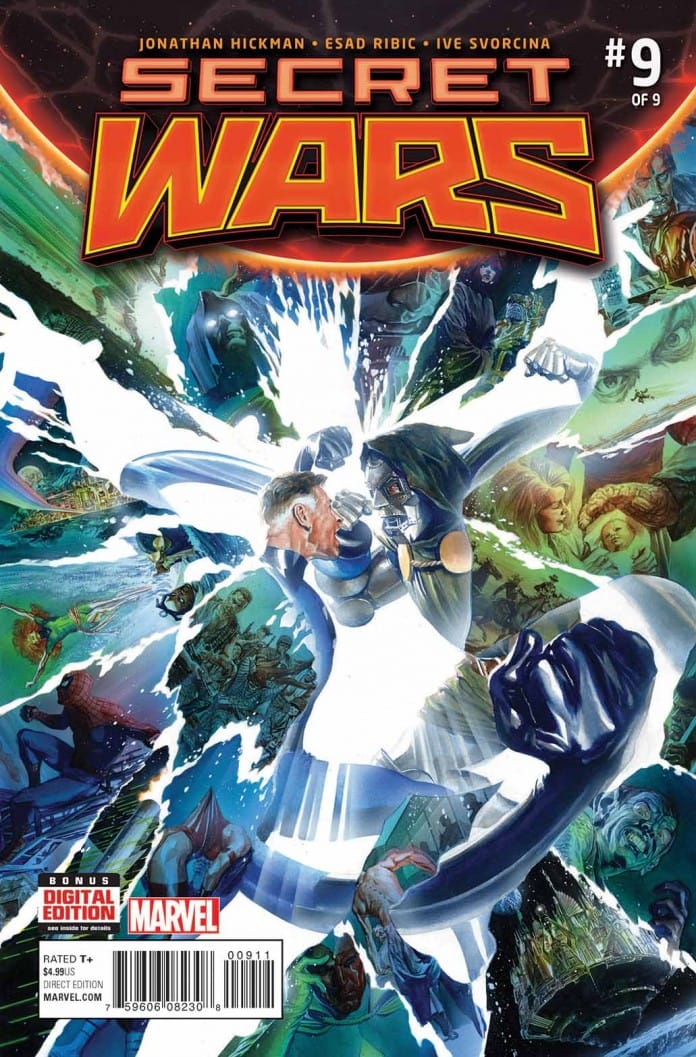 It's here! Finally! The end to an epic story detailing a gripping drama played out upon the last, life sustaining remnants of multiversal structure! The Universe – the Multiverse – is no more! All that remains is a patchwork planetoid held together by the will and divinity of god-emperor Doom! Can Doom's will, now called into greater question, continue to hold the hastily constructed Battleworld together? Can he continue to deny himself, and his citizens, the truth of of what existed before his divine restructuring, regardless of his greatest foe knocking upon the gates of Doomstadt?? Find out here, in an epic tale that weaves together the final threads of Jonathan Hickman's historic narrative that began in the pages of Fantastic Four, continued in the Avengers, and ended with the destruction of all that came before! AHH! Okay, that's enough out of me. Let's allow the official Marvel press release – along with a host of variant, Secret Wars #9 covers – to clue you in…officially.
New York, NY—December 14th, 2015 — It's the story that has the whole world on the edge of its seat. The biggest Marvel event of all time. The story that destroyed the Marvel Universe. And this January – it all comes crashing down. Today, Marvel is pleased to present your first look at SECRET WARS #9, the cataclysmic final issue from chart topping creators Jonathan Hickman and Esad Ribic!
"Marvel fans can rest easy knowing that at long last SECRET WARS #9 is off to the printer, and will be in their hot little hands January 13th," says Marvel SVP, Executive Editor Tom Brevoort. "I can say with some confidence that it's a finale that no reader who's been enjoying the ride so far will be disappointed in, and is in no way spoiled by any of the events that have transpired in our assorted All-New, All-Different Era titles so far. Don't believe me? Well, you'll just have to pick up a copy for yourself and see!"
Battleworld teeters on the brink. Armies march against God Doom. What will become of this strange patchwork planet? Who lives? Who dies? One thing is for certain – nobody will come back from Battleworld the same. Be there for the explosive conclusion and the genesis of the new Marvel Universe in SECRET WARS #9 – on sale January 13th!
SECRET WARS #9
Written by JONATHAN HICKMAN
Art by ESAD RIBIC
Cover by ALEX ROSS
Variant Covers by SIMONE BIANCHI,  SKOTTIE YOUNG,
SARA PICHELLI and FRED HEMBECK
Action Figure Variant by JOHN TYLER CHRISTOPHER
FOC – 12/14/15, On-Sale – 01/13/16