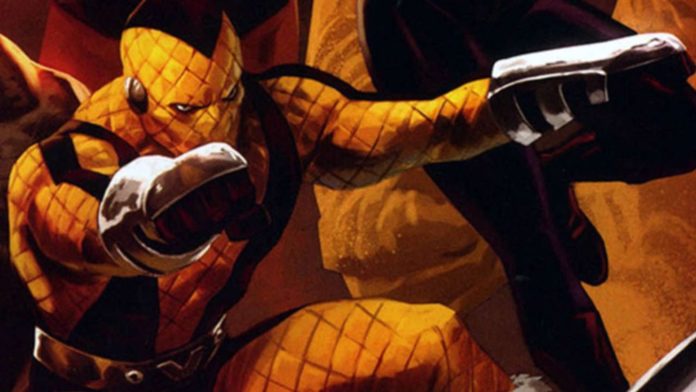 In the midst of all the buzz about Spider-Man: Homecoming (especially after the NBA Finals trailer), it's easy to forget all about the minor villains in favor of fawning all over Tom Holland's awesomeness. But Tony Stark and Happy aside, there's also the lesser-known but equally cool Shocker, a.k.a. Herman Schultz, who will be played by Bokeem Woodbine in the upcoming film. So, to prep yourself up for Homecoming, here are just a few things you need to know about The Shocker before he makes the transition from comics to live-action films!
Shocking Powers and Abilities
Created by Stan Lee and John Romita Sr. in 1967, Herman Schultz began his life of petty crime as a common crook looking to make a quick buck. As the self-proclaimed "world's best safe-cracker", the inventor and engineer manipulated vibrations using his own mechanisms to crack safes and pick locks.
His "vibro-smasher" gauntlets can shake the ground, shoot concussive blasts, and emit high-pressure shockwaves that he can use to weaken structures, damage human organs, and even help propel himself off the ground, effectively giving him the ability to leap tall buildings in a single bound—er, jump really, really high.
The Shocker and His Motivations
Unlike most of Spider-Man's enemies, The Shocker actually has a pretty rational mind when you think about it. His criminal behavior, for instance, stems from his honest-to-goodness desire to earn more money rather than an inexplicable hatred for the web-crawler. He doesn't have a personal vendetta against Spidey; on the contrary, he just wants to make a living and keep his reputation up in the criminal underworld. Is that too much to ask?
He's actually a breath of fresh air from all the other maniacal villains in Spider-Man's rogues gallery, even admittedly engaging in psychotherapy. Because when you're surrounded by super-powered criminals who want to dominate the world all the time, wouldn't you be looking for professional mental help, too?
The Shocker's Suit and Mutated Abilities
The Shocker has a specially-designed high-tech suit that not only insulates and protects him from his shockwaves, but also absorbs vibrations much like Cap's shield. Once, however, he was actually possessed and gained superhuman vibration powers, which made him pretty cool, but they were also slowly killing him from the inside. He got cured with the help of Spider-Man, making us wonder just how Spider-Man: Homecoming will portray him—will he be another one of your average supervillains, or will he actually be a friend rather than a foe to the friendly-neighborhood web-slinger?
Even More Mutated Abilities
In "Venomous" and "Senseless Violence", The Shocker actually bought some Venom symbiote in hopes of getting some much-needed respect because he was pretty much having an existential crisis and wanted to figure out his place in life (hey, even supervillains get mid-life crises, too).
The whole thing didn't really work too well, but during the "Spider Island" event, The Shocker got what he wished for and became infected with a spider-virus, turning into a monster with six arms and eventually into a giant spider (because why the hell not). As with all major occurrences in comics, everything went back to normal after the story arc, but that's really not something we can un-see ever again.
Complicated Alliances and an Affinity for Spidey

The Shocker once joined Egg Head's Masters of Evil (which is the most fabulous villain team name ever) against Dr. Hank Pym, and had a brief stint with Doctor Octopus during Infinity War. Eventually, heroes and villains had to work together to fight off some alien clones (yep), and when it was all over, The Shocker kept to his moral code and refused to turn on the heroes they fought side-by-side with.
He also once refused to strike Spidey when the superhero was suffering from a particularly nasty episode of vertigo on top of a building as it wasn't a very noble thing to do. This moral compass certainly does make The Shocker a fully three-dimensional villain to root for, don't you think?
Despite the lack of 'screen time' in recent comics, and the many times he's been ridiculed for the way he looks and what he does, I actually think The Shocker is a pretty cool character, ever since I first saw him in the Spider-Man Animated Series in the 90s. Are you as stoked as I am to see him finally grace the big screen in Spider-Man: Homecoming? Let us know what you think in the comments below!