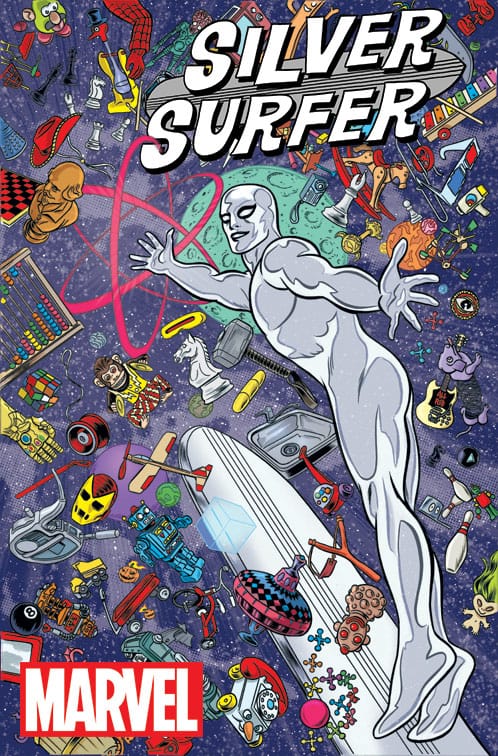 Ho, Silver Surfer! You returned! And you brought that especially curious Earth girl, Dawn Greenwood, with you! Did you enjoy your journey? Did Dawn enjoy your journey? Was she responsible for an excessive amount of human vomit floating about in the swirling, infinite, iridescent seas of outer space? I say that because I'm sure it takes some getting used to, riding on something resembling a surf board that travels faster than the speed of light. Oh, and those wormholes. Ugh, the stabilizing effect of the Power Cosmic doesn't help you deal with the stomach twisting, destabilizing visuals. Nope.
Anyway, check out this preview of Silver Surfer #1, featuring a few variant covers and a sneak peek at the forthcoming issue's interiors. The Silver Surfer is BACK! Well, back from the colorful abyss, as it were. Take it away, official Marvel press release!
Hold On and Hang Tight With a First Look at SILVER SURFER #1!
New York, NY—December 14th, 2015 — Anywhere and Everywhere! This January, the sentinel of the starry space ways returns from the edge of the universe for the start of a thrilling new adventure in SILVER SURFER #1! Comic superstars and fan-favorite creative team of Dan Slott, Mike Allred and Laura Allred are back to chronicle the next chapter for Norrin Radd and Dawn Greenwood! The Silver Surfer has shown his companion Dawn Greenwood the cosmos. Taking her to the end of the universe and back, together they've experienced the weird, the strange and the fantastic. But now, the time has come to show her the most fantastic planet of all – Earth! Only she (and you!) have never seen it like this before. Monsters, magic, monumental moments and more! Plus – a secret that will change everything! Now is your chance to hop on BOARD the series that has the industry talking! Catch a cosmic wave when SILVER SURFER #1 comes to comic shops and digital devices this January!
SILVER SURFER #1
Written by DAN SLOTT
Art & Cover by MIKE ALLRED & LAURA ALLRED
Variant Cover by MARCO RUDY
Hip-Hop Variant by CLIFF CHIANG
Baby Hip-Hop Variant by CLIFF CHIANG
Deadpool Variant by WILL SLINEY
FOC – 12/14/15, On-Sale – 01/13/16