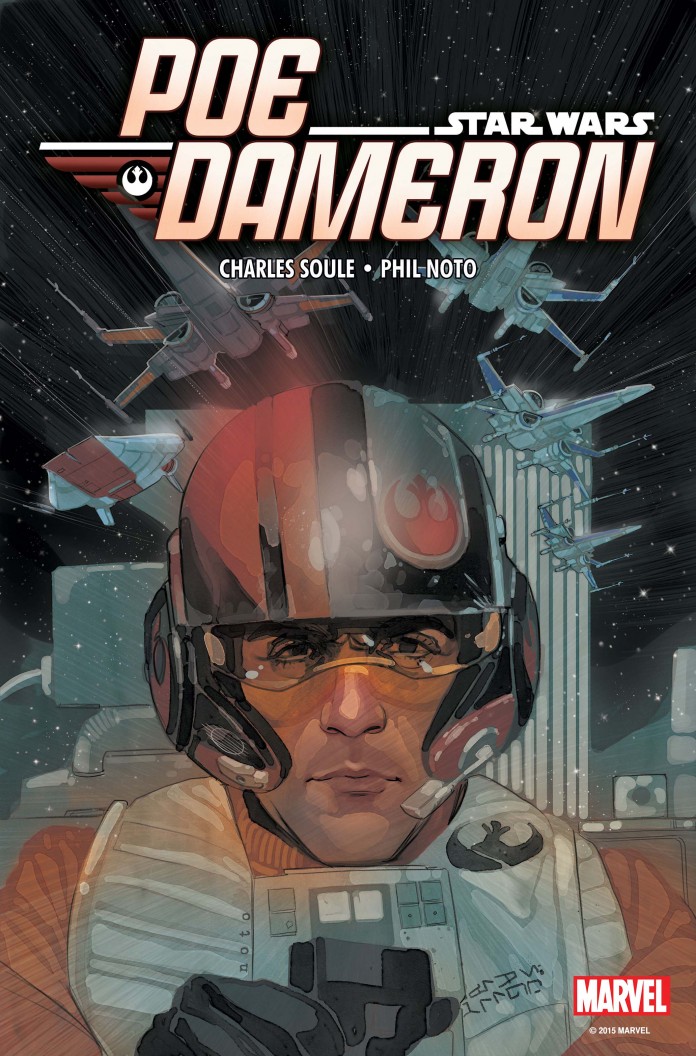 One can never get enough of a happy-go lucky ace fighter pilot! That is quite the lovely title now that I think about it. So you saw Star Wars: The Force Awakens and you are chomping at the bit for anything Star Wars. Do you know what you need? You need to check out some of the fantastic comics coming out from Marvel that are based on characters from the Star Wars universe. This particular press release focuses on Poe Dameron but unfortunately you don't get to keep his jacket. That's for Finn!
STAR WARS: POE DAMERON #1 Soars Into Comic Shops This April!
New Ongoing Series Featuring Fan-Favorite Character!
New York, NY – January 20th 2016 – Strap in and lock your s-foils in attack position because one of the breakout stars of the blockbuster Star Wars™: The Force Awakens is coming to comics! Today, Lucasfilm Ltd. and Marvel Entertainment are proud to announce STAR WARS: POE DAMERON #1, a new ongoing series coming this April! Superstar creators Charles Soule (Lando, Obi-Wan and Anakin) and Phil Noto (Chewbacca) take you to a galaxy far, far away for the new adventures of Poe Dameron – former Republic flyer turned Resistance fighter and the best pilot in the galaxy!
"With Star Wars: The Force Awakens exceeding expectations the world over, it could not be a better time to be a Star Wars fan," says Marvel SVP Sales & Marketing David Gabriel. "And with Poe Dameron being one of the breakout stars of the film, we're thrilled we get to continue the story of this fan-favorite in the comics. Expect a series with the same high benchmark of quality as our recent Star Wars titles."
Set before the events of STAR WARS: THE FORCE AWAKENS, be there for Poe's daring adventures as they take him to the edges of the galaxy and back. Hand-picked for the Resistance by legendary General Leia Organa, follow Poe, BB-8 and a squadron of X-Wing pilots on a top-secret mission that could hold the key to saving the galaxy. But with the full might of the First Order on their tail, will the operation be short lived?
Can't get enough Star Wars? Get your astromech droid and hop in the cockpit of your X-Wing, because you won't want to miss this one! This April, learn more about the Resistance's aerial ace when STAR WARS: POE DAMERON #1 comes to comic shops and digital devices!
STAR WARS: POE DAMERON #1
Written by CHARLES SOULE
Art & Cover by PHIL NOTO
Variant Cover by JOHN CASSADAY
BB-8 Variant by JOE QUINONES
Design Variant by PHIL NOTO
Action Figure Variant by JOHN TYLER CHRISTOPHER
Movie Variant Also Available
On Sale in April!