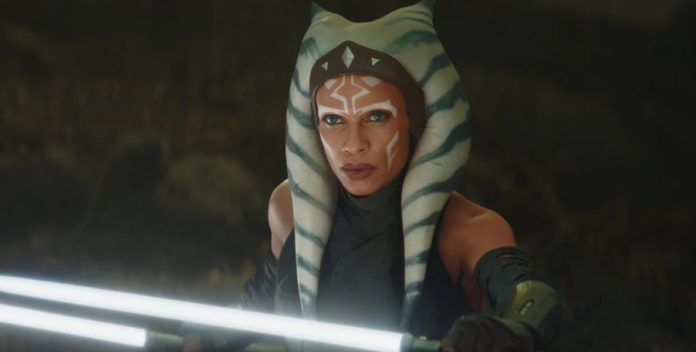 In the midst of all the excitement from the Disney Investor Day, we're rounding up the most exciting revelations from the Star Wars franchise in the company's visual show and tell.
There will be two new Mandalorian spin-offs
As if The Mandalorian isn't already an exciting enough show as it is, Disney announced that there will be two new spin-offs from the show, titled Ahsoka and Rangers of the New Republic. Rosario Dawson's performance as fan-favorite Ahsoka Tano was such a huge hit when she appeared on The Mandalorian that the higher-ups decided to get on board and join the bandwagon. As for the Rangers, we don't know too much about it just yet—just that we'd really, really love to see Timothy Olyphant as one of the Rangers, because that would be ultra-cool.
2.  The Rogue One spin-off will be titled Andor
Who doesn't still feel the pain of how Rogue One ended for our beloved space swashbucklers? To rectify that (and to quench the fans' thirst for justice), Disney is coming up with a show titled Andor which is centered around Diego Luna. It will supposedly be a spy thriller with Cassian Andor front and center.
3.  Obi-Wan Kenobi is happening—and  Hayden Christiansen is back
While we already know that a TV series starring Ewan McGregor as the titular character is confirmed, there's nothing about it yet that's been truly revealed—until now. We finally know that it's going to be titled Obi-Wan Kenobi, and it will be set after the prequels. What's even more exhilarating is the fact that Hayden Christiansen will be reprising his role as Darth Vader, because what's an Obi-Wan Kenobi show without Anakin Skywalker? Needless to say, it is a huge deal for all of us, so there's a lot to look forward to, indeed.
4.  The Bad Batch looks so darn good
The Bad Batch is a new animated spin-off from The Clone Wars, and it comes straight from the mind of creator Dave Filoni. The Mandalorian's Ming-Na Wen will also be returning to reprise her role as Fennec Shand. "Do you know how long I've had to keep silent about Fennec coming back? This is the first time I've been able to talk about it!" she said.
5.  Patty Jenkins will direct Rogue Squadron
Wonder Woman 1984 director Patty Jenkins will be helming a movie about X-wing pilots titled Rogue Squadron, but it won't be out until 2023, so it's going to be a long wait. According to Jenkins, however, "We're finishing the treatment basically, which is pretty big. So it ends up being like where you're fairly close to a well-along screenplay by the time I'm done with the treatment in my process. So yeah, we've been working on it for awhile. It's going great. I'm super excited about it. I'm super excited about the story," she said. Jenkins is also working on a number of other things right now, but we're pretty sure her take on the Star Wars universe is still going to be awesome!