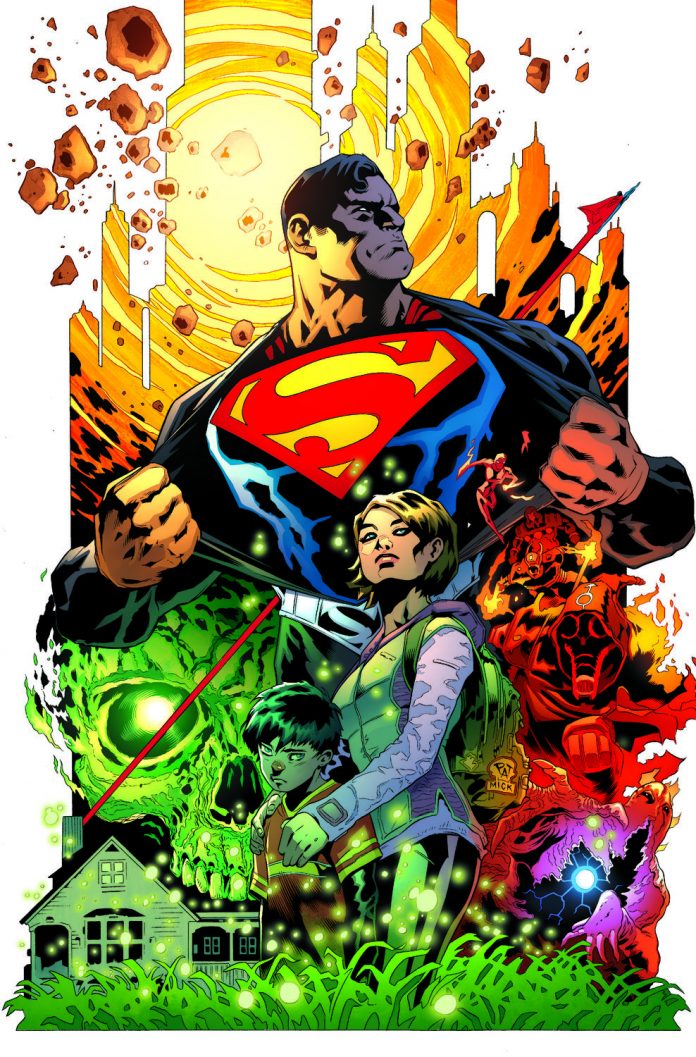 Check out My Review [WITH SPOILERS] of Superman #1!
Storytellers: Peter J. Tomasi and Patrick Gleason
Inker: Mick Gray
Colorist: John Kalisz
When Superman was revealed to have a cinematic super-son in Superman Returns, fandom did not take kindly to this familial inclusion to Superman lore. Ironically in 2016, a story involving a super-son has kicked off the Rebirth era of Superman , and this time, it all feels very, very right.
It's also strange that this pre-Flashpoint version of Superman currently appearing in DC Comics feels more like Superman than the New 52 version ever did. Peter Tomasi's Superman feels and sounds like Superman; he reads like Superman. And seeing this Superman in action is like watching an old friend that you haven't seen in a long time. Indeed, for the first time in a long time, a Superman comic feels right.
Superman #1 focuses on Jonathan Kent, the super-son in question, and the young boy's struggle to balance his life as a son and a super-powered being. The issue also focuses on Clark Kent acclimating himself with being the new Superman of Earth. There are, of course, the expected conflicts between father and son but these struggles are all handled with aplomb. Tomasi and Gleason handled many of the same themes in their run on Batman and Robin, and now the creative pair handle Clark and Jonathan with the same thematic flavor they infused in Bruce and Damien Wayne.
This is the comic you expect it to be with Jonathan coming to terms with his powers and his forced life of secrecy, and Clark playing the Pa Kent role. There are no new threats introduced, but two very familiar allies arrive on the scene to help with the Jonathan drama. This serves as a stark reminder that most of Superman's most classic allies are not that familiar with this version of the Man of Steel, and it's really cool that we have a ringside seat to watch Clark reestablish some of his world's finest friendships.
Tomasi also writes a great Lois Lane as she is portrayed as the supportive, strong-willed wife and mother to her super-family. She is also the bread-winner of the Kent family which is just what you expect Lois to be.
I never imagined that this is the Superman comic I would embrace, but it feels so good to be swept up in the Superman mythos after so many years of ennui, that I'm just happy to go along for the super-ride. As usual, Tomasi and Gleason are a team that compliments each other nicely as we finally have a Superman book with purpose and direction.