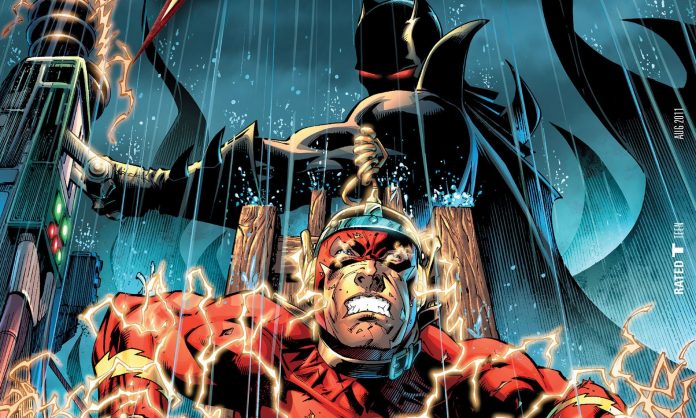 And…it's kind of what we were thinking. Firstly, Grant Gustin, star of the hit CW series The Flash, recently read the script to the very first episode of The Flash Season 3. After said reading, he was very, very excited and posted said excitement to Twitter, desperate to share the title of the episode…but couldn't. Thankfully, and via Twitter, producer Greg Berlanti chimed in and "granted"…uh…Grant permission to announce the title for The Flash season 3 premiere (hitting Tuesday, Oct. 4th at 8pm, by the way)! Here's how the whole Twitter "convo" went down:
Just finished reading episode 3-01 titled JK NOT GONNA TELL YOU YET! I'm SO excited to get back to work in 2 weeks. #TheFlashSeason3

— Grant Gustin (@grantgust) June 20, 2016
@grantgust I'm cool with you telling them the title 🙂

— Greg Berlanti (@GBerlanti) June 20, 2016
FLASHPOINT. This is not drill. https://t.co/nzq2NJh9pl

— Grant Gustin (@grantgust) June 20, 2016
Season 3 is gonna be lit.

— Grant Gustin (@grantgust) June 20, 2016
And there you have it; Barry saved his mother and altered the timeline, just like in the seminal comic series that gave continuity a hearty drop-kick in the medulla. The name of this history-slapping story? FLASHPOINT! And apparently, due to FLASHPOINT, season 3 is "gonna be lit." Testify, Gussy.
Now, will an altered history muck with the other 3 CW superhero series, in turn mucking with the epic, 4-part crossover involving Arrow, Supergirl, The Flash and Legends of Tomorrow?  According to Entertainment Weekly…no. The three series will continue along their respective, current timelines while Flash explores his own, significantly altered version. Does that mean FLASHPOINT will resolve BEFORE the crossover event? Hmmmm. Only time (and drastically, selfishly altered time) will tell.
So….ready for The CW's live-action FLASHPOINT??