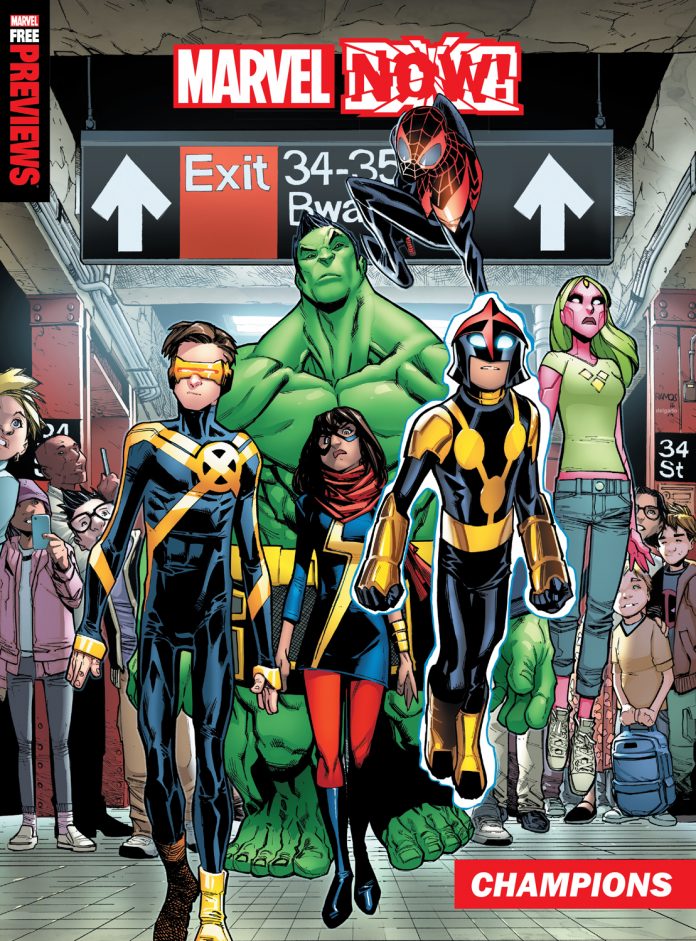 Blockbuster new titles. Shocking new status quos. Top-tier creators. This is Marvel NOW!.
It all starts this fall as the Marvel Universe charges forward into an ambitious new direction. As the industry's top creators and the hottest up-and-coming voices leave their mark on the world's greatest superheroes, get ready for exciting and energetic comics coming your way later this year! Kicking off this bold new publishing initiative is the FREE MARVEL NOW! PREVIEWS MAGAZINE, available today at local comic shops nationwide.
Can't make it to a comic shop? Get in on all the excitement by downloading it right now via the Marvel Digital Comics Store or Marvel Comics App! Get your first look into the cataclysmic fallout of Civil War II and the landscape of the Marvel Universe to come. Packed cover-to-cover with huge reveals, new titles, fresh creative directions and more – you will not want to miss your first look at the Marvel Universe of tomorrow and the must-have comics of the fall!
"Take a peek at the future of the Marvel Universe in the MARVEL NOW! PREVIEWS MAGAZINE," says Marvel Editor-in-Chief Axel Alonso.  "The Marvel Universe stands divided after 'Civil War II,' and inside you'll find out what that means for your favorite series.  Get a look at some of the new heroes, new teams, and big developments that will keep you on the edge of your seats all the way through 'Civil War II' and beyond."
Building upon Marvel's rich history with an eye towards tomorrow, Marvel NOW! marks the next evolution of Marvel Comics – and a thrilling leap forward. It's all happening NOW! Be sure to get your hands on the free MARVEL NOW! PREVIEWS MAGAZINE – available today!
Note: Not all titles contained in the Marvel NOW! Previews Magazine will launch in the month of October. Fans and retailers are encouraged to check the monthly solicitations for up-to-date on sale information.