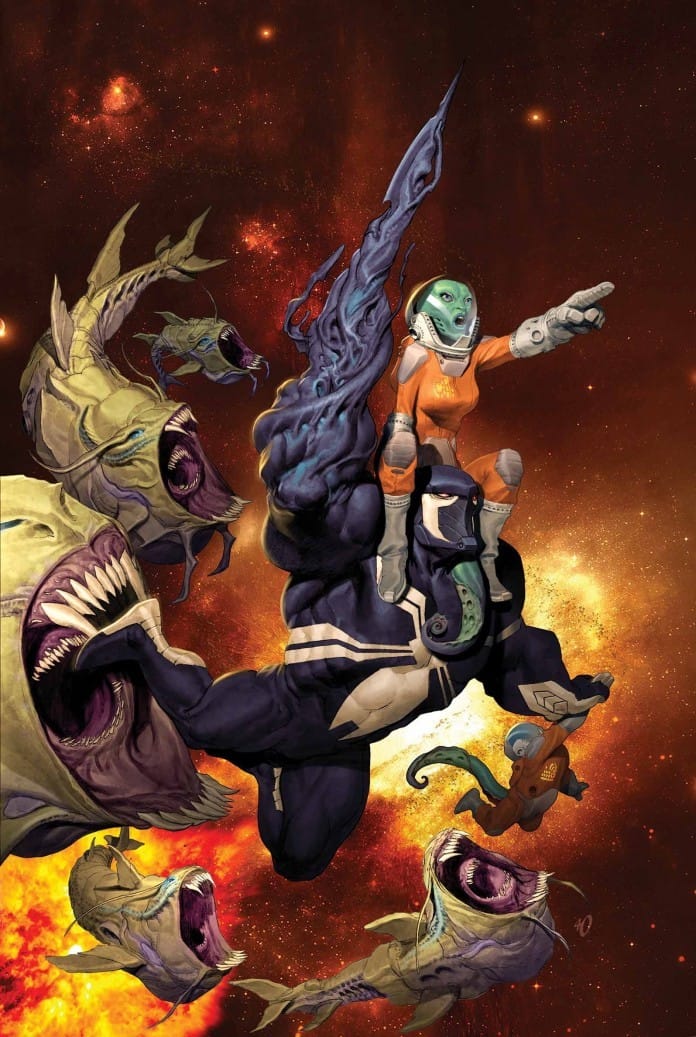 Fancy a spin through the galaxy with everybody's favorite aggression-enhancing alien symbiote? I knew you were going to say yes…everybody always thinks it will be such a walk in the park! This press release from Marvel wants you to get excited for their blending of Venom and Space Knight! Wait, isn't Rom going to get upset at all over this?
High Adventure in Deep Space in VENOM: SPACE KNIGHT #1!
New York, NY—October 29th, 2015 — Flash Thompson is a lot of things. Soldier. Veteran. Double amputee. Host to a powerful alien symbiote. Guardians of the galaxy. Spider-Man's biggest fan. But now, apart from his fellow guardians, he's going solo for a brand new ongoing series in VENOM: SPACE KNIGHT #1! From creators Robbie Thompson and Ariel Olivetti comes a tale of action, adventure and alien intrigue. Now an ambassador of Earth and an Agent of the Cosmos – Flash Thompson is getting to be the one thing he always wanted. A BIG. DAMN. HERO. Strap in, hold on and blast off – you won't want to miss the start of a brand-new adventure as Venom swashbuckles across the universe in VENOM: SPACE KNIGHT #1 this November!
VENOM: SPACE KNIGHT #1 (SEP150686)
Written by ROBBIE THOMPSON
Art & Cover by ARIEL OLIVETTI
Variant Covers by MIKE DEODATO (SEP150687)
And RON LIM (SEP150690)
Action Figure Variant by JOHN TYLER CHRISTOPHER (SEP150689)
Hip-Hop Variant by MIKE CHOI (SEP150688)
FOC – 11/02/15, On-Sale – 11/25/15