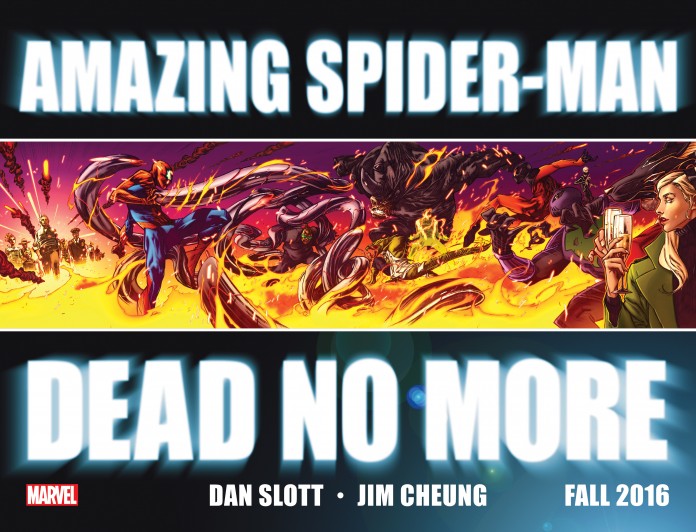 Marvel has been teasing the hell out of this whole Spider-Man DEAD NO MORE storyline with a near constant stream of ominous artwork with absolutely no context. Well, we knew it had to do with Spider-Man, but little else. Finally, and maybe because they felt sorry for me, the latest Marvel Press release effectively spilled the beans. Who's "dead no more?" Why, that would be a plethora of Spider-Man's loved ones! Take it away, official Marvel Press Release!
The world's greatest superhero faces his biggest challenge yet this Fall! Amidst a gauntlet of his greatest foes, a mysterious new villain and the return of loved ones lost – Peter Parker plunges headlong into DEAD NO MORE! A blockbuster new storyline kicking off in AMAZING SPIDER-MAN #19 – A-List creators Dan Slott and Jim Cheung bring you THE Spidey story of 2016!
From the writer who brought you wallcrawling, webslinging epics such as Spider-Verse, Superior Spider-Man, Spider Island and more comes the next defining moment in the life of the Amazing Spider-Man! The mysterious man in the red suit has an offer for some of Spidey's greatest rogues – obey him, and your loved ones live. Fail him, and lose them FOREVER! With the Rhino, the Lizard, Electro and even Doctor Octopus at his side, things are looking bleak. But who else from Peter's past has reappeared?!
The mystery is just getting started but fans won't have to wait too long! Don't miss your first taste of AMAZING SPIDER-MAN: DEAD NO MORE as Dan Slott and Javier Garron bring you a prologue on FREE COMIC BOOK DAY – May 7th! And don't miss the fireworks when the storyline kicks off in AMAZING SPIDER-MAN #19 this fall!
AMAZING SPIDER-MAN #19
Written by DAN SLOTT
Art by JIM CHEUNG
Covers by ALEX ROSS
Connecting Variants by ALEXANDER LOZANO
Coming this Fall!