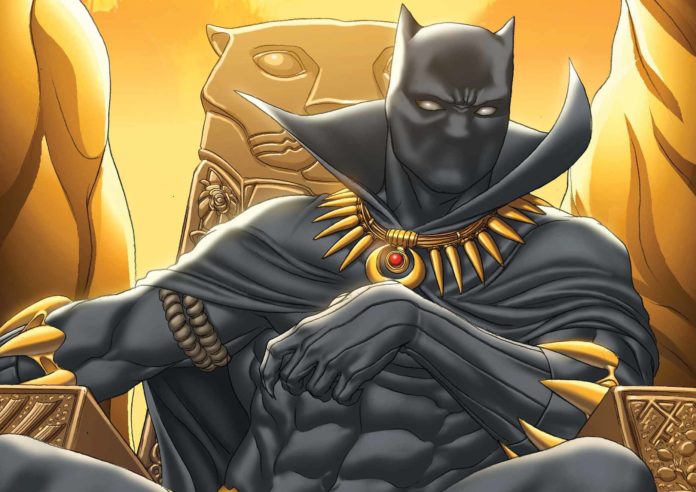 T'Challa, the Black Panther, made his long-awaited cinematic debut in Captain America: Civil War. Join us as we celebrate the rich history of this royal and historically vital Marvel superstar by answering a question presented by the innately curious, and curiously casual Marvel fan: who is the Black Panther??
Some superheroes become icons while others are soon forgotten, but very few break social ground and become legends. That is exactly what T'Challa the Black Panther did when he debuted in 1966. Before the Royal King of Wakanda made his first appearance, there were very few characters of color in comics.
Other than a few notable exceptions across the decades, black comic characters were relegated to comedic sidekick roles or pushed to the background. But the Black Panther changed all that and in doing so, the character ushered in a new era of diversity and inclusion.
Since T'Challa first stepped onto the pages of Marvel Comics, the regal and imposing figure has been a fan-favorite. This is very easy to understand considering just how brilliant and capable the character has always been portrayed. When T'Challa debuted, he wasn't only depicted as an equal to Marvel's heroes, in some cases, he was represented as superior. This was unheard of for the mid-Silver Age and it made fans sit up and take notice.
Since he premiered, the Black Panther has been an indelible part of the Marvel Universe with many innovative creators adding their piece of the Black Panther's legend. Now, the Black Panther, played by Chadwick Boseman, is hitting thee big screen and showing the world what comics fans have known for decades — the Black Panther is comic book royalty.
So, sit back as we proudly present some of the highlights of the history of the Black Panther, a character so malleable that he can indeed fit in any genre from high action adventure, to socially aware political thriller, to intense cosmic drama. With the Black Panther's live-action presence permeating theaters on a global scale, it's very exciting to be a fan of T'Challa, a character that, as you will see, has truly done it all.
A Fantastic Debut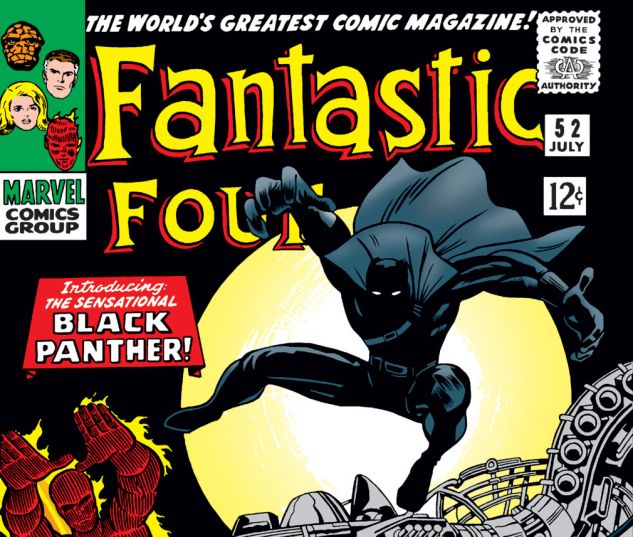 The Black Panther first appeared in Fantastic Four #52 (July 1966) by Stan Lee and Jack Kirby. In his debut, T'Challa invited the famous foursome to Wakanda, and when the heroes arrived, T'Challa took each member of the FF down one by one to prove his own worth. This was a pivotal moment in comics due to the fact that not only did Lee and Kirby premiere the very first black costumed superhero in comics, the creative legends also showed fans that their new creation could defeat long-standing Caucasian characters.
From the first panel he appeared on, it was clear that T'Challa was an impressive figure, a tactical genius who was five steps ahead of his opponents. This characterization would stick with the character throughout his rich history, but the Black Panther did not arrive to the pages of Fantastic Four alone. Like they did with so many other characters and high concepts, Lee and Kirby introduced the history of Wakanda and world-built another exotic location into the Marvel Universe.
In the same issue that introduced T'Challa, fans were told the tale of Wakanda and the Vibranium meteor that crashed there ages ago. The sound-absorbing super-metal became Wakanda's greatest resource that allowed the fictional nation to become the richest and mightiest in all of Africa. It's technological achievement and cultural accomplishments rivaled many Western nations and with each subsequent panel, Lee and Kirby added to the visual and narrative history of the nation.
Fans were told that T'Challa was from a line of kings and had recently ascended to the
throne after T'Challa's father T'Chaka was murdered by the immoral adventurer Ulysses Klaw. Klaw wanted to control Wakanda's Vibranium, and like so many Westerners, took it upon himself to decide the fate of an African nation. T'Challa wanted to test his mettle against Klaw so he pushed himself to the limit by fighting and defeating the Fantastic Four.
The FF saw what countless comic fans saw; the Black Panther was a man of honor and a true champion. Klaw was defeated, Wakanda was free, and the Fantastic Four and the rest of the Marvel Universe were introduced to one of the greatest heroes the world had ever known.
And There Came a Day…
It seemed like Stan Lee and the brain trust at Marvel were determined to make sure that fans realized what a great character the Black Panther truly was. In The Avengers #52 (May 1968), T'Challa officially joined the team, becoming the first non-white member of Earth's Mightiest Heroes. Again, this was huge because Black Panther's status as an Avenger served as a reminder that T'Challa was equal in every way to the other heroes of the Marvel Universe. Black Panther's association with The Avengers lasts to this very day and it's almost a given that before too long, T'Challa will become a major part of the cinematic Avengers as well.
Jungle Action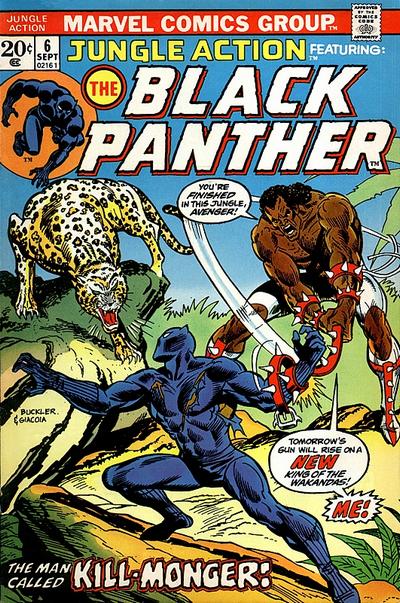 Marvel's Jungle Action might not have been the most racially sensitive comic title of the Bronze Age, but the Black Panther stories that appeared in this anthology were some of the most poignant and racially aware stories of the era. Written by Don McGregor with pencils by Rich Buckler, Gil Kane and Billy Graham, Black Panther was essentially a 200-page illustrated novel separated in seventeen parts.
The strip ran in Jungle Action #6-24 (Sept. 1973 – Nov. 1976), and became a critical smash for Marvel. Sales were slow, but discerning readers, especially amongst college students, lapped up the culturally aware, inclusionary, hard-hitting, honest, real world portrayal of Black Panther.
McGregor's prose was lyrical and poetic as he guided T'Challa through a Wakandan civil war. Many of the events of the comic were inspired by real life post-Imperialism issues that faced Africa. The first arc, "Panther's Rage," did not shy away from honest portrayals of racism or marginalization, and the second arc took things ever further.
McGregor's second Panther story saw T'Challa go up against the real Ku Klux Klan. To its credit, Marvel green-lit the story, and through their honest and unflinching look at race in the US and around the world, McGregor and company helped add to the legend of T'Challa. There can be no doubt that McGregor's volume of work on Black Panther will go on to inform both comics and film for years to come as T'Challa continues to move to the forefront of the Marvel pantheon.
The King on the King
In the late 70s, the mastermind of the Marvel Universe returned to the company after a foray at DC Comics. Black Panther #1 hit stands in 1977 and featured the King of Comics — Jack Kirby — on writing, penciling. and editing chores.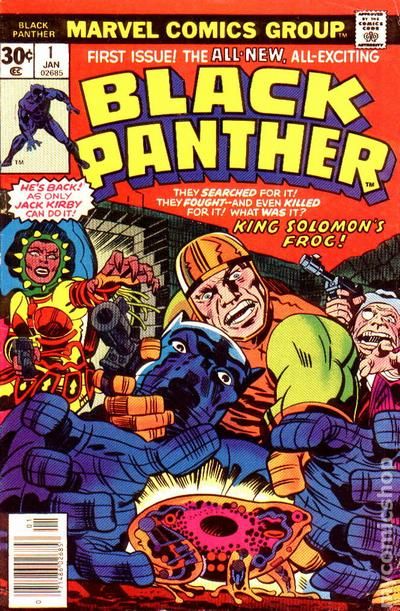 Kirby's run on Black Panther could not have been any more different than McGregor's. Kirby fused his series with a trippy, almost hallucinogenic zeal. Kirby filled his book with zany new characters as T'Challa searched for King Solomon's Frogs, two ancient artifacts that can warp time and space. Kirby ran with big ideas, big moments and over the top action in a series that was as surreal as it was unforgettable.
While somewhat insane, Kirby's run on Black Panther speaks to the malleability of the character as T'Challa was just as at home in Kirby's literary acid trips as he was in McGregor's socially aware, meditative comic book narratives.
Ruling from the Shadows
During the 80s and very early 90s, the Black Panther was relegated to a background character in the Marvel Universe. The King of Wakanda did not participate in either of the first two "Secret Wars," and only appeared sporadically during this time.
There were a few attempts to recapture that old Panther magic. In 1988, a four-issue miniseries was published written by Peter B. Gillis and penciled by Denys Cowan. This series really expanded Wakanda's role as a technological wonderland in the middle of modern Africa.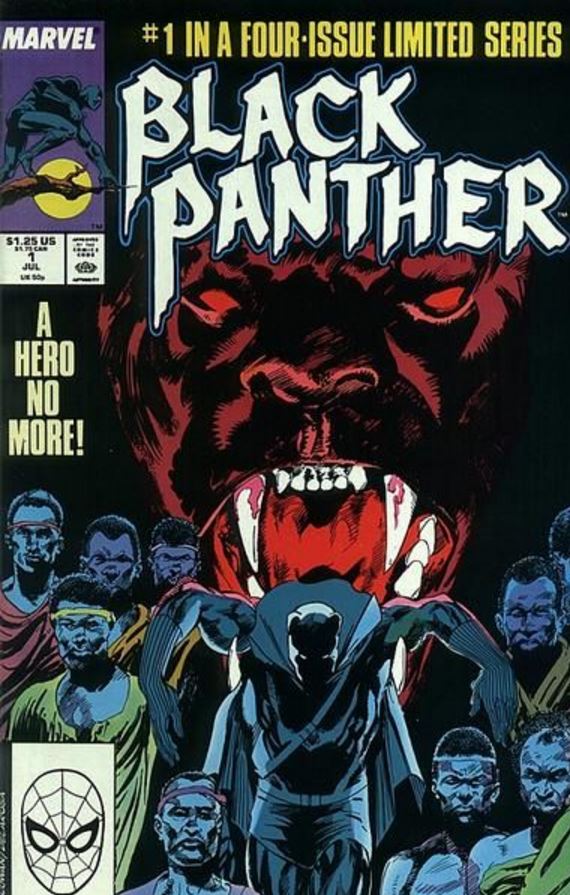 It was very clear that Gillis and Cowan were taking their cues from McGregor, and speaking of the Jungle Action scribe, McGregor returned to the Black Panther in the pages of the bi-weekly Marvel Comics Presents, where he and legendary artist Gene Colon took T'Challa on a 25-part journey through Apartheid-era South Africa.
McGregor completed his time on Black Panther with 1991's Black Panther: Panther's Prey, a square-bound epic drawn by Dwayne Turner. In this series, McGregor juxtaposed love and political responsibility with old world tribal values, a new winged villain, and dinosaurs to create a unique blend of fantasy and reality — a combination that has grown to define the Black Panther. Both the Marvel Comics Presents arc and Panther's Prey added to the legend of both T'Challa and Wakanda as McGregor continued the socially aware adventures of Marvel's most regal hero.
Get a Priest
In 1998, Marvel turned to future editor-and-chief Joe Quesada to relaunch a number of underutilized characters as part of the "Marvel Knights" initiative, and Black Panther was one of the chosen. Quesada turned to writer Christopher Priest and artist Mark Texeira to reposition T'Challa as an upper-echelon character — and the results were magical.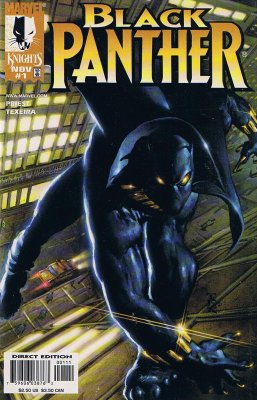 Priest's T'Challa was almost unknowable — a near-mythic religious leader, tribal chieftain, king, and 21st century superhero. Priest's Black Panther was part Machiavelli, part Alexander the Great, and part Batman as the writer delivered Panther a new era in West Wing-like Panther adventures.
To give readers a grounded point of view, Priest introduced the supporting character Everett K. Ross, a hapless, rumpled and comedic State Department employee assigned to T'Challa as an attaché. Ross gave readers an everyman perspective into the life of Black Panther — and what a life it was.
Priest's Black Panther was able to integrate every previous era of the character into a cohesive character mythology. From the grounded, real world work of McGregor to the hallucinogenic adventures of Kirby, all the previous imagining of T'Challa existed side by side. No longer relegated to the B-list, Priest's Panther rubbed shoulders with giants like Doctor Doom, Namor and Magneto.
Priest's Black Panther did the same for the character's supporting cast and rogues gallery, introducing new characters that fleshed out the world of Wakanda. Since actor Martin Freeman is playing Ross in the Black Panther film, it seems that Marvel Studios is leaning heavily on Priest's indelible 5-year comic book run.
Rewriting History
Priest's Black Panther was always a critical darling and an influential take on T'Challa, but it never really topped the sales chart. In order to make Black Panther's critical success match its sales potential, in 2005, Marvel turned to John Romita Jr. and film producer Reginald Hudlin (Boomerang).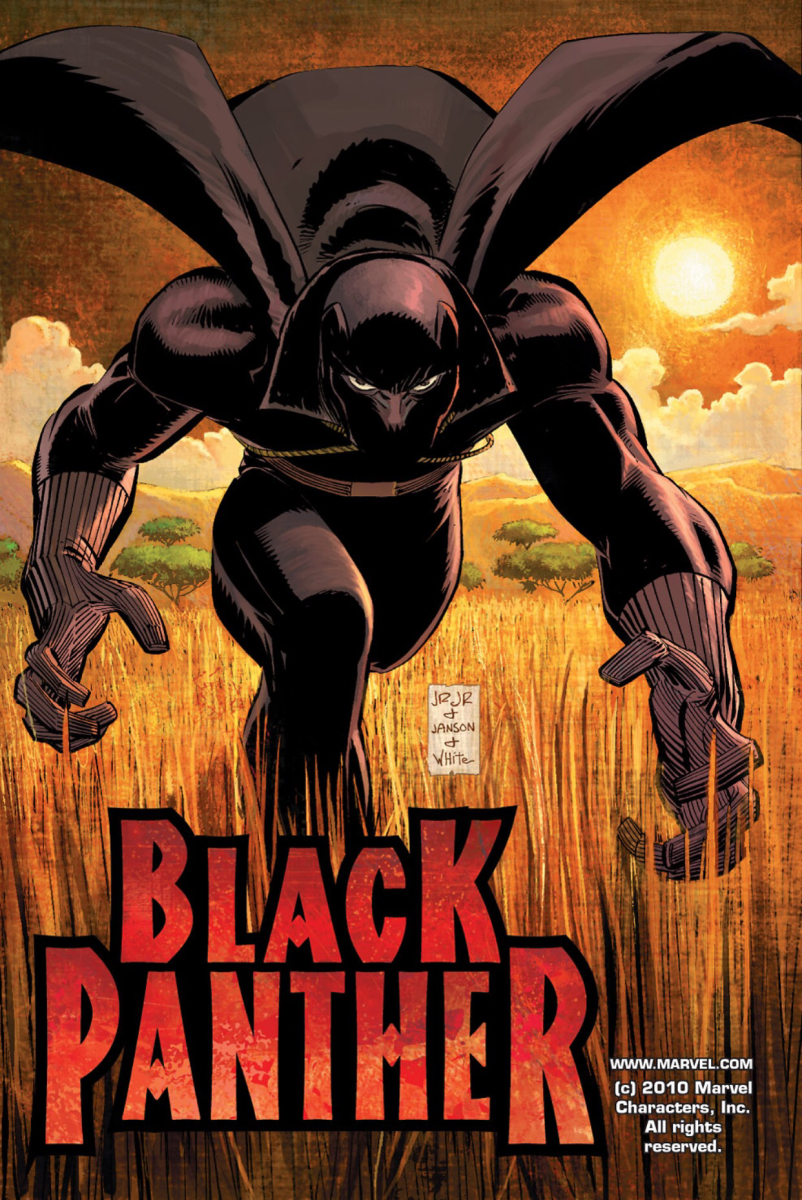 Romita and Hudlin introduced a new continuity for T'Challa, streamlining the character's confusing history and repositioning the character to take his place as a visible power broker in the Marvel Universe. Fans of Priest's run were not thrilled that his work was being swept away, but Hudlin and Romita presented a new take on the Panther and his history, one that had a very modern feel and sensibility.
Romita provided some artistic continuity to the Wakandan aesthetic introduced by Jack Kirby to make the 2005 Black Panther one of the most visually stunning interpretations of the character ever published.
During the waning issues of this run, T'Challa's sister Shuri took over the mantle of the Panther, and in addition, Hudlin planned the international wedding of the decade as T'Challa married the X-Men's Storm. The marriage was as stormy as Ororo Monroe's mutant powers and didn't last, but it was a bold move as Hudlin's series was not afraid to shake things up.
Concrete Jungle Action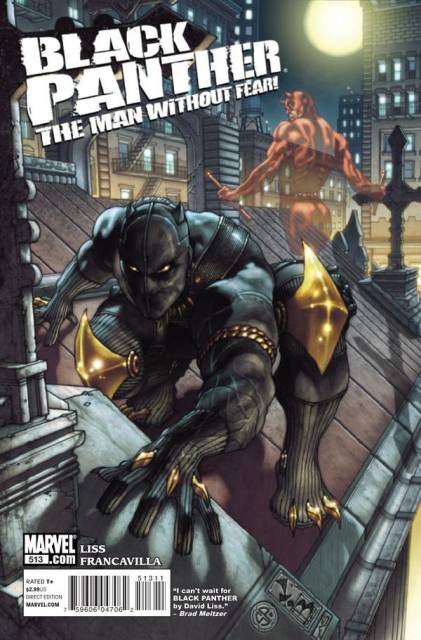 Hudlin's stories were big, and after his series ran its course, Marvel decided to take T'Challa in a very personal and unexpected direction. In 2011, Marvel retitled Daredevil, Black Panther: The Man Without Fear as T'Challa agreed to become the protector of Hell's Kitchen while Matt Murdock was in a self-imposed exile.
This series, written by David Liss with breathtaking artwork by Francesco Francavilla, focused on T'Challa the man as he fought to keep Daredevil's territory safe. This is a vastly underrated series that allowed fans a rare look into the mind of a king and should be enjoyed by fans of both Daredevil and Black Panther.
The King of The Dead
After T'Challa's time in Hell's Kitchen, things got big again as the Black Panther joined writer Jonathan Hickman's Avengers. Before the Panther's time in Hell's Kitchen, it was revealed that T'Challa had long been a member of the Illuminati, a group of big-time Marvel heroes that pulled the strings from the shadows. This group consisted of Iron Man, Professor X, Namor and Captain America, among others.
At first, T'Challa did not want to join, but events forced him into becoming one of the manipulators of the world of superheroes. One has to postulate that it was Priest's take on the character that prepared the Panther for such a vital narrative role, but once the Panther's position as a shot-caller was established, Hickman ran with it.
During this time, Wakanda went to war with Atlantis, a tragic event that saw Wakanda destroyed by a massive tidal wave. At this time, Earth began to experience incursions from Earths from other realities. Black Panther became a key player in this crisis as he became the wielder of one of the Infinity Gems. He also communed with the gods of Wakanda and was named the King of the Dead as T'Challa had to make some very difficult choices to keep his kingdom and reality safe.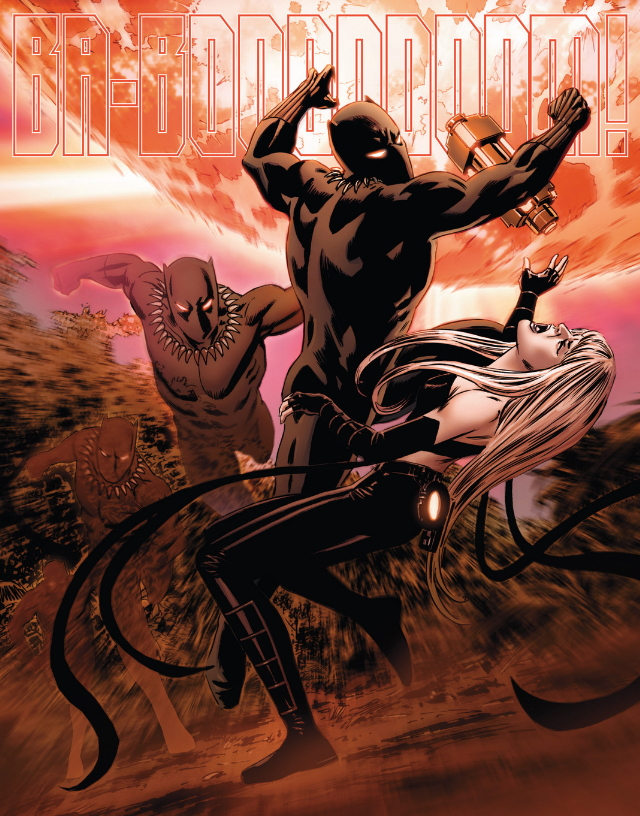 So much happened during this time both in the pages of Hickman's Avengers, New Avengers, and finally in the pages of 2015's Secret Wars, and T'Challa was at the heart of it all, steps ahead of both gods and men.
A Bright Future
To defeat the incursion, Black Panther had to become the King of the Dead as he took a journey into the heart of darkness itself to save the world and his kingdom. But the future is bright for T'Challa as writer and famed political and social commentator Ta-Nehisi Coates has joined master artist Brian Stelfreeze on the most recent Black Panther series.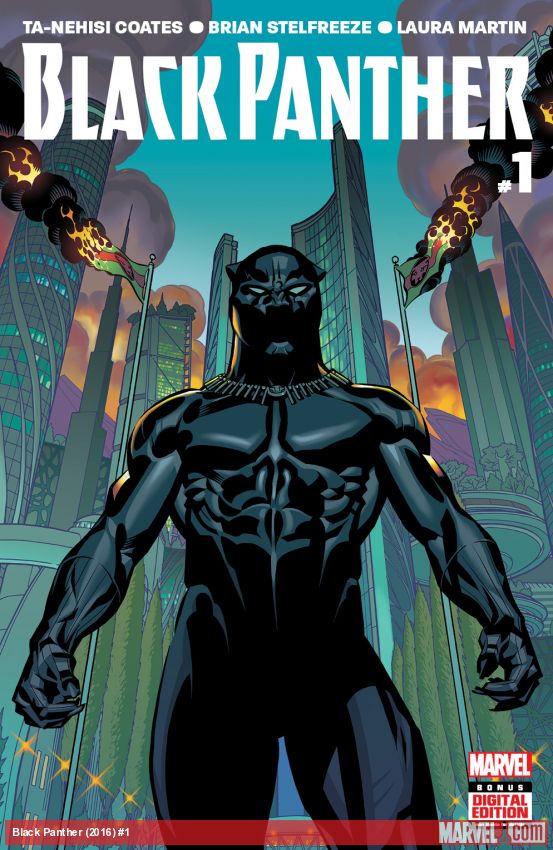 This new take on the most regal of heroes is a fitting tribute to all the incarnations of the character that came before. From the high adventure and world-building of Lee and Kirby, to the social awareness of McGregor, to the political thrill-ride of Priest and everything in between, Coates and Stelfreeze have a plethora of amazing stories to borrow from as they forge the future of the Black Panther — a future where the rest of the world will soon discover that superheroes don't come any more majestic than King T'Challa of Wakanda, the Black Panther.