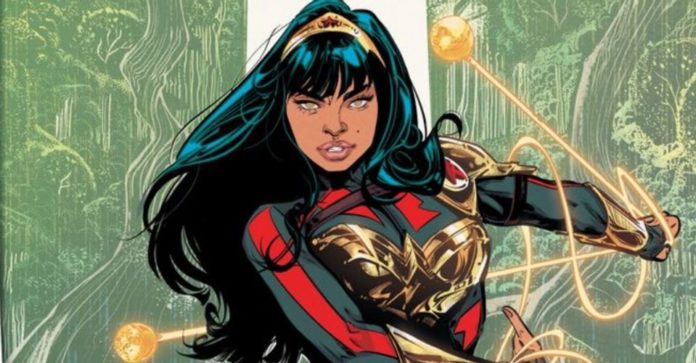 DC Future State's two-month event is set to launch early next year in January, and it's already generating a LOT of buzz! Of course, if there's a new Batman and a new Superman gracing the covers of our comic book stands soon, there's bound to be a new Wonder Woman too—and Yara Flor is here to fill that gap.
Move over, Diana! So, just who exactly is this new Wondy that's soon to steal our hearts and be the next Themysciran fave?
Yara Flor is confirmed as a Brazilian hero. As the daughter of an Amazon and a local river god, she will no doubt be grappling with the growing pains of being the new Ambassador of Truth in a futuristic version of our own world. There aren't too many confirmed details surrounding her just yet, but it will definitely be refreshing to see a new kind of take on the Amazon princess we all know so well.
Artwork online shows Yara Flor wearing dazzling gold armor with red outlines. She will also be apparently wielding a Lasso of Truth, albeit a supercharged version of it in some way. Her lasso also seems to have an added feature of balls at the end for more of an offensive flair.
What we do know right now is that she's bound to be such a hit, so much so that The CW already commissioned a new TV series that stars Yara Flor as Wonder Girl. It's definitely not the same Wonder Girl from the Titans TV series, but many have claimed the title before, so why shouldn't Yara Flor do the same? The show is bound to be a groundbreaking show—it's even possible that it will be set in the year 2050, where Yara Flor is the active Wonder Woman at the time.
Obviously, this raises the question of what happened to Diana all those years, and what Yara Flor's humble origins might be. It will also be really cool to see this as a sort-of coming-of-age tale of how a youth like her will struggle with real life, discover who she is, and ultimately face her destiny to rid the world of evil forces using her powers. Wonder Girl isn't even officially in the comics yet and she's already got a show—that's definitely something you don't see every day. It will no doubt be intriguing to see how her own world will interact with the rest of the Arrowverse, if it will at all.
Dailyn Rodriguez, Queen of the South executive producer/co-showrunner, will be writing the pilot of the show, and while there are no further details just yet, the show will be the first Latina superhero title character from the DC universe. "When I say I'll try my hardest to find a Brazilian actress, I mean that I can't promise anything 'cause this hasn't even been picked up to series! One step at a time people! Patience! I have to write the script! Just send good vibes!" Rodriguez Tweeted.