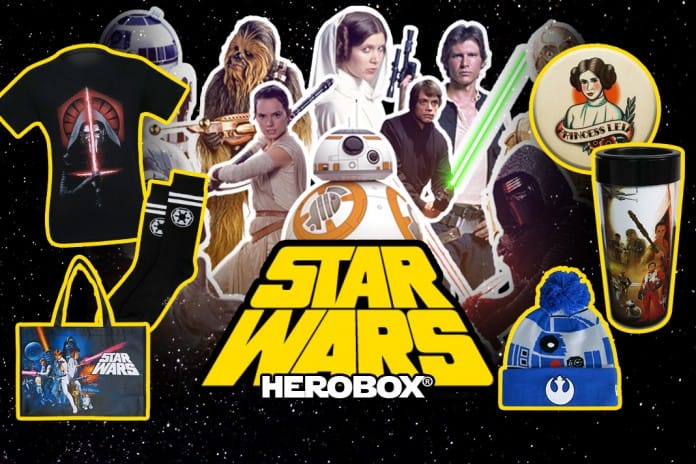 Get Ready for Star Wars: The Force Awakens with Our Star Wars Saga HeroBox Mystery Box!
The moment you have all been waiting for; the king and queen of all HeroBoxes, The Star Wars Saga HeroBox, has finally arrived. Ladies and Gentlemen, I am pleased to announce that we now have two, count them TWO, different HeroBoxes available to glorify the immaculate space-epic that is Star Wars! Shipping November 23rd and available in two different versions, the Star Wars Saga HeroBox mystery box is a convenient way to celebrate the entire Star Wars Saga and prepare yourself for Star Wars: The Force Awakens. 
Click the black rectangle (that could potentially be a space rectangle) and order the Star Wars Saga HeroBox of your preference! Available to order now!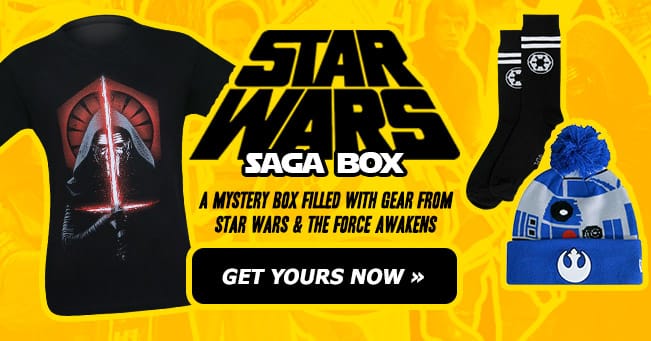 Jedi Masters may prefer the Gold Edition of the box that features $100+ of awesome Star Wars and The Force Awakens gear for only $69! The Gold Edition is absolutely the best value we have ever offered in a HeroBox.
For the Jedi Padawans out there, you can pick up the Silver Edition of our Star Wars: Saga Box that boasts $70+ of Star Wars and The Force Awakens product for only $49! Be prepared for the premiere and get some pretty cool stuff as well.
Here's the trick with these boxes: We have so many unique items available to fill these HeroBoxes, chances are you'll receive different items when ordering multiple boxes!
Oh, have we mentioned the level of convenience offered by the Star Wars Saga HeroBox? Have a friend that likes Star Wars but you're not sure what to actually get this "friend" of yours? Have a wife or husband that doesn't appreciate Star Wars, so they need to learn the error of their ways with a healthy box of Star Wars items they'll immediately reject but grow to appreciate over time? Sick of the burden of Holiday shopping? Sick of the shortage of boxes stuffed to the gills with Star Wars product? Let us answer and satisfy your requests with the Star Wars Saga HeroBox mystery box. You're welcome.
AVAILABLE TO ORDER NOW!