Now that fall is here (brrr!), it's time to gear up for your favorite Superhero TV shows! I don't know about you, but we're very, very happy (and relieved) that the hum-drum of summer TV has finally ended and our heroes are back in all new seasons of Arrow, Flash, Gotham, Supergirl, Legends of Tomorrow and Agents of SHIELD. You simply won't be able to leave your homes with this kind of TV line-up! To prepare for the copious amounts of time you'll be spending inside snuggled up on the couch, I thought you might need to stock up on some show-appropriate superhero gear!
Arrow
Arrow Season 5 premieres October 5th and we are super-excited! Why? Because Oliver Queen, AKA the Green Arrow, is INCREDIBLY busy. What's causing him to consistently overbook his schedule? That would be his daunting mayoral responsibilities, as well as the construction of his brand-new super-team consisting of super-neophites Wild Dog, Artemis and Mr. Terrific (along with 'Team Arrow' staples Felicity and Diggle). Anyway, these are the things you NEED to properly enjoy Arrow Season 5!
Arrow TV Sublimated Costume T-Shirt!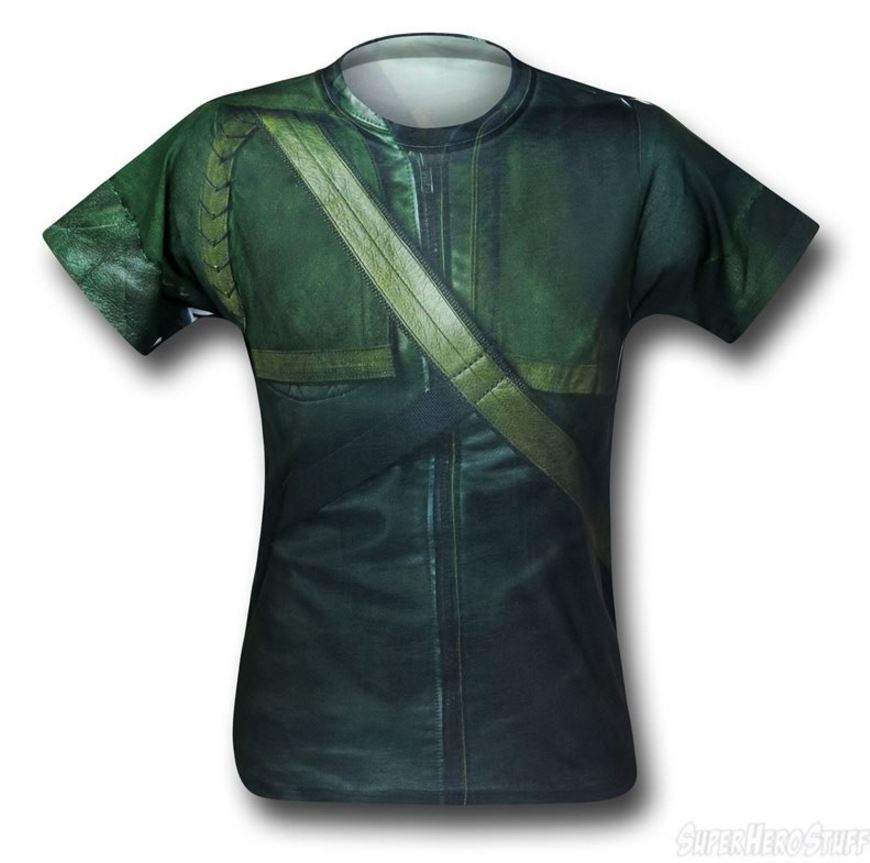 Made from 100% polyester, this sublimated costume t-shirt mimics the costumed torso of Star City's especially violent protector, the Green Arrow! And hell, the details here are so damn spectacular you can make out the teeth of the zipper!
It's the Green Arrow Nightwatch Sublimated T-Shirt!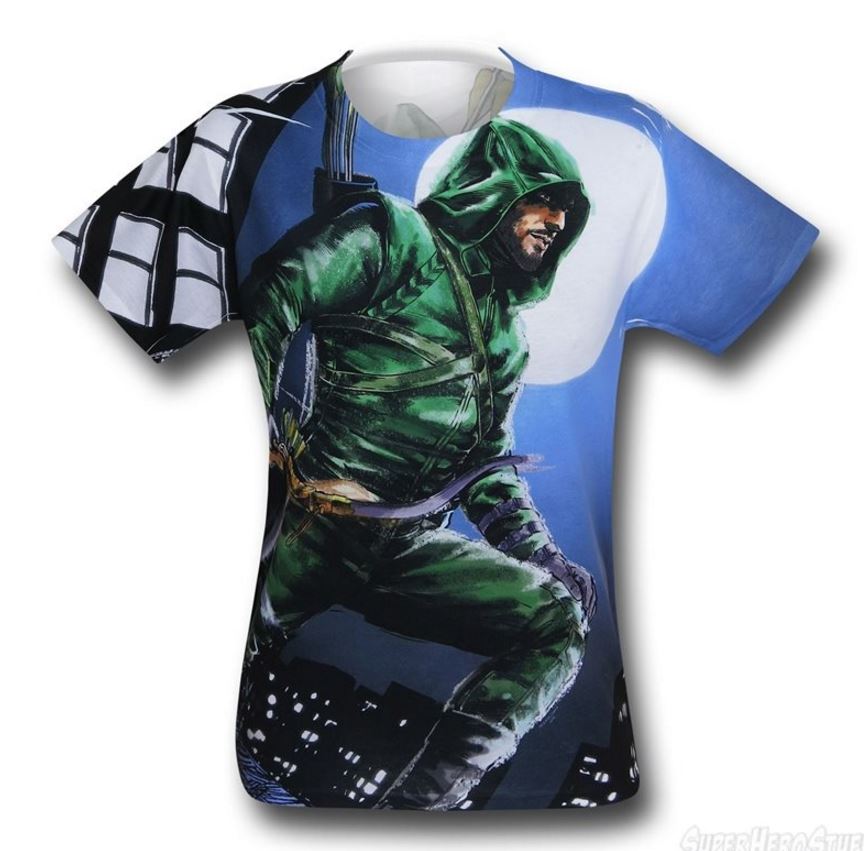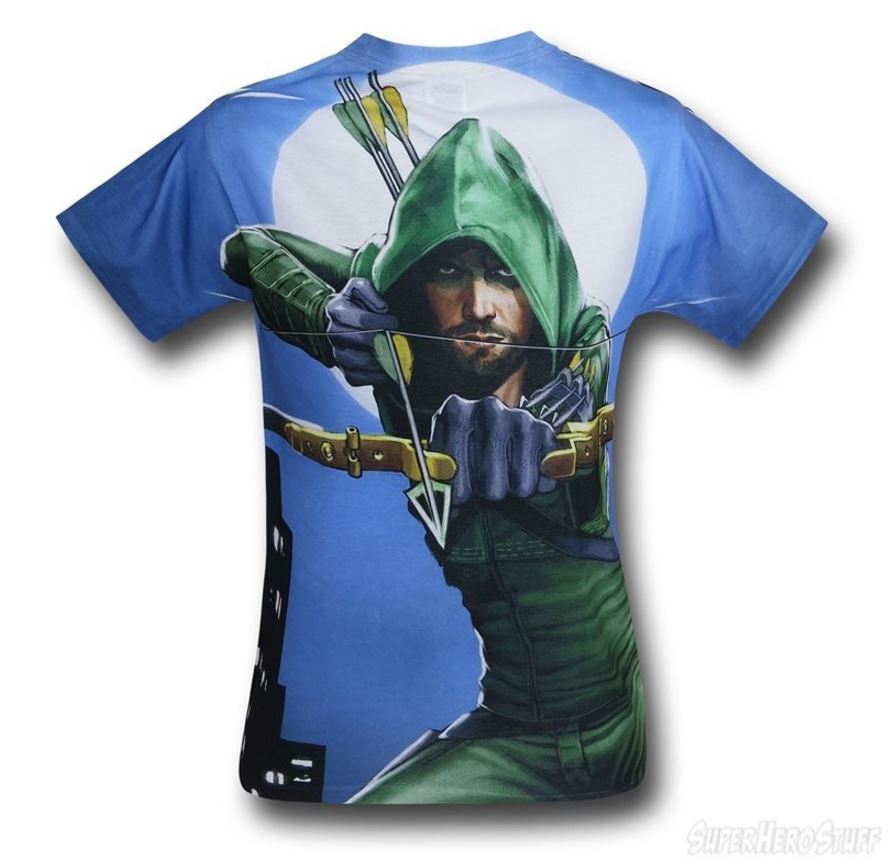 Made from 100% polyester, this sublimated tee features a stunning image of Arrow on front, and another, equally stunning image on the back!
Arrow The Green Arrow Funko Pop Vinyl Figure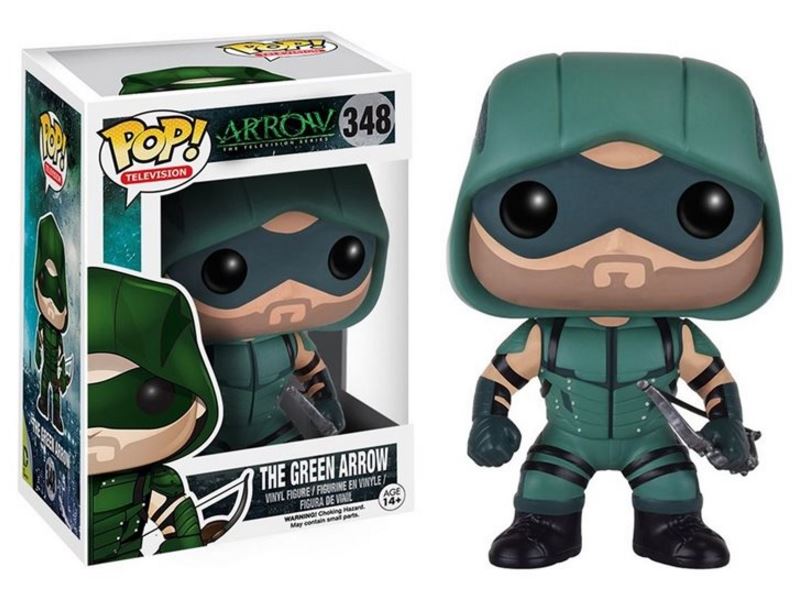 It's the cute, compacted, collectible caricature of the Green Arrow!
The Flash!
He just had to save his mother! Now, he's dealing with an alternate universe inhabited by alternate Flashes and alternate love interests. Oh, and reality is going to force him to forget the reality he originally altered, and the Reverse Flash is going to consistently rub that fact – and any other failings – in his face! Thankfully, Jay Garrick is here keep things…balanced, somewhat.
Made from 100% polyester, the Jay Garrick Sublimated T-Shirt features Jay Garrick gallivanting at supersonic speeds with the gilded grace of the Golden Age! The Flash Sublimated TV Costume Tee, also 100% polyester, features a beautifully printed reproduction of Flash's costumed top. No one will ever doubt that, from the waste up, you are absolutely the Flash while wearing this T-Shirt.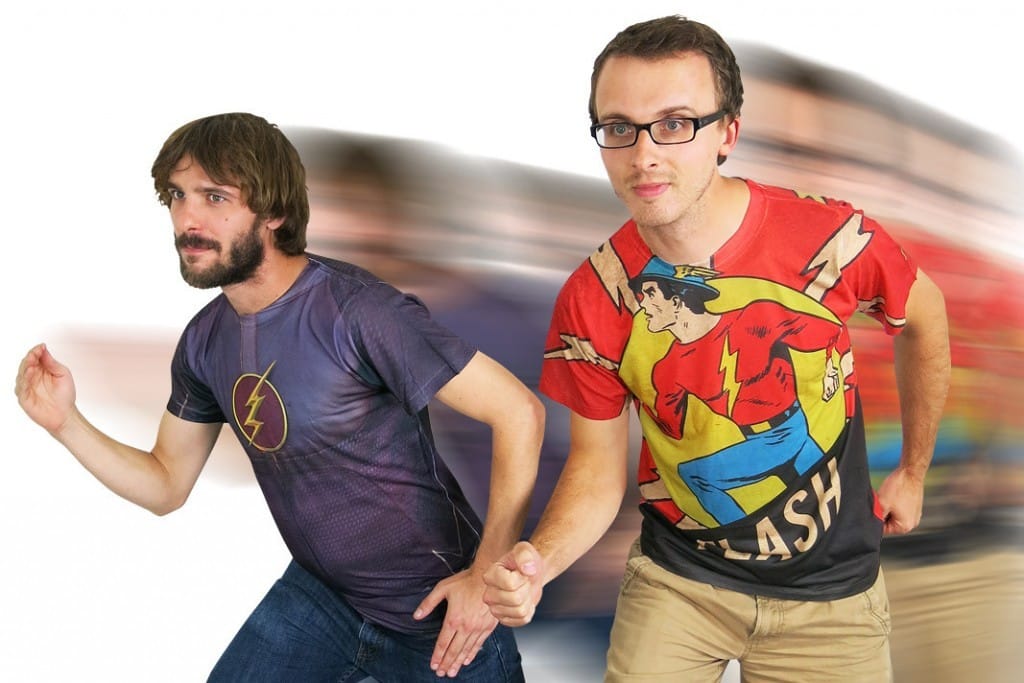 Other highlights include the staple of contemporary Flash TV mythology, the Flash TV Show Symbol T-Shirt, the super-cool, super-comfy Flash TV Series Symbol Sleep Pants, as well as the Star Labs Black T-Shirt, which grants the wearer an air of brilliance in the field of exotic scientific knowledge.
For the ladies, we have you covered with the Flash Women's Symbol T-Shirt. You watch the show, you love the show. You wish your boyfriend had the ability to pick a garden of roses and lay pedals in your path at astounding speeds. As of right now, he can't, but if he mentions having to work late at the lab with unstable chemicals during a ferocious lightning storm…tell him to take his time.
Like The Flash selection you see here? SHOP NOW!! It will be gone in a FLASH!!!!
The Flash Season 3 debuts October 4th, starring Grant Gustin as the Fastest Man Alive.
Gotham
Gotham is a fall series favorite, and while season 3 already had it's kick-off, there's still time to bring your fan status to the next level. Batman's a fan favorite so you may already have the necessities, but there is always room for more! I mean, you absolutely can NOT go wrong with the Traditional Batman Symbol T-Shirt. You can't. This 100% cotton t-shirt features a brightly printed Batman symbol that simply explodes from the shirt in a blazing, radiant yellow. If you happen to be wearing this while dangling over a shark pit, you're guaranteed a last minute rescue at the hands of the Batman. Your friend with the tie-dye Narwhal t-shirt? Shark food.
The Asylum Athletic Dept. T-Shirt is a 100% cotton, heather-gray t-shirt making it quite obvious that the wearer is a staff member, responsible for keeping especially psychotic villains distracted (from cathartic visions of murder) with games of volleyball and badminton.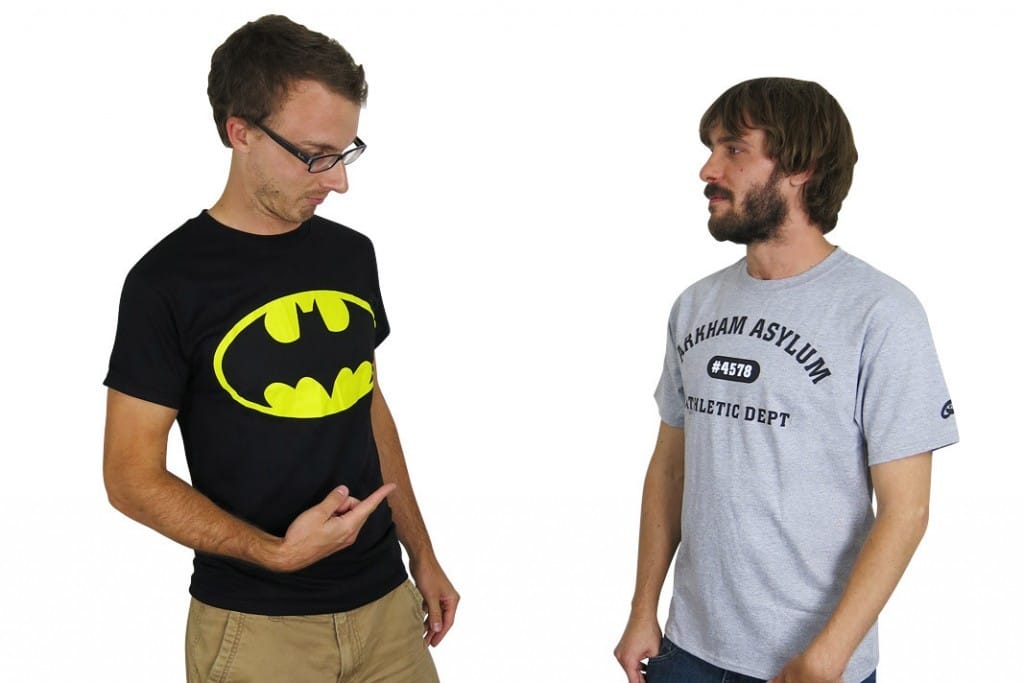 Look like a highly respected (but probably on the take) officer of the GCPD with the Batman Gotham City Police T-Shirt and Batman GCPD Blue 39Thirty Cap. These items identify one as a trustworthy officer of the peace, a comforting presence in a city built to kick your comfort in the @$$. Unfortunately, to truly be effective, one might "hench" for the Joker on Tuesday and Thursday evenings. In a robbery gone sour, you might see the Batman Gotham Police Badge Credit Card Wallet slip out of a masked assailant's pocket. Trust me when I tell you that bringing it to Commissioner Loeb will result in…the kidnapping of your family.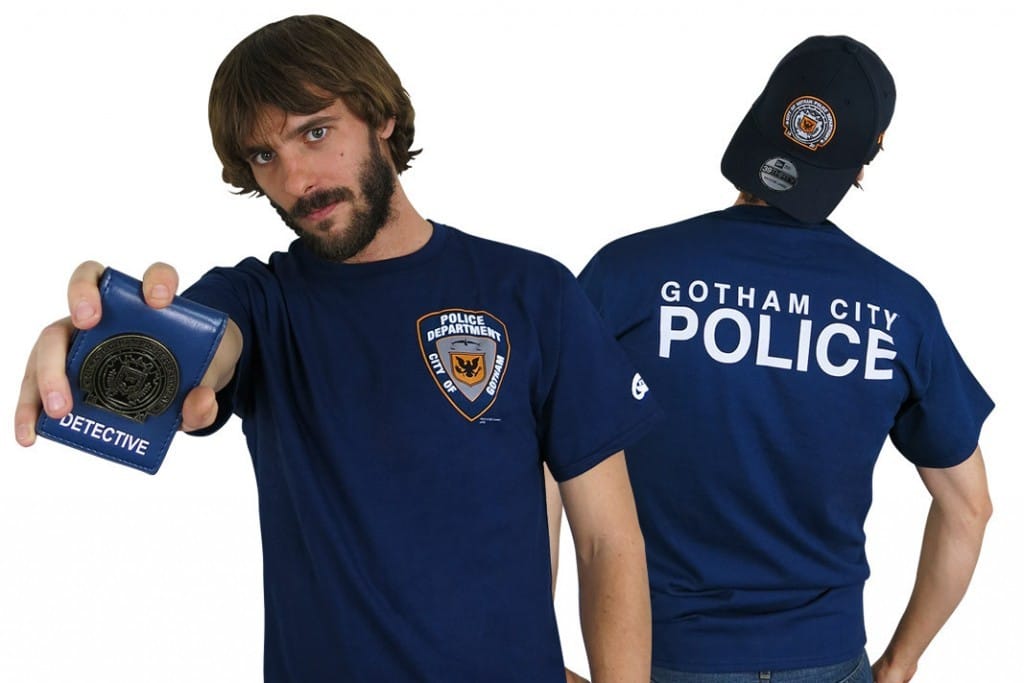 Supergirl
Her series nearly crash-landed indefinitely, but she was rescued by the home of DC-TV heroes, The CW! And, to celebrate her second season within a shared, DC-TV universe, we're getting her first official interaction with The CW Superman! No more tweets, skype calls or instant messaging; Superman is stopping by live and in person! So, what to wear while gushing over Kara's infinitely powerful space-cuz?
It's the Supergirl Suit Up Women's Costume T-Shirt!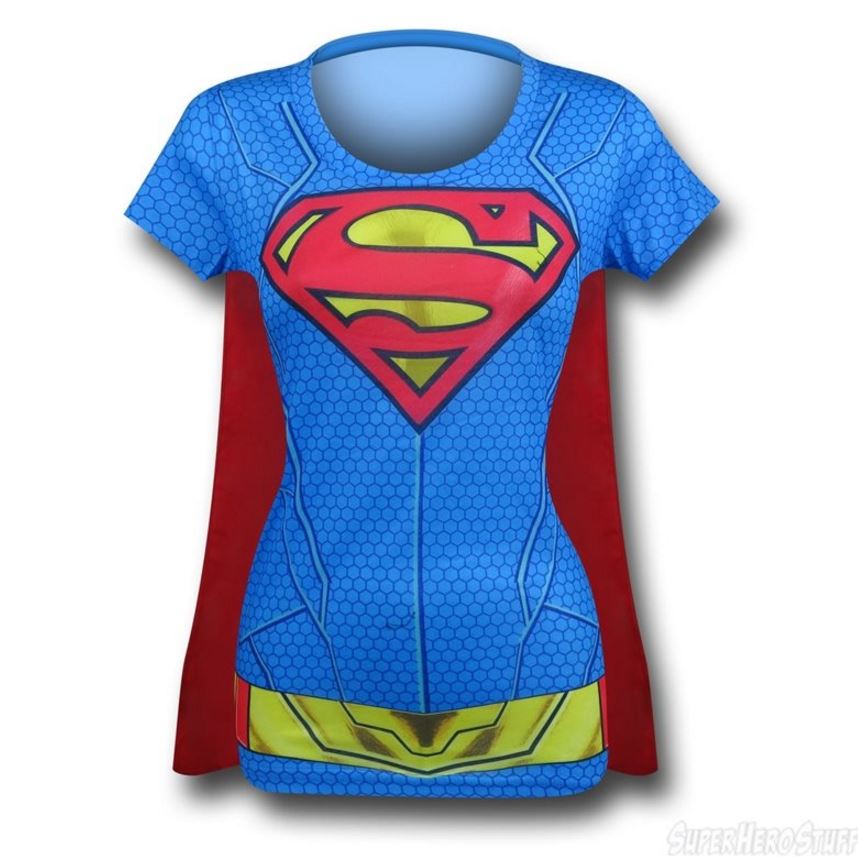 Made from 100% polyester, this sublimated t-shirt features a reproduction of one of Supergirl's many costumes. Oh, and the cape is removable, so if you're truly invested in delivering a super-powered beat-down, you can lose the fluttering thing and concentrate on super-punching!
It's the Superman Socks w/Capes Women's Knee-Highs!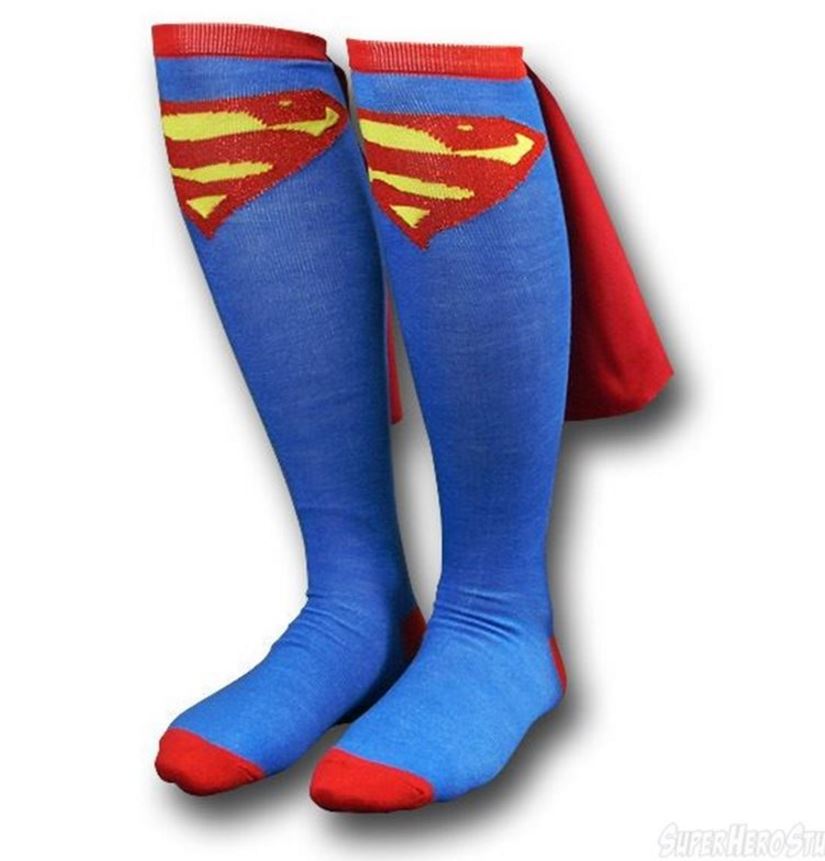 You can't go wrong with these. Ever. Made from 68% acrylic, 30% polyester and 2% spandex, these knee-high socks feature the shared Superman/Supergirl symbol and decorative capes protruding from the backs of these hugging, leg-bottom warmers. Are they ridiculous? Absolutely not. Are you a fan? Yes? Then embrace it.
It's the Supergirl TV Symbol Women's T-Shirt!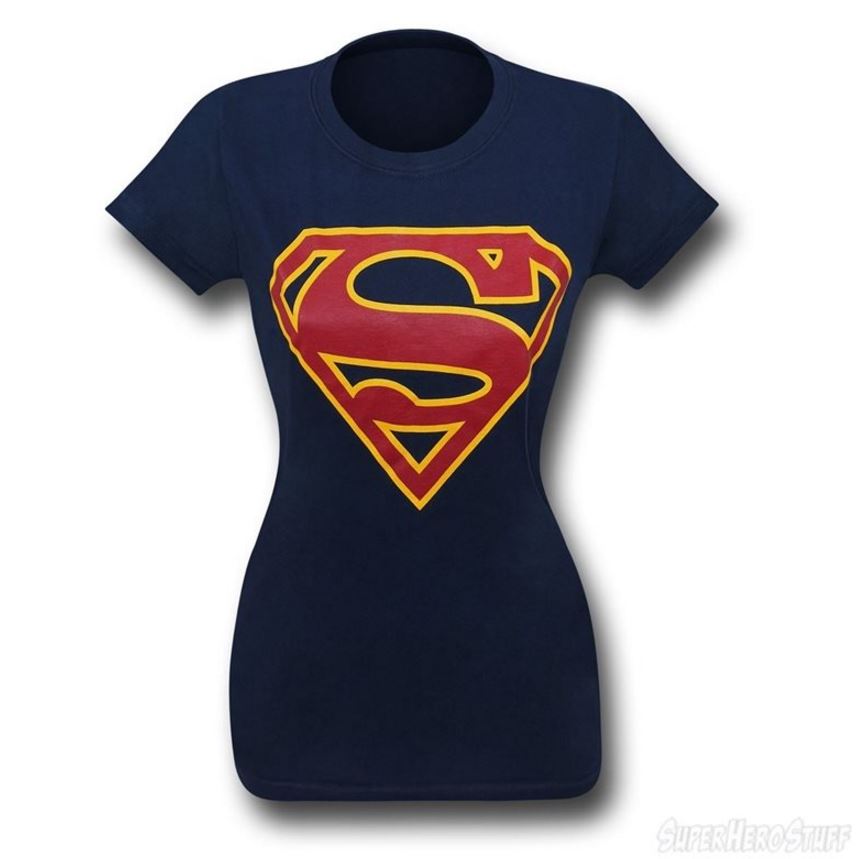 Made from 100% cotton, the official t-shirt of the Supergirl TV series features the deep red "S" symbol outlined in yellow! Are you a fan? Yes? Then this is the t-shirt Supergirl fans wear. Get on it!
Legends of Tomorrow
The Atom! Firestorm! White Canary! Rip Hunter! Heat Wave! Vixen! Citizen Steel! They're the (new-ish) Legends of Tomorrow, and they're currently picking up where the compromised Time Masters left off! What to wear/collect while tumbling through the time tunnel on an incredibly "tumbly" Wave Rider?
It's The Atom TV Legends of Tomorrow Funko Pop Vinyl Figure!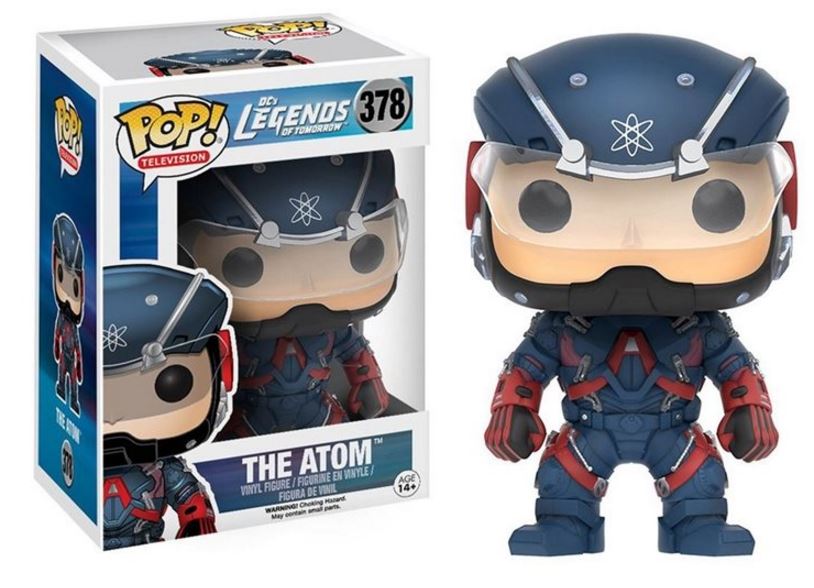 It's professor Ray Palmer in his size-changing A.T.O.M. armor! And….this smaller size is usually how he rolls, depending on whose ear canal he has to invade.
It's the Hawkman TV Legends of Tomorrow Funko Pop Vinyl Figure!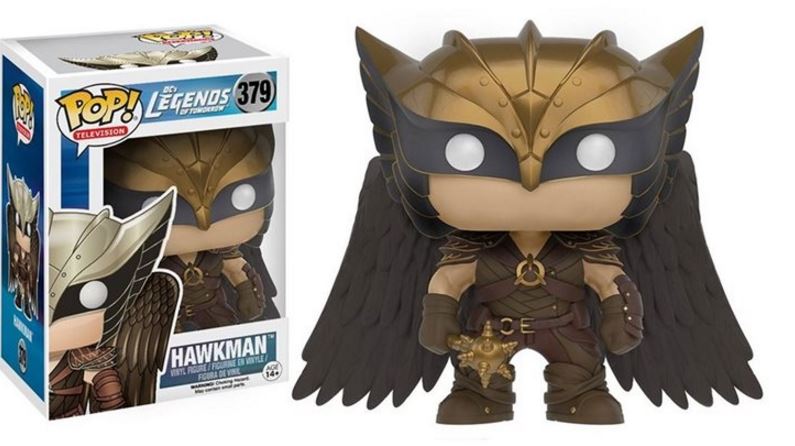 Yeah, Hawkman is kind of "predisposed" at the moment, but I'm sure he'll be back. In the interim, let's positively adore this aptly winged caricature of the sometimes overly brutal Hawk-person.
It's the Black Canary Lilac Women's T-Shirt!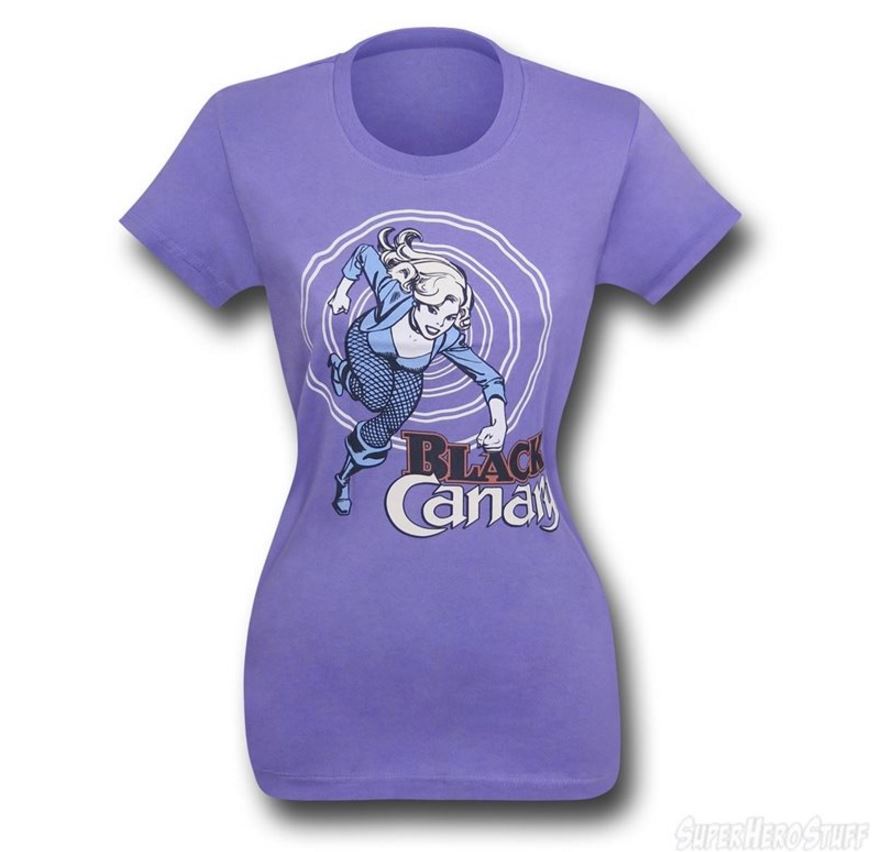 Celebrate a classic! It's the Black Canary, fishnets and all, on a 100% cotton, lilac-purple t-shirt.
AGENTS of SHIELD
The Agents of SHIELD are back! Coulson and the gang are back every Tuesday night at 10pm on ABC. There's a new Director, Daisy…sorry, I meant "Quake" is on the run, and there's someone channeling a demon and mutilating the hell out of gunrunners.
Anywyay, yes, Agents of SHIELD is back. Let's get into character, shall we? The SHIELD Symbol Women's Black T-Shirt features the SHIELD symbol in white on a soft, 100% cotton t-shirt. The SHIELD Symbol Black New Era Beanie features a raised, embroidered SHIELD symbol on a warm, stylish, government sanctioned beanie. The SHIELD Agent Badge Wallet is absolutely your key to accessing Helicarriers, detailed files on the location of immortal, alien space-vikings, and the necessary data enabling one to generate their very own Life Model Decoy.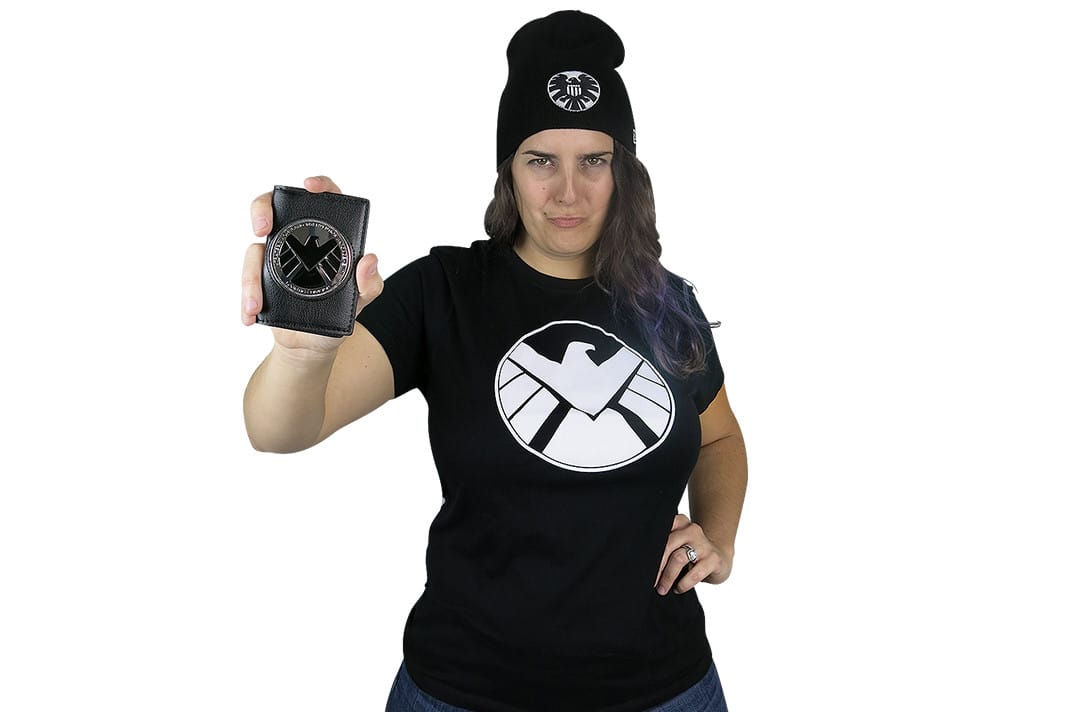 With all this roving, mass murdering Spirit of Vengeance of business, is HYDRA still a threat? Heck yes! I mean, sever one head, 16,000,000,000 more sprout to take its place! The Hydra Symbol on Black T-Shirt is made from 100% cotton, sporting the terror-inducing HYDRA symbol.
As a SHIELD agent, you're overly familiar with the plans, traps, and (sometimes hilarious) tropes of the historically tenacious HYDRA organization. Sure, you arrested that sleeper cell in Detroit City, but did you really make a difference? I mean, they recently absconded with 'The Cavalry's' stuffed Pikachu, so…yeah, they're still considered effective.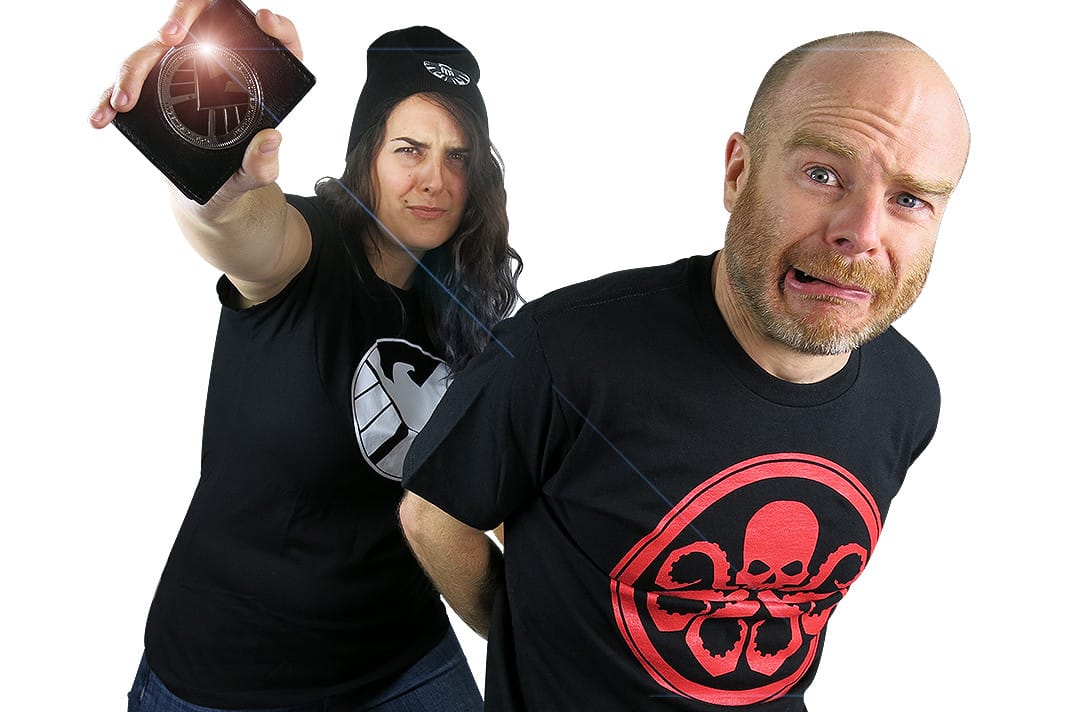 And speaking of roving individuals possessed of demonic powers expressed through combustible skulls and a perpetually aflame Dodge Charger, it's the….
Ghost Rider Firebird T-Shirt!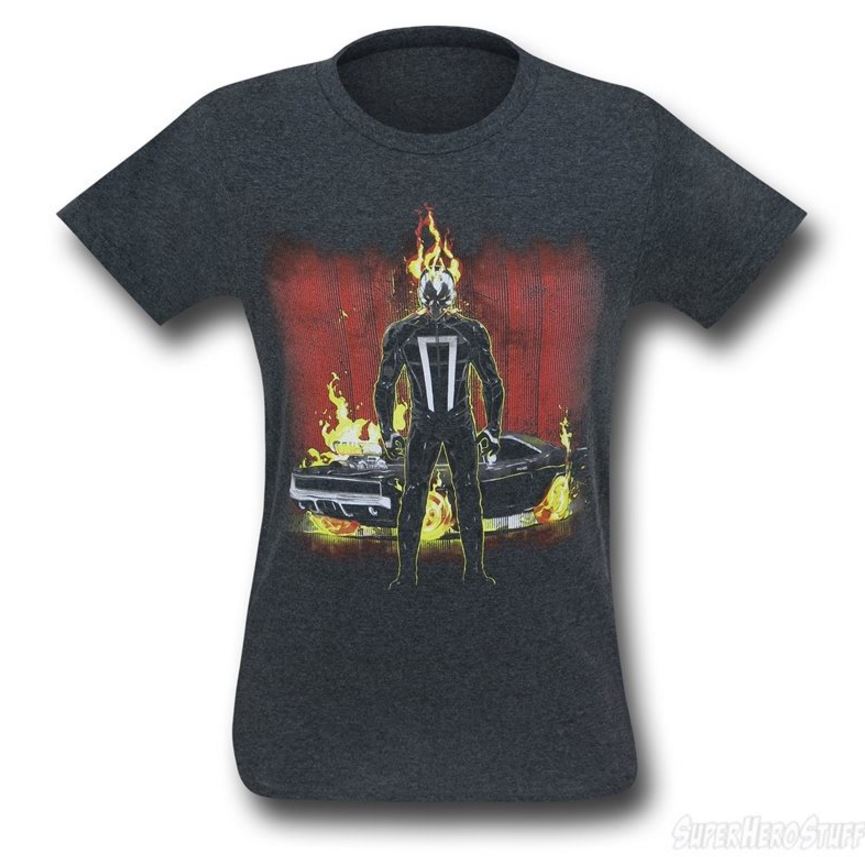 Made from 50% cotton and 50% polyester, this heather-black t-shirt features a currently possessed Robbie Reyes channeling the adventurous anger of the Ghost Rider. Let's….let's give him our groceries and back away slowly.
Think you have what it takes to become an Agent of SHIELD? Click here to check out all our SHIELD merchandise. You want the job, you dress for the job!
Tell us what you think. Are you excited for all the fall Superhero TV Shows? Which show are you most excited about? And just what the heck will you be wearing from our catalog to heighten your Superhero TV Show experience?