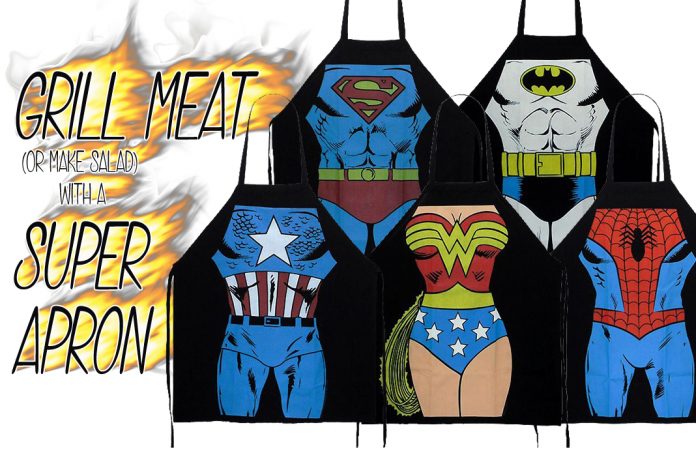 Our selection of superhero aprons is perfect if you happen to eat like a jawless horse, cook with an awful lot of ketchup or bloody, squirting meats, or…fancy yourself a superhero fan. If you fit into any of the aforementioned criteria, then you will absolutely LOVE the following selection of superhero aprons made specifically to protect you from spontaneous grill fires, severe barbecue sauce spillage, and the unfortunate revelation that you prefer cooking shirtless. OBSERVE!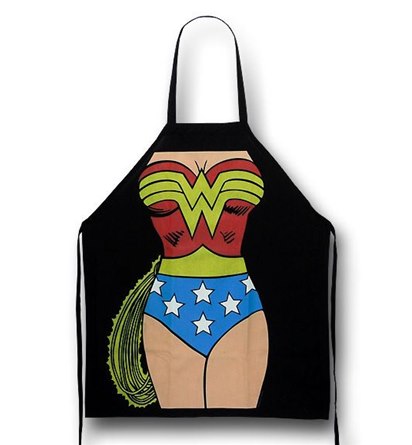 Measuring 30.5″ long and 26.5″ across, this Wonder Woman cooking apron features a good portion of Wonder Woman's glowing, godly figure printed on black material made from 100% polyester. Initially, it was 75% Minotaur hair but due to the limited supply and untenable production time, polyester was deemed the more cost-effective option.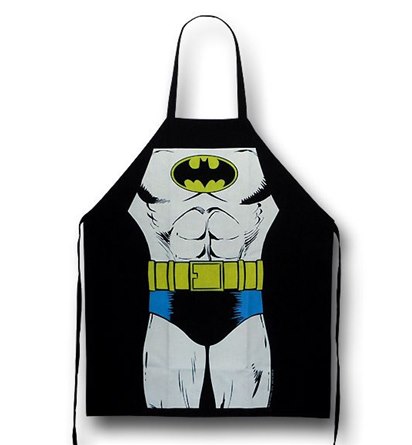 Measuring 30.5″ high and 26.5″ wide, this black, 100% polyester apron features the printed likeness of… a good portion of Batman's intimidating figure. It there was a head, arms, and legs below the thighs, one might be too terrified to wear the Batman figure cooking apron. Why? Well, it would be like wearing Batman's skin, and that's more than a little creepy. And, you might also have the urge to severely cripple people who jaywalk, run in public parks after sundown, and adorn pets with electric shock-collars.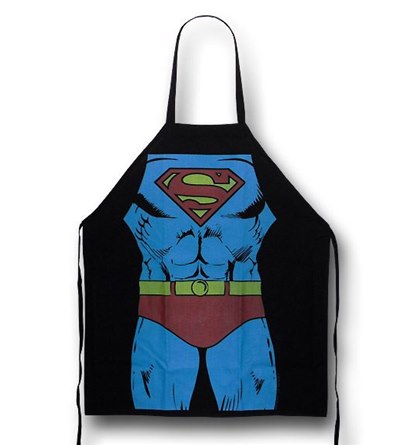 Also measuring 30.5″ high and 26.5″ wide, this black, 100% polyester apron features the printed, partially rendered figure of…SUPERMAN! He flies! He blasts cats out of trees with solar-powered death-rays from 3000 feet above the Earth's atmosphere! And…he cooks! He…SUPER-COOKS! Sometimes, he places contained, miniature black holes between two hamburger buns and tries to pass them off as his world famous "Super-burgers." I would pass on the Super-burgers.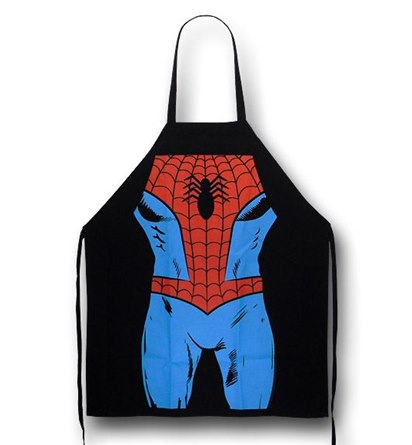 Yes, the measurements are the same, and yes, it's made from 100% polyester and NOT a combination of tears produced through overwhelming guilt and pulpy, sticky, extraordinarily elastic web-fluid! Yes, it's a Spider-Man apron featuring the printed, partial likeness of Spider-Man. Does Spider-Man cook? Well, he's very familiar with grilling up angst, allowing disappointment to marinate, and chowing down sadness-skewered self-pity-kabobs. Real food? I wouldn't trust it.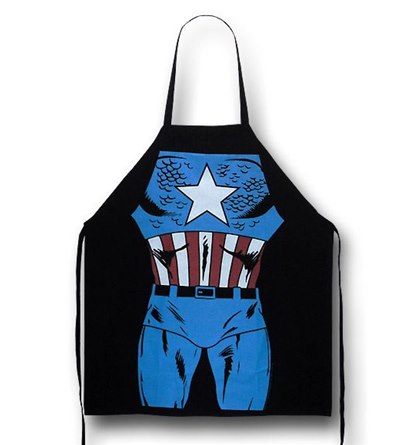 Made from….look, you know the drill by now. So, let's have a little fun, shall we?
Made from 100% freedom, 100% justice, and poised to defend 100% of your God-given, inalienable rights as a thinking, feeling, rarely fulfilled and always quick to complain human being, this 300% AWESOME Captain America apron is here to help you grill hot dogs, apple pie, pancakes, hamburgers, and whatever else might be considered representative of America in perishable, somewhat digestible forms. Eat, chew with your mouth closed, play football, drink your milk and mind your g-darn manners. Cap is on the grill and we won't be leaving until one of us learns to reassemble a catalytic converter while wearing a blindfold. Oh, and he wants you to tell him all about The Beatles.
Click here for our entire line of superhero (and sci-fi) aprons!