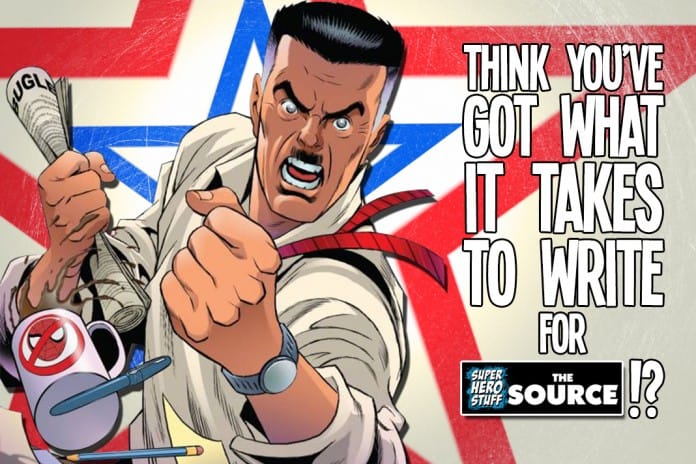 Are you a positively impassioned fan of superheroes, comics, sci-fi, movies, TV shows, books, video games and any and all niche interests? Do you have a powerful urge to express said interests with a blinding, eye-bulging fervor, capable of gathering the entertainment-hungry masses under a common flag of furious, unflappable fandom? Yes? Okay, are you able to express this boundless love intelligently, with a respectable degree of grammatical accuracy and a healthy dose of elevated eloquence? Yes? Good, then we might be able to use you for our breaking-news website, The Source!
The Source reviews and recaps the latest comics, TV shows and movies. The Source grants readers an inside scoop and dishes (respectable) dirt on the latest superhero/sci-fi goings-on. The Source is a wellspring of geeky, gushing, galvanizing fan-sauce, and we need your help to spread said sauce! Think you have what it takes to contribute? Then throw your name in the hat and let's get started.
What We're Looking For
We're looking for a handful of writers to aid us in providing news/reviews/editorials based on comics/sci-fi/various niche genres in an effort to make The Source the go-to place for comic fans and sci-fi aficionados. This isn't a cash-paying position; if we decide you have what it takes we'll grant you a $10 gift card at superherostuff.com for every article you submit deemed publishable (by us). We're asking for 1-2 articles per week and a maximum of 4 per day.
How to Get Started
Write something for us; send us a submission based on 1 of the 3 topics below-
Report breaking news while maintaining factual accuracy regarding the subject matter and the parties involved. Examples: Director commenting on his upcoming film? Ben Affleck teasing the inclusion of the Elongated Man in Justice League? Constantine picked-up by The CW because if it can happen to Supergirl, it really should happen for Constantine?? You're a reporter, so report!
Write a review/recap on a movie, TV series, comic book or video game. Example: You just read the entire run of Batman's "Endgame," and you loved it. Tell us about the story, why you loved it, and why those unfamiliar with Batman's comic book exploits will love it.
Educate your readership. Example: Give us some background on a character gaining more commercial prominence. Captain Marvel, slated to appear in her very own film and, quite possibly, Avengers: Infinity War, is not a universally known Marvel character. Give us a little history regarding the character's creation, the creators involved, the gist of important story arcs, etc.
Article ready? Grammar good, opinion intelligently articulated and facts checked? Then send your article to me, Tiras M. Buck, EIC of The Source- tiras@superherostuff.com
What to Expect If You Are, in Fact, What We're Looking For
After taking a week to go over submissions, we'll contact you and talk for a bit; we'll figure out how much you're able to contribute and go over the particulars involving the kinds of articles we're looking for, word count, deadlines, receipt of gift cards, etc. We'll also ask for a resume, and possibly a few more samples of your work. Then, we're going to let go of the reins and let you do your writing!