The countdown clock is ticking until this Thursday when the wait is finally over. Rogue One: A Star Wars Story, one of the most anticipated movies of 2016, is nearly upon us. There will be Death Stars and Mon Mothmas, new alien species and AT-ACT's. We also know there will be Rebels, but will there be Star Wars Rebels? Let me explain.
Rumors coming into the third season of the Disney XD series Star Wars Rebels implied the show would connect to events leading to the spinoff film, Rogue One. Those rumors did not manifest, and while Rebels still shows a group of heroes working through the early stages of the Rebellion, neither characters nor locations in the animated series seem to flow with Rogue One.
Then something happened. In one of the many commercials that have been promoting Rogue One, something was noticed by Furious Fanboys. In a wide-shot of the Rebel Fleet there was a familiar-looking ship. Look in the lower left-hand corner.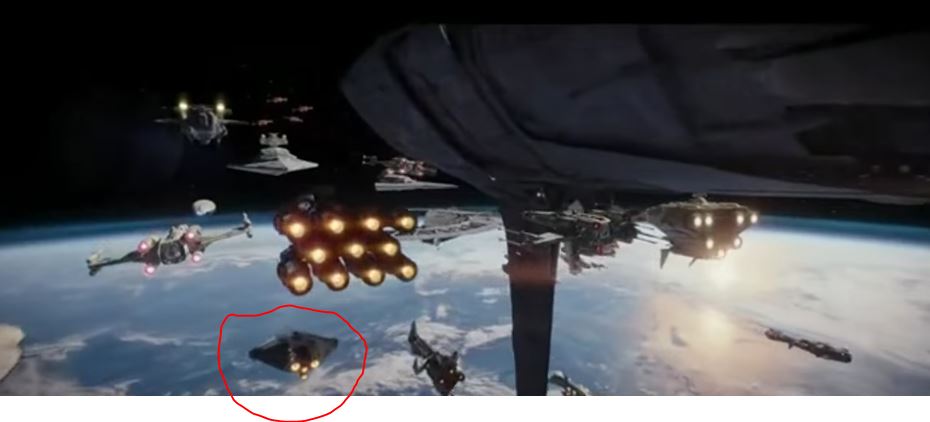 Here's another look at The Ghost's backside.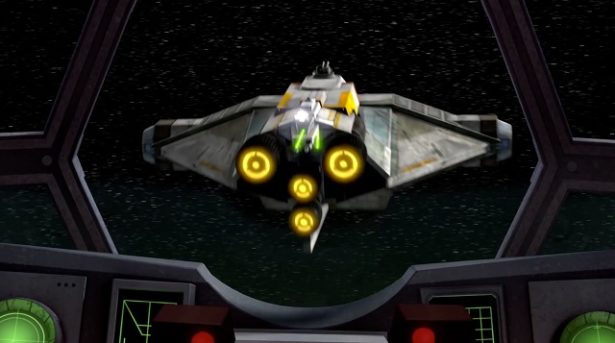 So, it would seem that The Ghost is taking part in the Rebel Alliance assault on The Empire. Now, this could always be just an Easter Egg for fans, but what if members of Rebels are going to have a bigger impact on Rogue One than previously assumed? Could we see Hera leading a brigade into battle? How about Zeb showing up as one of the many new species in Rogue One? Because there are so many ways Rebels can connect to Rogue One, it will now be disappointing if it doesn't happen.
The big issue standing in the way of a link between show and movie is the current Rebels timeline. The show is approximately two years behind the events that will unfold in Rogue One. With no more episodes airing until the two-part season finale on January 7th, there's no way for the show to do a two year time-jump. So, don't expect to see any current Rebels' storylines on the big screen.
There is an easier way to connect Rebels and Rogue One, and all it takes is one character: Grand Admiral Thrawn.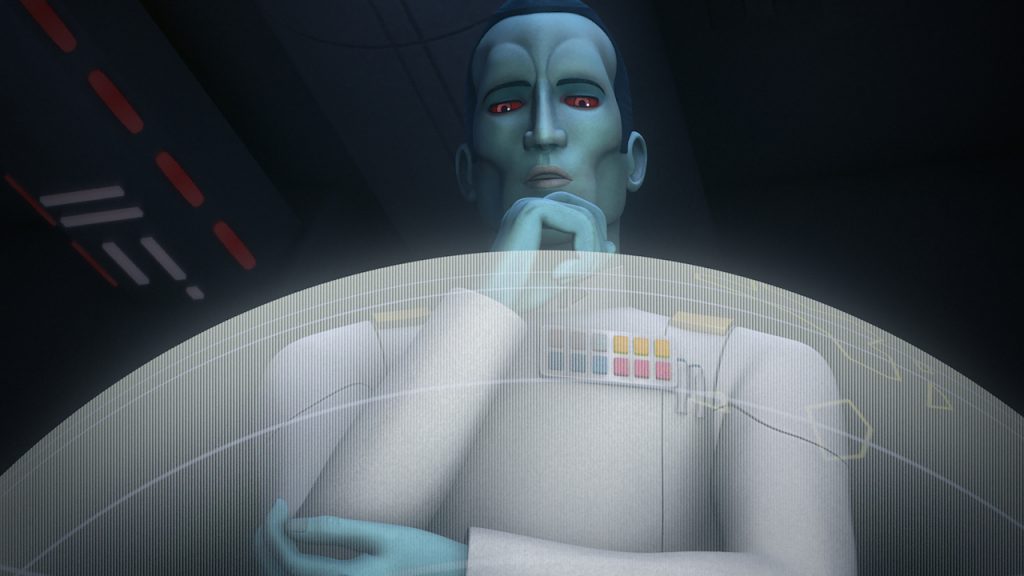 We already know The Empire's top brass will be present in the movie. Orson Krennic is the new antagonist, but Rogue One will also be bringing back Darth Vader and Grand Moff Tarkin.
Once the Death Star becomes operational, there's going to have to be some sort of celebration where top admirals gather to witness the Death Star's debut. In the mix of all those characters, perhaps we see a certain blue-skinned face. Plus, if people are wondering how Thrawn got from Rebels to Rogue One, they could receive an explanation when his solo novel is released next year.
So, who knows what Rogue One will offer fans of Star Wars Rebels. However, according to Entertainment Weekly, fans of the show will have to be on alert for Easter Eggs scattered around the movie.
"Actually … one more note: Fans of the Disney XD animated series Star Wars: Rebels should keep their eyes wide open for a number of special surprises. (That's all I'm going to say about that.)"
So, whenever you decide to see Rogue One, make sure you're on the lookout for all the Rebels references that director Gareth Edwards can sneak in. At the very least, we're getting a glimpse of The Ghost.